Mom Livestream 10-Year-Old Son Driving Around Town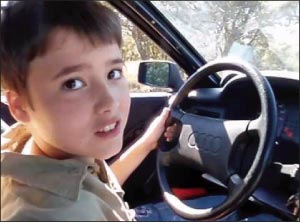 "You could see the houses passing by in the background as you were watching the video," Capt. Keith White of the Monroe Police said.
A Connecticut woman who is accused of letting her 10-year-old son drive her car on public roads and streaming it on Facebook Live has been charged in Criminal Court.
Monroe resident Lisa Nussbaum was charged with risk of injury or impairing morals of a minor.
She was initially released on a promise to appear in Superior Court in Bridgeport, Connecticut.
Police say Nussbaum was arrested after several residents complained to officers of a live-streaming video on Facebook showing a child driving a car.
Police say officers determined Nussbaum was recording her son drive the car on public roads throughout the town, and the video was taken from the passenger seat of Nussbaum's vehicle.
"Everybody is watching, people are reporting what they see on social media sites," said Capt. Keith White of the Monroe Police.
The Connecticut Post reports Nussbaum hinted there may be more to the story.