Wilson Industrial Electric: At Home in Elberton Granite Country
Peter J. Marcucci
Photos Courtesy Wilson Industrial Electric
Wilson Industrial Electric Incorporated, Elberton, Georgia was founded by Ray Wilson in 1982. Since then, Wilson's original saw design, as well as the many polishing solutions offered over the last 35 years, has continued to evolve.

Above: Matt Wilson in the Wilson Industrial Electric machine shop, in front of their CNC lathe. Wilson builds all its machines in-house, with an in-house R & D department to develop new software and technology.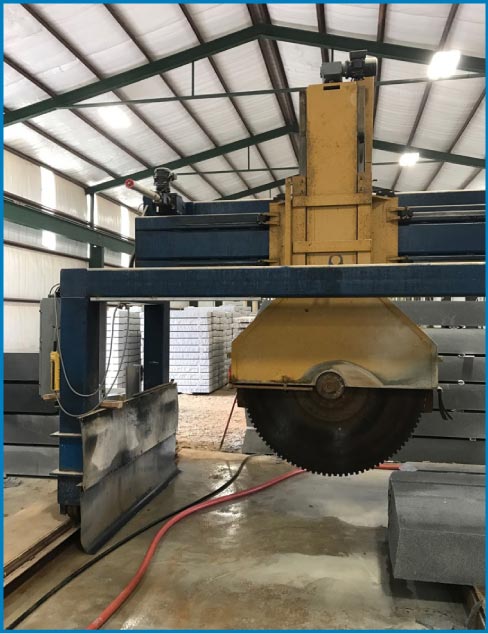 Above: Mark Hill, of Hillcrest Granite: "Our Wilson block saws operate 24 hours a day, seven days a week, and they really do that. We probably have 40 different Wilson machines in operation here."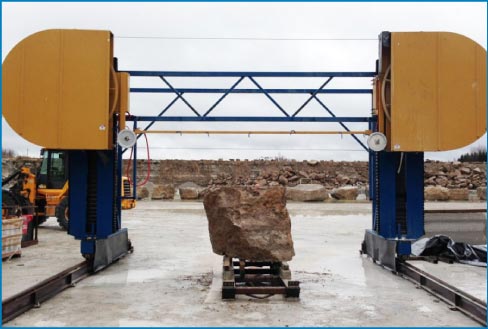 Above: Wilson Industrial manufactures wire saws to four standard cutting heights based on the size of the main wire wheels, like this seven foot model.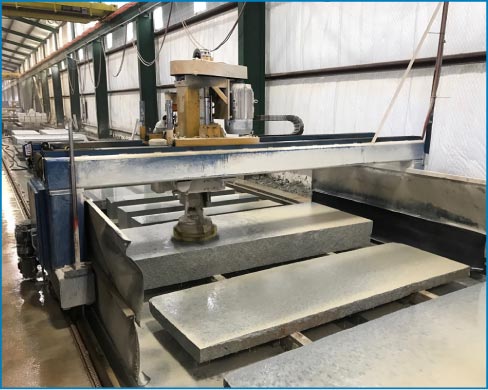 Above: Hillcrest Granite Company's Wilson surface polisher is another machine that can run 24-7. Mark Hill: "They know about stone and know what the machines need to do."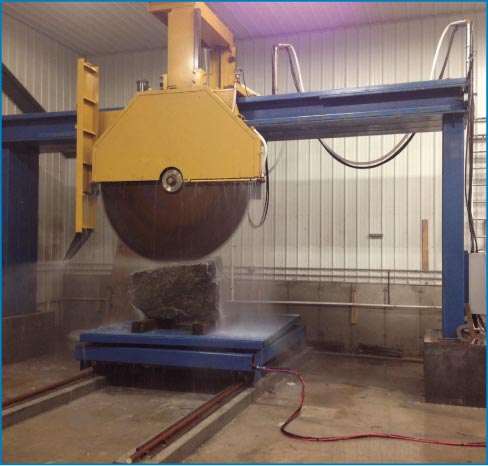 Above: There's something awe-inspiring about a seven- or eight-foot diameter saw blade patiently slicing through a solid cube of stone. The largest machines that Wilson manufactures are their bread and butter, and form the bread and butter of many stone companies that harvest and process raw stone for delivery to the world.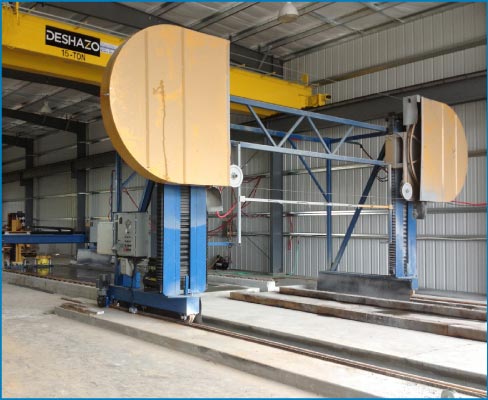 Above: Seven foot Wilson wire saw installed at Buckingham Slate in Arvonia, Virginia, founded in 1867. Buckingham Slate processes one of the finest veins of durable slate in the world.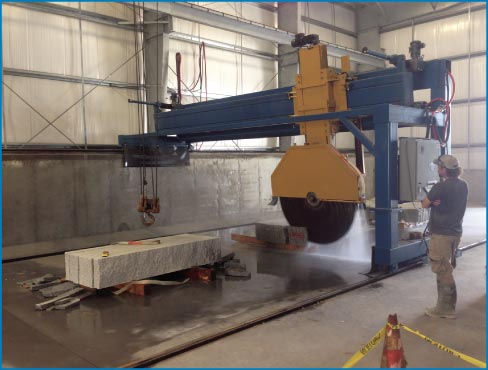 Above: For Wilson gantry and wire saws, the description is usually given in feet, by blade size or capacity. Many run on rails, or a highly reinforced structural steel gantry, and need dedicated water filter and supply systems, which Wilson also manufactures.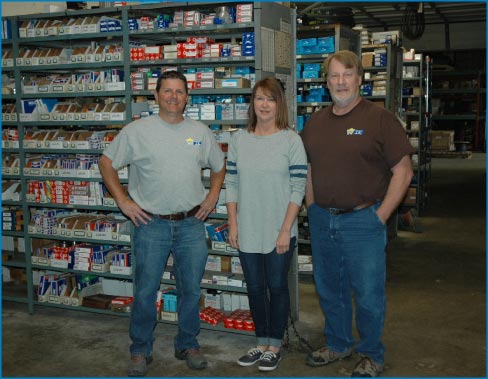 Above: The Wilson parts department helps keep customers supplied and up and running. Pictured left to right: Matt Moon, Tracy Maxwelland Darrell Burt.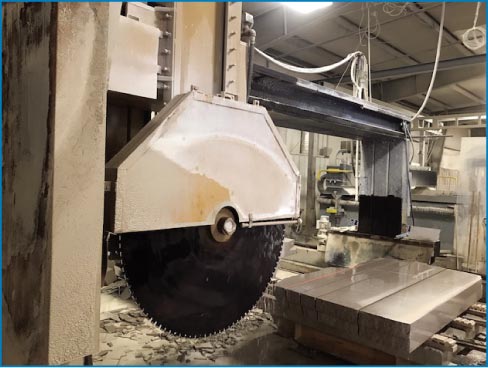 Above: Brad Mobley, Indiana Limestone Fabricators: "We've had our Wilson Rip Saw for five or six years. When it comes to support, they'll pick up the phone and answer everything you need to know." At the time of this story, Ray and Matt Wilson were out on the road doing installs.
The company, now owned and operated by son and president Matt Wilson, and daughter and CFO Melissa Black, continues to stay focused and solution-driven. Ray Wilson (now 66 years young) remains active in all aspects of the company. With over 18 models of machines to choose from, Wilson Industrial Electric continues to be a one-stop solution for large and small stone producers.
In his younger days, Ray Wilson worked for a motor company and then got talked into working on a few stone processing machines in Elberton. This additionally involved working on the controls. Inevitably, it wasn't long before someone talked him into building his first saw. Being both mechanically inclined and resourceful, the saw was built with parts from a salvage yard, explains Matt Wilson. "It is not a pretty machine, but to this day continues to saw like crazy. When we were little, we had a barn out behind the house, and that's where we worked on panels and rewound motors. Dad pretty much started the company from a dirt floor with basically nothing, and brought us to where we are now. So it's kind of a rags-to-riches story. I followed in those footsteps, as big as they still are to fill. Melissa has done the same thing."
"Yes, we grew up in the business from the beginning," explained Melissa Black. "We worked with him at home, rode with him, and worked on the weekends learning the ropes. I've been building control panels and doing things for him since I was seven years old. Matt and I are both hands-on, and do a lot in the business without a lot of free time to do other things that we would love and enjoy doing. We all wear a lot of hats, but I mostly take care of marketing, sales, and accounting. It's still a family-run business, and that's something that we pride ourselves on. Dad calls himself semi-retired, but we haven't seen it yet."
Matt: "Dad calls semi-retirement going from seven days per week to five days per week. He still stays busy wiring control panels. We'll come up with a design and he'll go out in the shop and wire them up and get everything good to go. Dad also does local service calls (for Wilson Industrial machines) around Elberton."
Matt attended the University of Georgia with a focus on engineering. Also wearing many hats, Matt mostly works the engineering duties as well as writing the machine programs and anything else needed, he explains. "I travel a lot and do a lot of installations. Our machines are throughout America, Canada and Mexico. Unfortunately, when I travel, you don't hear much about family-run businesses anymore unless it's the small Mom and Pop grocery stores, and even those are starting to go away. So, yes, we pride ourselves on being family-owned and run."
Wilson Industrial Electric employs a total of 17 people and is currently hiring. Staff includes one full-time engineer, two part time engineers, 10 shop/installation personnel and six office staff. Everyone multi-tasks, explains Matt. "I will shift our people around when needed, and usually send two techs for machine installations. We always keep a crew in fabrication, but I can rotate them out as needed. That works really well."
"We also offer employee training on the job," added Melissa. "You can only get people that have just so much experience. They might know how to weld or the basics of industrial maintenance, and that's about it. So we've actually come up with our own set of classes and pay them to attend. This helps them to learn programming and hydraulics. So we invest in our employees and try to do what we can to help promote them, so ultimately they help us be a better company."
Built-In American Pride & Quality Through In-House Research & Development
According to Matt, Wilson Industrial Electric does everything themselves. "All of our machines are built in-house. We have our own machine shop, research and develop our own technology and write our own software. We are a completely American-owned company, as well.
"I did have my own granite producing company for awhile. I was in partnership with a cousin of mine, but we got out of that around 2002, selling out to another interest. Fortunately, that had given me a good opportunity to learn. I had been building saws for quite a while but had never run them and thought I knew everything about them. It gave me a whole different outlook when I had to run my own equipment and also made me more receptive when talking to the operators and asking what can we do to make things better.
"So we are very savvy on what a machine needs to do for the customer, and that doesn't necessarily mean putting on a lot of bells and whistles, but that's what you find in the marketplace today. Many times you get a machine that's a jack of all trades and a master of none, whereas, when we build a machine, it is a master of what it does. Moreover, we always welcome feedback from our customers, and we will modify any piece of equipment to help produce faster and easier.
"We are really big on operator interface and keeping things as simple as possible. Our R&D always keeps that in mind. You see a lot of machines out there, beautiful machines, but they're engineered down to the 4th decimal place and lightened up to reduce weight for shipping, whereas we are old-school. We like it heavy, and we like it tough.
"We build our machines to run 20 years at full throttle, not 10 years and the depreciation is gone. We have machines in Canada that have been running close to 30 years. In our R&D, we build it bulletproof, so whatever the engineering book says, we'll double or triple that, and that makes for a very robust machine. If we think we can tear it up, we'll make it a little heavier, or use bigger bearings."
In-House Marketing
The majority of what the company builds is for the beginning part of the stone process, basically quarrying, cutting and polishing. Traditionally the majority of sales have been for the monument industry, but currently 80 percent of their machines are for producing building stone.
"Our bigger machines are our bread and butter," continued Matt, "while our surface and edge polishers constitute close to 10 percent of our sales. We offer a wide range, but the bigger machines are the largest part of our market, and we tend to dominate it. As far as I know, we build the biggest rotary saw in the world. Nobody builds a 14-foot diameter machine, and we still do.
"It really hasn't been difficult to compete with the Europeans. We do keep an eye on them to see what's new. We evaluate it and like to talk to the operators after it's been installed. When I visit the companies where we are putting our machines in and I see a European machine, I'll go and talk to the operator. You can ask the owner of a company all day long about a new machine, and he'll tell you it's the greatest thing in the world, because he just spent a million dollars on it. But it's not the same story when you talk to the operator. So even though it's pretty, it's huge, it's got a million parts, and running it is another ball game. So we look at it to see which way the industry is going, but we hang back and let them prove the technology for us."
Machine Du Jour at Wilson Industrial
One-off, modified or standard, Wilson Industrial Electric will make it, explained Matt. "We've worked with several companies, start-ups especially, helping them to layout their shops. Our machines will do a wide range of things, but we don't build CNC or countertop edge polishers. We'll start with a standard saw or polisher that covers as much of your requirements as possible and customize it further. We don't engineer for what we think it's supposed to be. We engineer for what they want and need it to be, offering options and add-ons. Being able to produce for a specific customer's needs is our strongest suit, whereas a lot of other companies produce a cookie cutter machine with a few listed options. With us, however, it doesn't have to be a listed option. You can come to us with something you dreamed up and we will try and incorporate it into the machine. That kind of service is what we pride ourselves on, and there's nothing too big or too small for us; if I can't do it, I'll tell you I can't do it."
At Wilson Industrial Electric, all machines are installed by employees and only subcontracted when absolutely necessary, explained Melissa. "We used to work with a company in Pennsylvania when needed, but 95 percent of the time we only use our own people. Our turnaround times, if you called in a custom (prototype) order, would take about six months to get it, and less time if it's one of our standard machines. It all depends on our lead times."
All machines conform to OSHA, the Mining Health and Safety Administration (MSHA), Compliance-Safety-Accountability (CSA) and the National Electrical Installation Standards (NEIS). As far as repair, if it's something control wise, Matt can usually diagnose it over the phone, especially if it's just a setting, he explained. "We are very good at this, and that's another reason we keep our controls as simple as possible. Machine operators in the field can break down rock all day long, but looking at wires in a control cabinet, they don't have a clue and don't want to touch it. Fortunately, most times, we can get them up and going over the phone."
Melissa: "We keep all of the parts here on our shelves to repair anything and can have them on site the next day. Our warranty on any machine we sell is 30 days on labor and 50 days on parts, however, we warranty all outsourced parts per manufacturer's warranty. That said, all the motors, gearboxes, switches and things like that, are warranted for at least one to two years. That's as long as the user does everything they're supposed to do for maintenance and it's not human error."
Notable Projects
As far as notable projects, there have been a few, said Melissa. "When they were working on the Ground Zero project, there's a company here in town that supplied some of that, and they used our machinery to make it. We usually don't get recognition for notable projects. We, being machine manufacturers, are always the ones that get left out."
Matt: "There really isn't recognition that trickles down to us to say what our equipment has done. I can tell you that Old Quebec City, the original town, was surrounded by fortification when it was built. It's the closest thing to visiting old-world Europe without having to leave North America. It's still there and they keep it up, and Parks Canada uses our saw for any stone that needs to be replaced on the walls. Honestly, our customer patronage and their word of mouth is an award enough" (both laughing).
What Their Customers Say
"Ray, Matt and Melissa build a dependable, well built saw," now explained Brad Mobley of Indiana Limestone Fabricators, Spencer, Indiana. "We've recently purchased their joint saw and have had their rip saw for five or six years now. They are great machinery builders and when it comes to support, they'll pick up the phone and answer everything you need to know. They are an absolute pleasure to work with. When you deal with a family-owned business that actually takes pride in their work, the value you get from that is priceless and not comparable to anyone else, in my personal opinion. They are fantastic! I can't say enough good things about them."
Mark Hill of Hillcrest Granite Company, Elberton, Georgia: "Ray Wilson is a really smart guy. My dad was dealing with him 35 years ago, but these days I'm dealing with Matt and Melissa a lot, so it really is a generational business here in Elberton. Melissa and Matt are also very smart, and they have a good crew over there. They know about stone and know what the machines need to do, and when it comes to problems, they've seen them a hundred-fold. Our business is monumental, and they are constantly improving machines to produce faster with more durability.
"We've probably got 30 to 35 of their saws and polishing machines, probably more than that, and I can't say enough good things about them.
They are constantly improving these machines by putting new features on them to speed things up. On our block saws, specifically, they saw 24 hours a day seven days a week, and they really do that!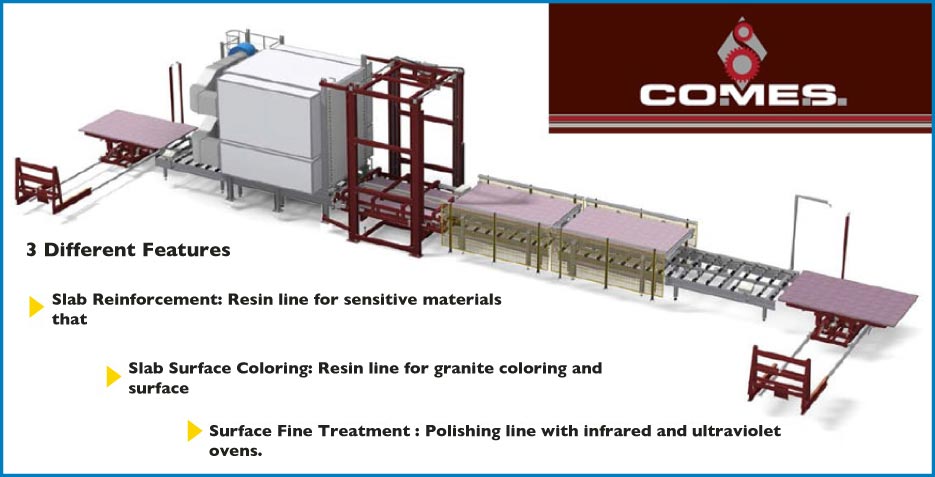 Wilson offers the COMES production line machinery to process slabs for distribution within the stone industry, including surface polishing, coloring (if desired) and slab reinforcement for exotic stones.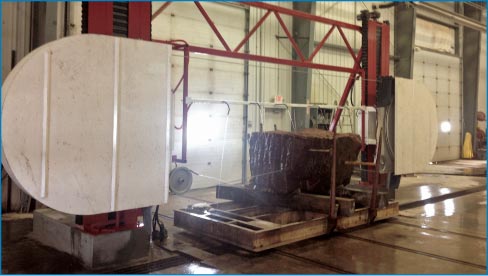 Six foot Wilson wire saw installed at Anderson Brothers in Wausau, Wisconsin, working its way through a granite block.
"Their polishing machines run really well, too. We do a lot of custom projects, and when we tell them what we need to do, they build us a machine to do it. I've looked at a lot of foreign machines and owned a few, but the drawback with that is you've got to wait on parts and help from overseas. Their service is not like the Wilson's. I'm constantly weighing the plusses and minuses, and Wilson Industrial Electric has them beat including prices. They can build you a machine that does the same thing for half the money."
A Precision Machined Future
Matt concludes: "We are beginning to develop servo drives which, of course, lend themselves to CNC. We are starting slow in this direction because that market is so dominated by the Europeans, and we need to know that we can compete and get market share before we jump in with both feet. Right now we stay so busy with the machines that we build, that we are at the limits of our capacity, and at that next step in business where it's time to make a leap again. It's kind of funny; I thought we were at that point years ago and only had to do that once. Evidently, life now is all about being digital and not analog.
"This is another thing about our technology that I express to our customers. We don't have the latest and greatest thing, and I don't want the latest and greatest thing. We usually lag three to five years behind the latest technology. Reason being — if it's not proven — I don't want it on my machine. We've gotten bit by doing that before and then had a lot of problems, and I'm not going to jump back into that pool again. So we let the technology prove itself, and that makes our machines three to four times more reliable. We are, however, looking into getting our feet wet developing a contour wire saw that you can load in a picture of whatever you want and it will cut it out. We've gotten a lot of interest in that, so we are doing the ground work to create a machine that will perform to expectation. We are also looking to expand into the tile manufacturing market, where companies are doing hundreds of slabs per day.
"So we want to grow, grow, grow! We've expanded our productions facility and looking to expand our warehouse, office spaces and our service and repair spaces. One thing that's helped us out over the years is being so diversified. Being able to do service as well as OEM (original equipment manufacturer) has left us real flexible during hard times. We faired a lot better than a lot of companies, because we didn't put all our eggs in one basket. We want to continue that trend. I would rather grow in a round way versus one direction. It's a little more aggravating in the short term, but a much more secure way to grow long term. To me, this is my legacy and what I want to leave."
Wilson Industrial Electric Incorporated is a member of the Marble Institute of America (MIA) and the Elberton Granite Association. Shows regularly attended include the International Surface Event, Coverings, and the new Stonex show in Toronto, Canada this summer.
For more information about Wilson Industrial Electric Incorporated and the additional products they represent, go to www.wilsonsaws.com and browse their PRODUCTS/SOLUTIONS section