Berry Marble & Granite: A Lone Star State-of-the-Art Facility
Peter J. Marcucci
Photos Courtesy Berry Marble & Granite
Craig Berry races in the Sports Car Club of America (SCCA) circuit, Spec Miata Series. He and his team at Berry Marble & Granite run a state-of-the-art facility in Tyler, Texas, where they focus on custom work.
Be it land, water or air, ask any successful racer or pilot how they got there and you'll hear answers with concepts like resilience, dedication, stamina, determination, and being resourceful. These words and more are all part of a racer's vocabulary. All know, too, that it's a team effort, and how the wins as well as the losses are handled are the keys to unlocking podium finishes.
These values have also pushed owner Craig Berry time after time out of his comfort zone and into the next level of stone production. By staying up on the wheel of racing and ahead of the curve at Berry Marble & Granite, Berry has truly raised the bar in production efficiency.
"I've been racing something since I was nine years old," recounted Berry. "These last years, though, I've been racing in the SCCA (Sports Car Club of America) in the Spec Miata Series, which is the largest series in the SCCA. It's full-bodied sports cars that are all Mazdas, and it's a lot of fun. We just got back from the Road America race in Elkhart Lake, Wisconsin. I had a podium finish there and one at the Circuit of the Americas race this year. "The field has been about seventy cars. That's pretty large and it's very competitive."
Featured in the past on the cover of Sports Car Magazine, Berry's team is based out of Memphis, Tennessee, where all the cars are regularly prepared for weekend warrior duties. "A race car is always brand new if it's done right," continued Berry, "but the car itself is very inexpensive. We have an 18-wheeler that will hold our five cars. It's a really nice setup, but racing! The only bad thing about racing, and I don't care if you're racing bicycles, if you put the word 'racing' after anything, it's expensive."
For the record, between the extensive travel, long days of practice, tuning and race day, Craig Berry actually stays in shape riding bicycles. "We are gone a few weeks at a time. On a typical weekend I'll fly out Wednesday, test on Thursday, qualify Friday and then race on the weekend. Last year there was a big event at Daytona International Speedway in Florida. We were there for 11 days with all the different qualifying sessions and stuff like that. That was a night race. We will also go to Monterey, California to Laguna Seca, and Sebring, Florida. So yes, we do go all over the country. Even if it's a track that I'm familiar with, I'll spend a lot of time watching video of past races.
"Finding the rhythm of a track depends on how well the car is prepped at the beginning of the practice. If it's set up good and I've been to the track before, it usually takes a solid hour for me to get up to speed. At the last race at Road America it was hotter than normal and our setup just wasn't working. We had to put all the cars on the scale and make a lot of adjustments. There is only one seat and because of my weight there is counter weight on the floor board on the other side. You can also adjust the springs and change tire pressures which jacks the weight to other corners of the car. There were so many right turns at extremely high speeds we also put a little bit of thrust in the rear end by changing the rear camber and the toe-in."
After graduating from Texas Christian University with a business degree in finance, Berry bought his first company related to countertops in 1993. It was a very small marble and solid surface company that had eight employees. From this point his fabrication companies just evolved, he explained.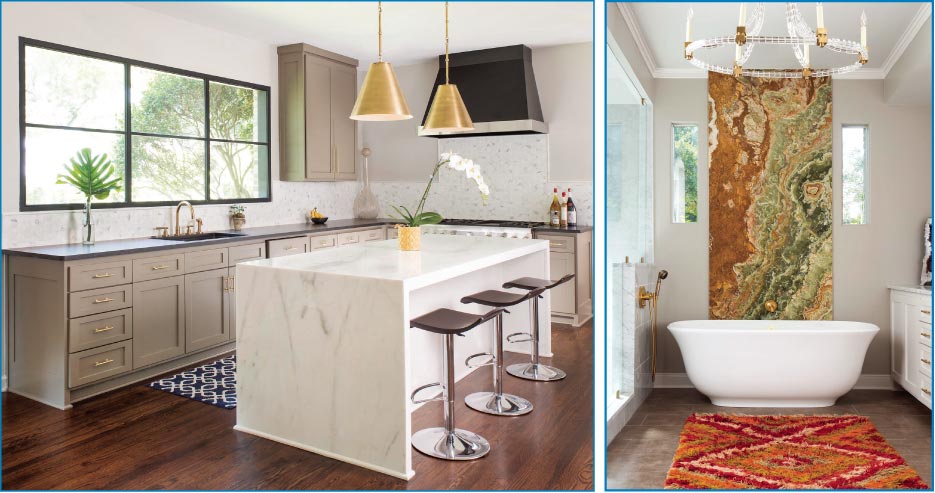 Above, Left: This modern kitchen design combines Calacatta marble waterfall edge island and contrasting Absolute Black brush-finished countertops.
Above, Right: Multi-colored Onyx is used as a stunning feature wall in this bath.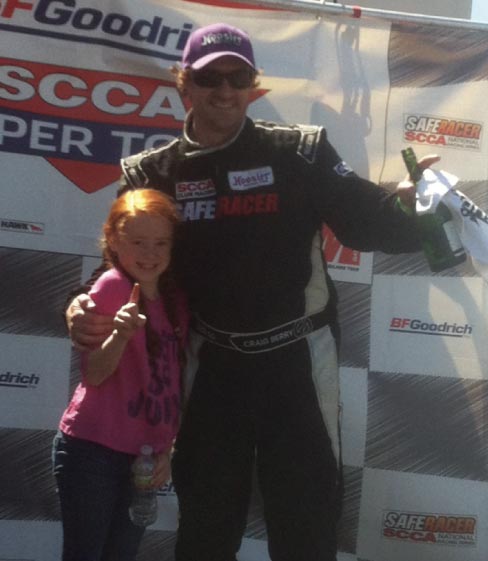 Above: Craig and daughter Molly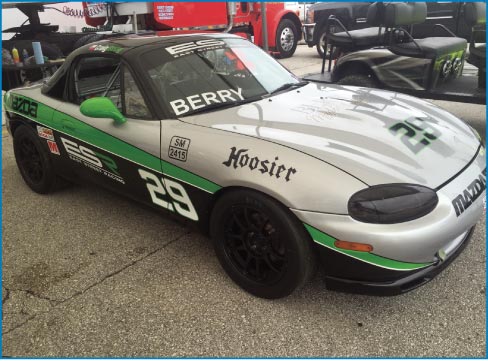 Above: Berry's 2017 modified Miata race car under the ESR team tent.
"In 1997 we bought three different companies in the Dallas/Fort Worth, Texas area. We then combined all three under one roof, 110,000 square feet in size, and employed 100 people.
I sold that location in 2007 at the same time I was building a fully automated, small footprint plant in Tyler, Texas (the current location of Berry Marble & Granite). I just wanted to focus on custom work and some hand-selected commercial projects where I had good relationships with the general contractors. We now have 48 employees.
"Our Breton equipment is amazing. It is all digital and all CNC. We also have a robot that moves the slabs around the plant, so there's not a lot of physical handling of the material. It's really interesting, because when we originally did all this, we knew that the digital layouts were going to be amazing in helping us to maximize material usage. But what we didn't know was that going fully digital would become one of our best sales tools, because the customers now see what their countertops are going to look like before anything is ever done, and they love that!"
How Production Gets Done
Berry Marble & Granite digitally templates with a Laser Products Industries LT-55 laser. Photos of selected materials are then combined with the digital templates in the CAD department where a full layout is created. They will then email the customer the basic CAD drawings along with the layout pictures showing the veining, the movement of the material and where the seams are, said Berry.
"Doing it this way is really nice and takes the stress off the customer, because when the customer is just looking at slabs, it's really hard for them to envision what their countertops are going to look like. So you can see the relief in their faces when our sales people tell them, 'You don't have to worry about it. You're going to see it before it's done and if you don't like it, we can change it.' "One of my key messages is that you want to treat everyone like you would treat a good friend or family member. You also want to educate them on the different materials and speak up, because the people that come in have very little information. When you've been doing this for so long, you know what they like and don't like, and nine out of 10 times your gut feeling is going to be correct.
"Our CAD people are so amazing. With our layouts, I would say that we only have to change them about two percent of the time. It is a minuscule number. When the customer sees it they say, 'Oh my goodness, this is perfect, this is amazing!' So it's all about the customer, it really is! And in this business, with profit margins being so slim, doing it right the first time is important. You can't be redoing things, because then you're only getting paid to do the job."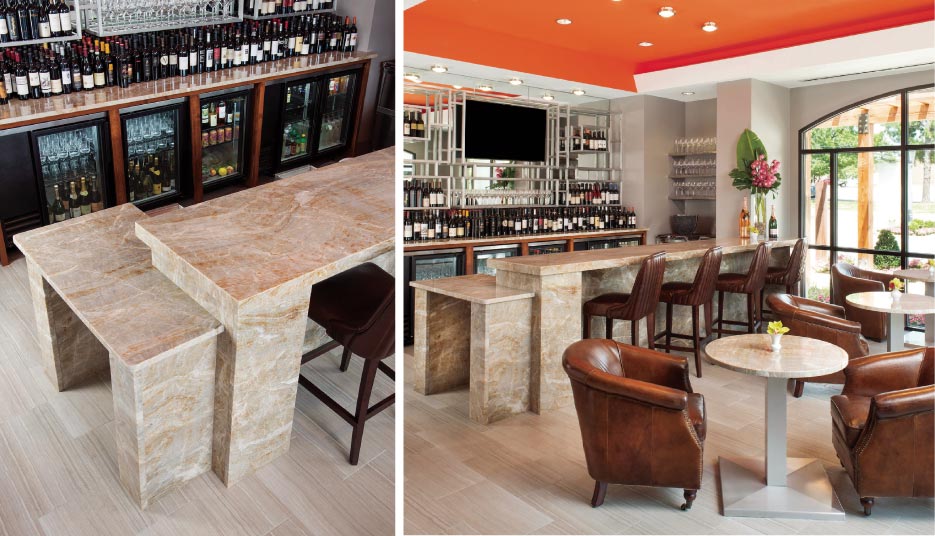 Quartzite wine bar includes matching round quartzite pedestal tables.
At most any time, the company keeps approximately 400 3cm slabs in inventory. Natural materials of all types, including quartzites, make up about 78 percent of stock, while engineered material, including Corian, make up the difference. "We do have a commercial division, but we really are a custom shop," continued Berry. "We'll do fireplaces, countertops and anything that you can think of where solid material is used. We are also a direct importer and do receive containers sometimes, but not this year. Our slab suppliers have been so good recently, that we haven't needed to. Architectural Granite & Marble in Austin has been a good partner, and recently KLZ Stone Supply in Dallas has been a good partner as well."
Berry Marble & Granite does their own installations but doesn't do tile. Their client base is a middle to upscale demographic within a 120 mile service radius and supplies 95 percent of their work, said Berry, adding, "We do a lot of Dallas/Fort Worth as well as all over Texas. Our immediate area is a huge medical community and the medical hub of East Texas, so obviously these are good paying jobs. Our commercial work is all over the state as well as New Mexico, Oklahoma, and all the states bordering Texas. Our turnaround time from approval to installation is about 10 days."
Berry Marble & Granite's 16,000 square foot shop houses 12 craftsmen, a Breton Combi-Cut CNC saw, a Breton Water Jet and two Breton NC400 double-table CNC routers. Throughout the production process, a Breton robot called a JOT feeds these machines via a Breton conveyor system. "We photograph and archive all of our material, and all partial slabs are on record and at the fingertips of the CAD guys," he continued. "With our 'buy what you need program' we usually keep about 50 colors available. Customers can select and only buy down to a tenth of a square foot, and since our system retains all the information, when another job comes in using that same material, our CAD guys can go in and see the bundles and the partial slabs that came from them. They can then put together a kitchen in an efficient manner using any leftover material. That is beneficial to us and to the customer."
Thoughts and Expectations from Craig Berry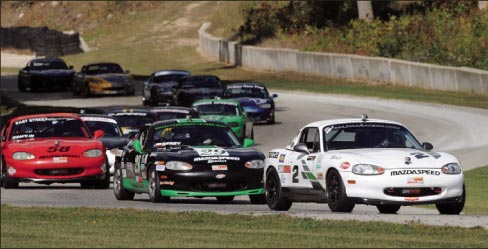 Berry (number 29, black and green) battles to overtake lead car at Road America race, Elkhart Lake, Wisconsin.
"From 1993 to 2007 all we were thinking about was expansion. Then, over the last nine years, business has been completely different. But the economy is feeling very solid again, though, and we are feeling good and again thinking about growing. I think it's time for more square footage, more machinery, and more people.
"We were very fortunate to have sold the big operation in Dallas in 2007. Most of our customers at that time were publicly traded builders like DR Horton that was 36 percent of our sales. This percentage was too risky. Our biggest customer now is only about 3 percent of our total, and every one of them comes first with all of us. We are just here to assist, and that is our whole philosophy all the way down the line. I tell everybody that if we don't have customers and sales, then we don't have a company. We can have all this cool equipment and other stuff, but without customers, there is no company.
"The other thing is our people. I treat them the way that I would want to be treated. We keep the same people that have kept the longtime relationships with our customers. We talk about family and what they did on the weekend, and we have a good group. Everybody knows everybody."
Berry Marble & Granite is an accredited member of the Marble Institute of America, the Artisan Group and a longtime customer of Braxton-Bragg.
For more information visit www.berrymarbleandgranite.com