Marmo Meccanica: Building Cutting-Edge Equipment for 35 Years
Peter J. Marcucci
Photos Courtesy Marmo Meccanica NA, Surface World, Novus Building and AMC Silestone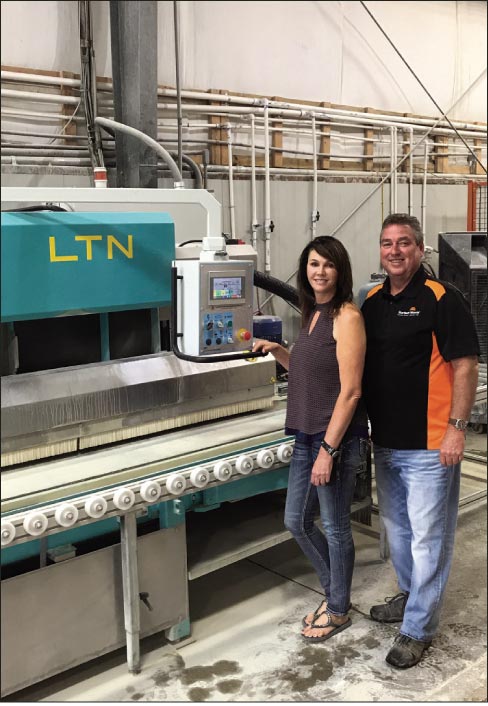 Above: At Surface World in Athens, Ala., Owners Jill and Glenn Parks have a LTN-621 & LCH-711M-OV machine.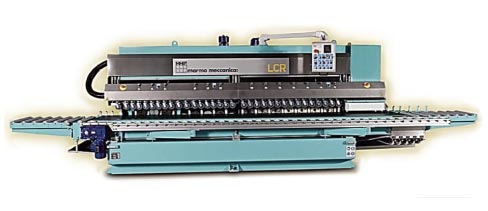 Above: The versatile LCR 7233 combines several functions in one flat polishing machine, including the option to make dado and mitering cuts.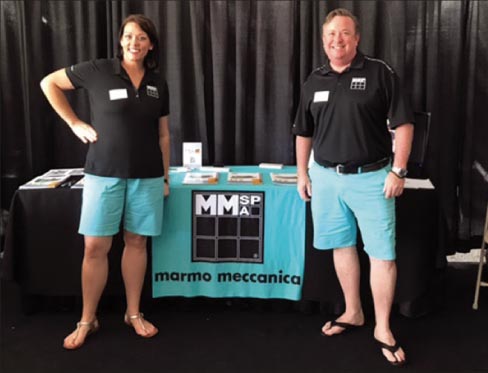 Above: Chantel Rozenberg and Steve Collick of Marmo Meccanica. Steve: "When I'm at the trade shows, one of the greatest things is when I've got a customer looking at a machine and a previous customer walks by and says, 'I own one and if you don't buy it you're crazy!"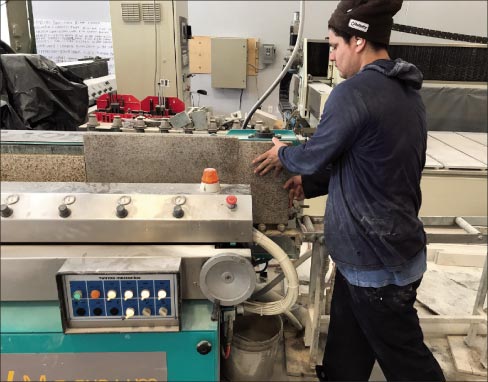 Above: Novus Building in Dulles, Virginia, owner Chris Krebs: "Our LCV-711M flat polishing machine and HTO-R2-5A saw are real workhorses for us."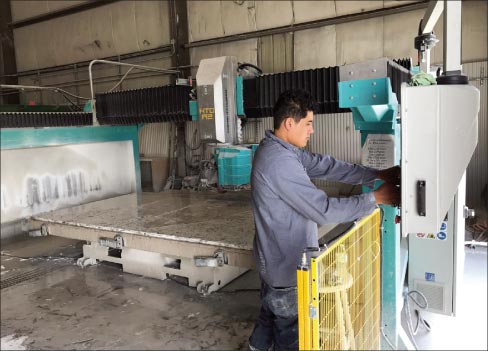 Above: Novus Building's Marmo Meccanica HTO-R2-5A saw in action
AMC Silestone of Fon Du Lac, Wisconsin, owner, Axel Mendez is another happy customer. AMC uses the LCV-711M and the LTX-621 edge machines.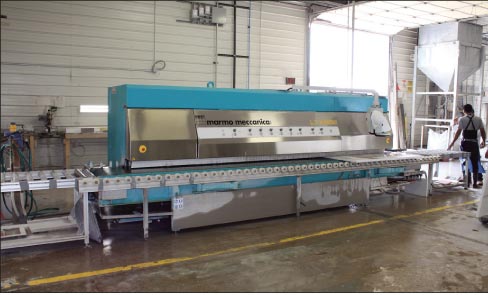 For decades, the simple, polished edge was the go-to choice for homeowners wanting affordable stone countertops. Likewise, designers and architects looking for a simple, elegant look for their contemporary or Americana setting embraced the polished edge.
By the mid-1980s, hand routers and CNCs were becoming all the rage, and more complex, fancy edges like triple pencil, ogee and multi-tiered became the preferred look for the upscale customer wanting something different. The use of the simple polished edge was in slight decline.
Of course, the simple edges never really fell to the wayside. They were merely waiting patiently on the sidelines.
Well... guess what? In case you haven't noticed, the simple flat polished edge, along with beveled and chamfered edges, are back in vogue – this time, with no end of their popularity in sight.
Marmo Meccanica is rising to the occasion to help supply the increased demand for polished, beveled and chamfered edges. Yes, they were the new kids on the block in the mid 80s — and no, these next generations of high-tech machines are definitely not your father's saws or edgers, explained Steve Collick, CEO of Marmo Meccanica NA. "Our new LCR 7233 edge machine is a hybrid and an exclusive to Marmo Meccanica. With the growing demand in the industry for flat polished and chamfered top or radius top, the LCR blends the two functions together."
How it Works
According to Steve, the LCR 7233 is an inline, belt-driven workhorse employing nine heads total, with two heads being for upper and lower chamfering. "You have the first stage of heads for cutting the bevels, and in the second stage you have three top and three bottom heads on a cam that will radius and polish both chamfered edges at the same time.
It's basically a two-step system that gives you great production, at roughly 150 feet per hour.
"The radius size can be increased or decreased, too, by changing pressures.
"This is learned, as you understand what the machine and the types of tools you put on it can do. You can also lock up the top part of the cam to create a polished edge, and then bevel. Moreover, using our PLC (programming and logic control) touch screen feature, you can make a library of available edges or for a particular job. So, the setup time going from one job to another is basically just going to the user-friendly touch screen and specifying the parameters."
Always Know Your Options
Steve went on to explain that an optional front and rear motor can be added miter 45 degree cutting, or the "OV Cutting System," which will produce a dado cut. "Instead of doing the traditional 45-degree miter cut, you're cutting a dado and only processing a narrow strip of the apron. With the front motor you can also do rod cutting and gauging of the material, so there's some versatility there. You can also use only the rear motor for 45-degree mitering the outgoing material. With these options, you can go from two, three or four specialty machines, to just one."
Another available option the LCR 7233 has is the ability to true the front edge of laminated material so the piece does not have to go back to the saw. Instead, a grinding wheel does the cut back, as well as true the edge, said Steve, adding, "What we've found is that the less time you have to handle the material, the more cost-effective and productive you are. This feature really adds a lot of value to the machine. With the new PLC technology, and by adding multiple options to our machinery, we are not 'pigeonholing' our customers into a machine with just one function."
Like all Marmo Meccanica machines, the LCR 7233 utilizes stainless steel for components as well as heavy zinc treatment on the machine itself to withstand the corrosive environment of the stone shop, allowing for a much longer machine life.
Italian Machinery with American Service
"I've been with Marmo Meccanica for nearly 20 years," continued Steve, "and we have a large technical staff based in the United States to support the machinery with parts and service. This also adds to the strength of the product and the Marmo Meccanica name. We've done a great job over the past 35 years with our machinery in terms of keeping the design simple and standing behind our products. That said, the biggest component of our success is the communication with our customers.
"From sales, to delivery, to installation and then training, we build the relationship with the owner, the operator and the service manager. We really stress to have multiple people from the shop present during the machine installation and training process. When our technician leaves the install, all the people at that company are given his phone number so they have access to him and establish a relationship with him. That way, the customer has instant access when they are in need of immediate assistance.
"My technicians are also encouraged to use all means necessary to be proactive in trouble shooting instead of just sitting back and saying we have to send a tech out. Additionally, the machinery is very simply built, including the manuals, because we understand that the customer wants the machine up and running. We have a large inventory of parts and can next-day air ship them, and walk the customer through the process of getting things done. If the customer is experiencing a more complex problem, we always have technicians available to take care of any customer needs. Moreover, with the new technologies that we use, we can access the machine, go through and check everything, or change any parameters that need attention remotely. We can also add updates when we receive them from the factory, via the internet. All machines come with a one-year warranty with parts and labor covered."
Size and Requirements
The LCR 7233 is 20 feet long and 6 -1/2 feet wide. The extension tables add on to that dimension and come in different sizes, depending on the customer's needs. Power requirements are 230 volts, 3-phase at 120 amps. Compressed air, and a 1-inch water line yielding 18 gallons per minute is also required. Another unique feature is that all used water is caught in stainless steel trays under the body of the machine, then directed to a dedicated drain to avoid any water spilling to the floor. These pans are pitched and easy to wash down. An additional included feature is a sprayer that cleans the horizontal drive belt before it comes back up to receive the next countertop."
R&D and Investment in New Technology
"The owner of Marmo Meccanica SPA, Stefano Amagliani, is actually the engineer and designer of the very first machine, the LCV," continued Steve. "He is very involved in all the new technology and working with the engineers at the factory to come up with more efficient machinery.
"Furthermore, we were the first to patent the lever system instead of chain or guide rails back in the 80s. When the patent ran out, other manufacturers followed suit. Just recently, we went to a direct-drive system with two right-angle gearboxes, two motors and one inverter. This equates to less working parts, fewer bearings and a more stable drive to the oscillation beam, which allows a higher frequency back and forth and a better polish at a faster rate. Additionally, our motors and our precise parts are all isolated from water and housed in ventilated cabinets. So we don't have dust and moisture damaging critical parts. Many of our competitors have their motors exposed and it causes problems. So we are always pushing the envelope, too, coming up with better ideas allowing our machinery to produce faster, better and stand the test of time.
"We also strive for diversity in our machinery, offering several types of machines to accommodate the needs of our customers, from saw cutting to edging. One of these machines is a 5-axis CNC bridge saw that comes complete with steel walls and tilting table for slab loading. The HTO-R2 saw accepts ISO 40 cones for doing routing and core drilling as well. The table is large and has a large cutting capacity as well, and with Easy Touch software and a camera, vein matching and optimization of the slab is accomplished.
"One of the biggest factors for most of our customers is the cost of repair, so the maintenance cost over the life of our machines is very low. Again, the simple design is the strength of the machine. Additionally, the parts and service department in North America has been established for over 22 years and has been a very significant part of our success."
A Cutting-Edge Outlook
"I'm seeing a sales increase of more than 30 percent over last year. I'm also seeing long-term planned growth, and that's very important. Since the crash, the number one complaint I'm hearing is the lack of qualified workers, and we are moving more towards automated machinery. This reduces Workers Compensation, labor and the liability of workers not showing up when the work has to be done.
"For the most part, our machinery is utilized by small fabricators and big project companies alike, and our customer base is growing day-by-day. But I have to say that the number one component of our success in sales is that our customers are our best sales force. Their enthusiasm helps sell our machinery. When I'm at the trade shows, one of the greatest things is when I've got a customer looking at a machine and a previous customer walks by and says, 'I own one and if you don't buy it you're crazy!' That happens all the time."
So now that we've whetted your appetite, what's the first thing you should do, you ask? Steve says you should either call their office in Rochester Hill, Michigan at 248-853-9000, or contact Marmo Meccanica at www.marmomeccanica.com. They will then have a PowerPoint presentation sent to you along with videos, pricing and available options.
At that point, if a customer wants to see the machine in action, Marmo has a working showroom at their facility in Rochester Hills, Michigan.
You might also get a sneak peek at some exciting new things released this September at Marmomac in Verona, Italy.