ISFA Hits Milestone 20th Year in 2017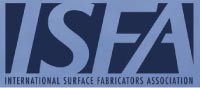 ISFA will be celebrating its 20th year as a not-for-profit trade association designed to help its members become better business people, improve profitability and set industry standards.
Founded in September of 1997, the organization has helped thousands of companies not only learn to fabricate solid surface, quartz surfacing and natural stone, but also to rise to the top to become some of the top fabricators in the world.
"ISFA has come a very long way from its roots in solid surface," said ISFA President Ryan Miller. "We have been a part of the success of uncountable fabrication businesses, set the standard for both solid surface and quartz surfacing, created the most diverse and informative magazine for the countertop/surfacing industry and educated the architect and design community, all while increasing the profits for our members."
ISFA offers such benefits as its Countertops & Architectural Surfaces magazine, a member-developed Continuing Education Program that helps members reach out to architects by offering them Continuing Education Units, hands-on solid surface, quartz and stone fabrication training, numerous educational and networking events and conferences, and much more.
"We are working hard under the guidance of our Executive Director Bryan Stannard to continue to offer relevant and valuable programming," continued Miller. "And we look forward to continuing to be THE association for the countertop/surfacing industry for another 20 years."
For more information about joining ISFA and how it can help you improve your business, visit their website at www.isfanow.org or email info@isfanow.org.