Stone Restoration and Maintenance Corner: Coatings: Application and Removal
Bob Murrell
M3 Technologies
Photos by Bob Murrell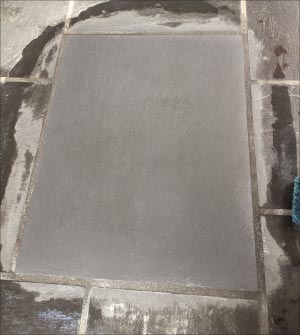 Above: Always do a test to confirm the procedure and results. This process involved acrylic removal from slate, and took several tests to confirm the correct procedure.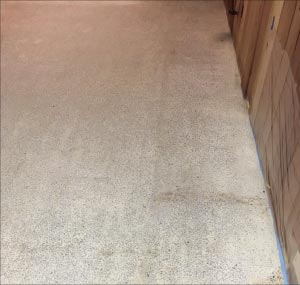 Above: Acrylic removal from terrazzo by dry grinding. This also involves a thorough dust removal step while grinding.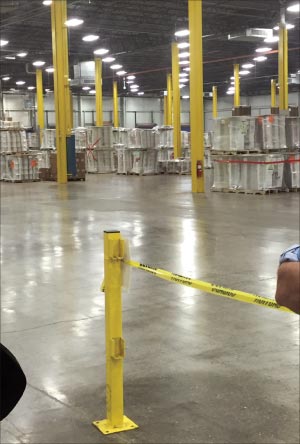 Above: This warehouse floor at a food processing plant is a good example of urethane applied to an epoxy base, designed to withstand heavy forklift traffic.
Above: This example of a failed floor coating and joint fill at an industrial plant shows the gaps, fissures and cracking typical with coatings failures from heavy floor traffic.
In a recent issue of the Slippery Rock Gazette (May 2017), I related a challenging coatings removal project involving urethane on slate. There are many types of coatings that you may encounter in the restoration and maintenance of hard surfaces. Some are easier to both apply and remove than others.
As I have mentioned before, to me, sealers are sacrificial topical coatings designed to protect the surface from wear and stains. They are also designed to provide varying levels of gloss. Impregnators are subsurface products designed to repel stains without appreciably changing the appearance or vapor transmission of the material. There are also penetrating sealer/impregnators which do a little of both. Color enhancers are a member of this latter group.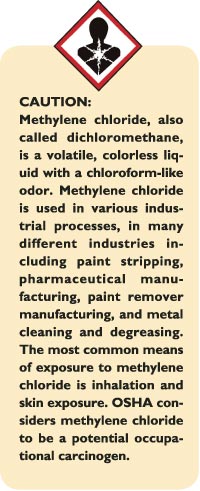 One of the issues with sealers and topical coatings is that they almost always alter the appearance and restrict the vapor transmission of the material. Also, future maintenance will now have to be based on the type of sealer that has been applied. It is my experience that most natural stone situations do not really benefit from topical coatings. In fact, with some topical coatings on stone, maintenance can be more complicated and costs can rise.
Of course, there are situations where coatings do benefit the material, such as a warehouse where chemicals are routinely manufactured, stored, and handled. That is why many industrial facilities rely on coatings for the protection of their concrete and masonry surfaces.
Also, topical coatings are used on some stone surfaces such as slate, sandstone, and fieldstone to enhance the color and add shine.
Topical coatings are normally either metal cross-linked (floor finish), acrylic, urethane, or epoxy.
Epoxies provide a high-build protective film used for resistance to extreme wear and chemical attack. They can be clear or color pigments can be added. They do tend to yellow with age and UV exposure. Most epoxies are comprised of a two-component (A&B) mixed process. Epoxies are normally high gloss but additives can be mixed in to reduce the level of gloss.
Urethanes provide high abrasion and chemical resistance, yet are more flexible than epoxies. For this reason, they are especially desirable when heavy machinery is a factor on wear, such as forklift trucks. Urethane must be applied in thin layers and does not cover imperfections in the underlying substrate quite as well as epoxies. A layer of urethane applied over an epoxy base is the preferred coating method of many industrial applications.
Acrylics are typically not as durable as epoxies or urethanes, and therefore are used more for decorative applications. Stamped, dyed, and stained concrete are common applications where acrylics are used. Acrylics are also used on natural stones such as slate, sandstone, fieldstone, bluestone, and other similar textured materials. Many concrete guard products are acrylics.
Metal cross-linked floor finishes are not as common as they once were. Acrylics are the new floor finish, as they last longer and don't powder or dust as much.
All of these coatings can be either water-based or solvent-based. Water-based products are typically viewed as safer (no VOCs or noxious fumes), easier to apply, and less expensive. Solvent-based products tend to produce more color of the substrate, hide imperfections better, and adhere better – but be aware that Solvent-based products are not low-VOC.
Application
Application of the different types of coatings is about the same. Most manufacturers recommend applying with a short nap roller, microfiber applicator, airless sprayer, or HVLP sprayer.
Acrylics are designed to be applied very thinly and should typically not exceed 1-2 mils of thickness (for reference, a credit card is over 100 mil thick). Epoxies are normally a two part system (A&B) which must be mixed together prior to application. Epoxies can be applied from thin (1-2 mils) to thick (up to 80 mils) depending the condition of the material's surface. Urethanes are also applied thinly, under normal situations.
All coatings will eventually wear, discolor, cloud, peel or flake, and ultimately will need to be replaced. Urethanes and epoxies can be extremely difficult to remove and may require very harsh chemicals like methylene chloride to be removed efficiently, if there is adequate ventilation. Of course, you have to consider the waste product from any chemical stripping process and where it can be disposed of both properly and legally.
If you are working on relatively smooth surfaces such as concrete or terrazzo, removal of the coating by dry grinding may be possible. Dry grinding with large planetary machines coupled with a dust extractor might be the best course of action for these types of projects. It is fast, efficient, and the disposal is to simply put the dry collection in the dumpster (for landfill disposal). Of course, you will need to check on local regulations to confirm this beforehand. Coarse metal-bond diamonds, PCD (polycrystalline diamond) scrapers, and other types of scrapers are normally incorporated in this process.
There are other methods of dry coatings removal too, such as with shot blasting equipment, which also uses a dust extraction system. Any wet operation, whether mechanical and/or chemical, will require the proper disposal of the waste product.
Of course you can't, or shouldn't, grind an epoxy or urethane off of slate or some other textured stone. That would permanently change the appearance of the stone's surface. So you are stuck with a chemical stripping process. This of course means you will be donning your PPE and spending long hours getting all or most all of the old coating off before cleaning, allowing the surface to adequately dry, and finally re-applying the new coating.
My personal advice is this: if you are doing slate or some other natural stone with a textured surface that needs enhancement and/or shine, use a quality acrylic. It will be easier to remove and replace down the road. However, if you are doing an industrial warehouse with lots of forklift truck traffic, you may want to consider an epoxy or urethane. Just remember that eventually the coating will fail and will need to be removed and replaced. Plan on it.
As always, check with your favorite reputable distributor for quality products, advice, and support. Develop a relationship you can count on with them. It just makes good business sense.
Bob Murrell has worked in the natural stone industry for over 40 years and is well known for his expertise in natural stone, tile and decorative concrete restoration and maintenance. He helped develop some of the main products and processes which revolutionized the industry, and is currently the Director of Operations for M3 Technologies.