Lenny Rogers – A Notable Passing
Mark McMunn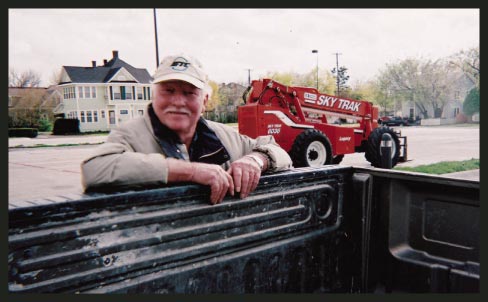 Lenny Rogers, Marble Setter, 1940 – 2017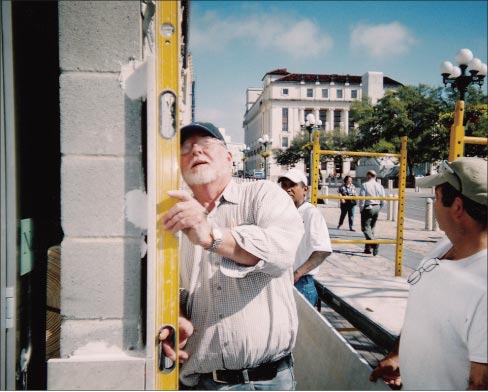 Above: Lenny Rogers checks the vertical alignment on a façade job.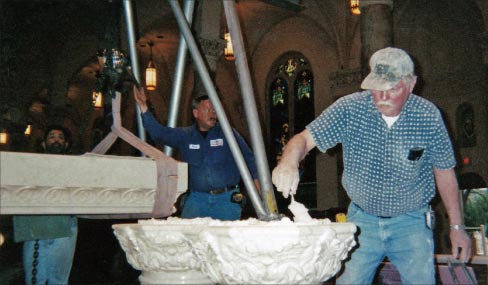 Over a lifetime of setting marble, Lenny Rogers developed all the skills necessary to tackle any job with confidence., and was a leader, teacher and mentor to many in the industry.
In the early morning of Sunday, June 11, 2017, the life of a true marble setter came to a dignified end. This true marble setter was Lenny Rogers, a native of Tifton, Georgia, about 100 miles south of Macon, who grew up in a shotgun-style house with a large family – a humble beginning, to be sure.
Anxious to go out and find his place in the world, he left home at an early age, married Linda O'Leary, and embarked on raising a family and creating his own career. His marriage to Linda brought forth three fine children, two sons, Lenny Jr. and Wade Rogers, and daughter Lisa Rogers, all of whom he was very proud.
Like most everyone in any trade, Lenny started out as a helper. He chose tile setting as his first career and quickly picked up the skills it takes to properly install tile. In the early 1970s after several years of tile setting, a call came in asking Lenny if he wanted to be part of the team that would install the tile work in the Chesapeake Bay Bridge tunnel. (It is worthwhile to look up this project on YouTube, where you will find a time-lapse video that shows exactly the size and scope of this project; slow the video down, though, when the tunnel part comes along so that you can see just how big this project was.)
Lenny was hired as one of the foremen to oversee the careful installation and timely completion of the work. The sheer size of this project revealed the level of his job management skills, and job management was truly one of his greatest abilities, which he would carry with him as he transitioned into the setting of dimensional marble and granite.
Although he started out as a tile setter, Lenny quickly became adept at the much more skilled work required to set dimensional marble and granite, and it was at this type of work where he excelled. That tile setting experience along with having run his own masonry company for several years gave him a broad knowledge and intuitiveness that made him one of the best project foreman this writer has ever known. His skill and knowledge was such that he could comfortably stand toe to toe with any architect or project manager in the office or on the jobsite to discuss the installation of dimensional stone.
Many times architects and project mangers would seek out his advice or ask his opinion on the design of a fastening system. Perhaps though, his greatest skill was to take a group of diverse men and bring them together as a cohesive team to complete a job on time and to specification. Being a part of one of those teams was to experience a type of camaraderie that only men taking on a difficult task and taking it to the end will ever know.
After many years of working up and down the east coast, Lenny moved to Elgin, Texas, in the mid-1980s and began working throughout the state of Texas, but continued to work on projects as far away as Nashville, Tennessee, and the state of Hawaii. There was no installation that he could not tackle, be it toilet partitions, wall veneer, an altar top or a baptismal font. Each of those types of installations requires a different set of skills, and he possessed them, all from preparing the proper mortar, to making specialty wire tie anchors by hand, to adjusting the flow of water over a fountain weir to achieve the desired flow. Truly, he possessed a lifetime of knowledge of working with stone that he could access for any situation.
Lenny Rogers was humble, not the type of man who would want to take up anyone's time, and he would probably think too much has already been said about him. Let it be then that all of the stone has been set, plumbed and squared. All of the joints are grouted and have been pointed up. The tools have all been cleaned and put away and all accounts are square. The time has come to go home and to rest knowing that the job has been well done.