Water Management Case Study
Everything Stone Starts As it Means to Go On with a Bit of Help from Waters Group
Natural Stone Specialist
Reprinted by Permission
In 2016, Everything Stone in Par, Cornwall, decided to stop buying stone in from other masonry companies and open its own workshop instead. It was a major step for the company. Here, Director Phil Battersby explains the move and why he chose to start off by including a Martini Aeroimpianti Lindo 200 water treatment system as part of the package from machinery supplier The Waters Group.
"Why did we decide to start manufacturing? We've been templating and installing stone worktops for approximately eight years and we've tried everything we can to get more involved with kitchen studios, designers and building contractors. And although we have forged relationships with some companies, we have always struggled with being competitive and have lacked the ability to accommodate a quick turnaround.
"The manufacturer that we have been using is based in Swindon and while they have been great over the years, you can imagine that driving up to Swindon from Cornwall once a week to collect worktops has taken its toll.
"Being independent has been our goal for a few years. We wanted to offer our customers better prices and be competitive, but we also wanted to offer our customers a better experience when they visited us. Purchasing worktops for a lot of customers is like buying a car – it's quite an expensive one- off purchase. So being able to show the customers large slabs of granite, right next to a fully equipped workshop with the latest CNC machinery was key to our development as a business.
"For us, the purchase of the machinery was always going to be difficult. We knew we had to box clever with finance and so we set out to obtain grant funding for our deposit. That was a long journey.
"We set ourselves three steps to achieve our goal. The first was ISO accreditation, and although this wasn't a necessity from a finance perspective, I felt the processes that ISO helps companies like ours implement would massively benefit us as a business, especially before we started to manufacture.
"The second step was to find a suitable workshop. The perfect solution presented itself when a building became available on the same industrial estate as were already on. It was literally right in front of our current showroom, so we bit the bullet and snapped it up some 18 months before the machinery arrived.
"Step three was to obtain grant funding and asset finance, which although at first was a very long winded and difficult process, became much easier when I was introduced to Close Brothers Finance.
"Having completing these three steps (which took approximately three years!) we could finally start with the best bit – choosing machinery. With The Waters Group down the road and the fact that we have been buying from them for a number of years, it was a no brainer.
"Daniel Waters has always been on hand, always happy to assist and is full of knowledge about the stone industry, which was essential for us. We needed assistance from a company that was there to help. And I feel that Waters aren't just a supplier, they really did help us understand what machinery we actually needed rather than just selling us the biggest and most expensive.
"They helped us purchase the machinery that was perfect for the size of business we are as well as future proofing us for the next few years as we grow. This is why we chose the Cobalm Idea Integra 5 axes CNC bridge saw and Cobalm Idea Top CNC routing centre.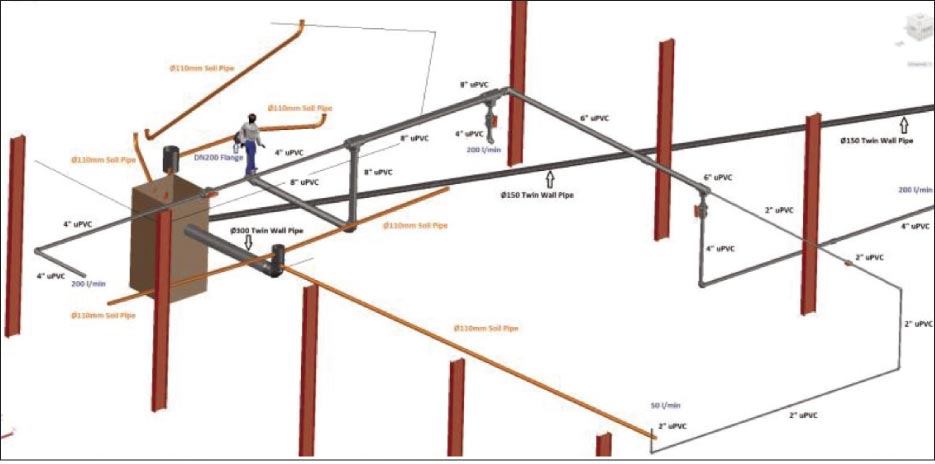 Sophisticated, computer controlled OMEC systems from New Stone Age are modeled in 2D and 3D before being finalized.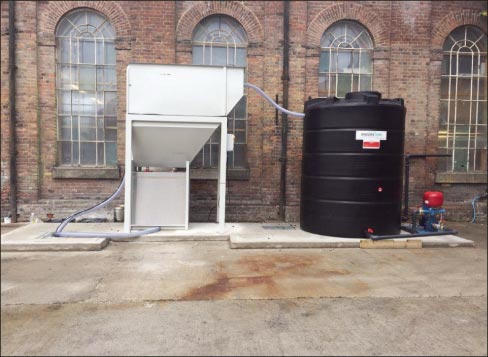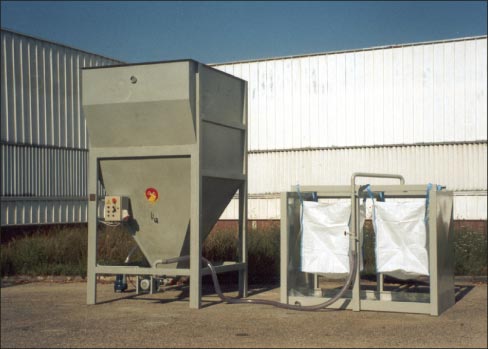 Martini Aeroimpianti water recycling plant
"We increased the size of the tables of the Integra and Top to allow us to accommodate the largest slabs of granite and also increased the size of the blade housing on the saw so we can cut stone slabs up to 225mm thick, which will help when we start manufacturing more architectural stonework next year, as we plan to.
"We also purchased a Martini Aeroimpianti Lindo water recycling plant from The Waters Group. We felt this was important because we wanted to start as we mean to go on and recycling water is the right thing to do with the amount that our new machines would required every day.
"We also purchased a Pillar / jib crane with pneumatic lifting equipment to help move the worktops effortlessly, reducing the risk of breakages and accidents.
Waters have also supplied all the consumables, tooling and materials required for manufacturing, templating and installing the worktops we are now making.
"So, with the stone machinery selected and finance sorted, we started to carry out the necessary renovation works in the building to create our new workshop. It basically involved erecting a two-storey building inside the existing building. This enabled us to create two offices, crib room, shower room, wet cutting / polishing room and a drying room where the worktops could rest before being sealed.
"The workshop was in quite a state when we took it over and we wanted to create a nice working environment, so we spent many evenings and weekends preparing the building. We carried out all the building works ourselves, which included the installation of linear drainage channels, water catchment tank, clean water tank and water recycling plant, pipework and water filter, air compressor pipework, installation of the jib crane foundation base and all other items.
"We started out as a building company – my brothers and I have been building since each of us left school – so we were able to do all the building work ourselves. I specialized in ground works, civils and hard landscaping, my brother Alex specialized in Carpentry and my other brother, Ross, in stonemasonry and hard landscaping.
"When we had made all the alterations and decorated the new workshop to our satisfaction we were ready for the machinery to be delivered. By the time it arrived with us at the end of July we were just about ready. The Waters Group arranged for two engineers to assist with the installation of both the CNC machines and provide training, which was imperative for us. We took delivery of our first batch of stock – large slabs of granite, marble and quartz – and got right down to manufacturing.
"We always have had a steady flow of inquiries but now we are more competitive we have started winning more work straight away. We immediately became fully booked up and continue to be so, even though we have just taken on our second employee since purchasing the machinery. We still find ourselves becoming busier by the week.
"We feel we have made the right decision to start manufacturing and are happier as a business. We now offer our customers a much better experience when they visit us and, most importantly, we are more price competitive.
"The future is looking bright!"
Reprinted by permission. Natural Stone Specialist is the UK's only magazine dedicated to the natural stone industry. Each issue features some of the most interesting projects.
Visit www.stonespecialist.com for more information on this publication.