Profiles in Consumer Approaches: Braxton-Bragg LLC
Michele Farry

Humblestone
It's August, tile and stone contractors and our industry are thriving, feeling the big summer push. During these months, equipment capabilities and fabricator proficiencies are definitely tested. There are constant challenges in managing demand, and with the varying styles of operation unique to each shop's approach, technology and practices get pushed. Tile and stone businesses are ordering and purchasing the new tools and technology necessary to grow.
This business development article follows up in the series beginning in the February 2017 Slippery Rock Gazette. This month I'm focusing on stone industry marketer and distributor Braxton-Bragg LLC. They see their customers as a diverse mix made up of stone and quartz fabricators, tile installers, concrete polishers and janitorial/maintenance workers.
Bill Hickey, vice president of sales at Braxton-Bragg took time out of his busy schedule to talk about his insights on what new products and trends in technology have looked like in the past, and moving forward to the Braxton- Bragg customer. He elaborated on what kind of marketing efforts Braxton-Bragg makes, the unique guarantees they feel create value, and why they make them.
My first question: "What are common consumer questions, concerns and skepticisms about new products and trends that you hear?"
Bill responded, "Our customers seem to be constantly on the lookout for new products even though there aren't very many introduced annually. Braxton-Bragg seems to have introduced the most new products over the past 5-8 years. Fabricating is a difficult job, so any tools or material handling supplies that could make it easier to cut, polish or move stone is something that will catch a fabricator's eye.
"Larger shops may not be as interested sometimes in new products. They have a system in place that is working, and they often seem to see it as 'if it isn't broke, let's not try to fix it,' even though they could benefit in time-savings and quality of finish if they incorporated the new technology. The medium to smaller shops are the ones that seem to be willing to take a chance on something new that may make their work easier, faster or better. Trends over the past few years have been to polishing pads with fewer steps, and products for fabricating extremely hard materials such as Neolith, Dekton and quartzite."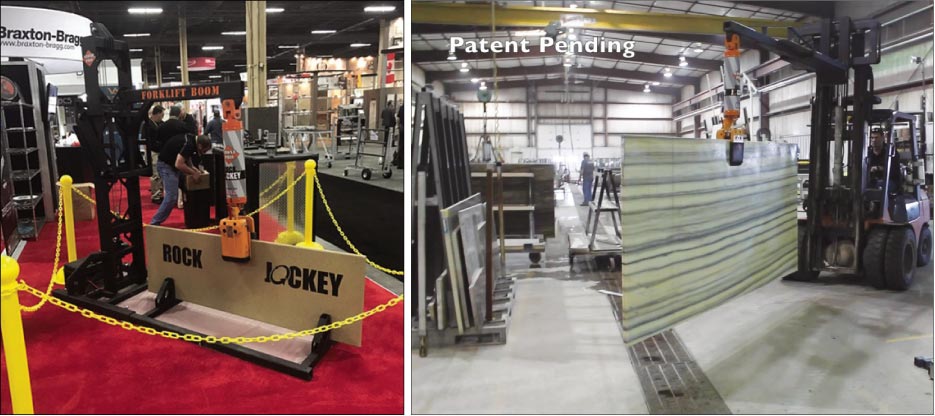 Braxton-Bragg has a successful history of helping inventors bring new tools, concepts and innovations to market, like the patent pending Stone Pro Rock Jockey debuted at TISE 2017.
Next: How do costs for new machinery, tooling and trends come together? How do you make this attainable to the mass market, and most fabricators and installers? Bill explained, "Everyone wants to think that by getting new, big automated machines that it is going to make their lives easier. In some instances, it will. But there will always be shops that can take a hand saw, cup wheel and polishing pads and be able to turn out a good kitchen countertop. I would caution shops to not go so far in debt that if the economy hits a hiccup that they can't make their monthly payments.
"The biggest trend in new machinery is toward robotic water jets and saws. What customers aren't being made aware of is that these water jets can fabricate up to four times the amount of slabs that a CNC router can handle in a day, so unless you get four CNCs for each water jet you have, you are not going to be able to keep up, unless you also continue to keep a good-sized crew hand polishing.
"Everyone seems to believe that there is magic in how CNC tooling works. Prices on all diamond products have dropped dramatically over the past 15 years with the exception of CNC tooling. We have done everything in our power to get CNC tooling pricing to an affordable point, and we have been able to do it with our Viper CNC Tooling. Our pricing is one half the price or less of most other brands. We've got finger bits that can double the linear feet of some other tools, and core bits that can do almost 3,000 holes! At Braxton-Bragg, our goal is to offer the best quality product at the lowest possible price. Guaranteed. Everyone can afford to buy from Braxton-Bragg and can trust that they are getting the best quality and price. This should appeal to all shops regardless of their size."
I asked Bill,"Why do you think fabricators and installers choose to do business with Braxton-Bragg, who retails and promotes new tooling technology for stone products, over others?" He explained, "Braxton-Bragg is the only distributor that gives an unconditional 30-day money back guarantee on every single thing we sell. If a customer is not happy with it or does not feel that it performed as they expected, we will either replace the item or give them a full refund. It's as simple as that! We don't care if the item is completely used up or in the original packaging. We are willing to steer the customer to products that will help them save money and time. In some cases, this may mean they buy less from us, as the tools will last longer, and cost them less per linear foot.
"But this is what we do. We see that if we do what is in the customer's best interest in the long run, it will be in our best interest too, as we will make a friend for life!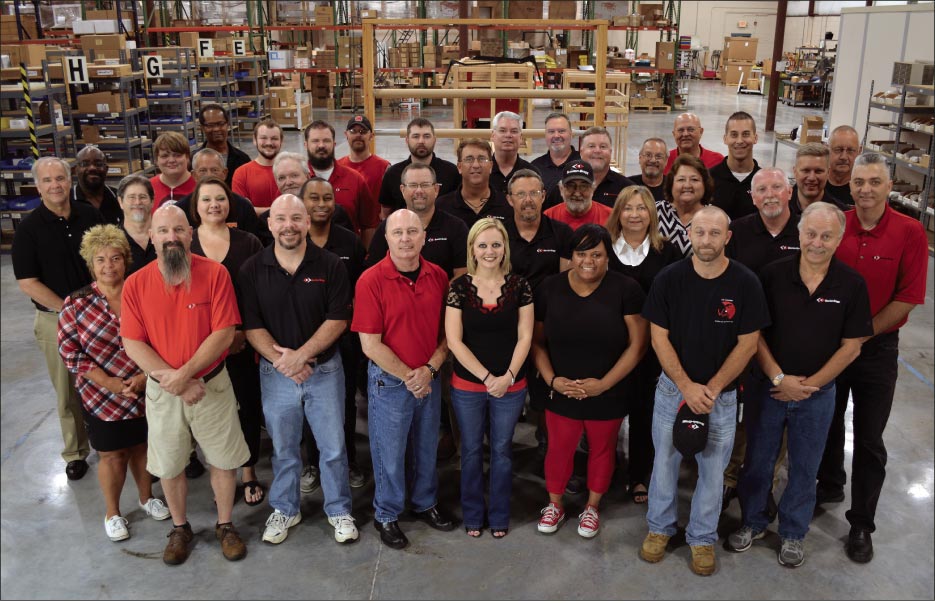 Braxton-Bragg offers an industry-unique 30-day money-back guarantee. For over three decades, they have promised stone industry customers that they "have a friend in Tennessee."
Long-wearing polishing pads with reduced steps like the Talon 4-Step for Quartz have helped revolutionize manual edge polishing, reducing the time and labor significantly.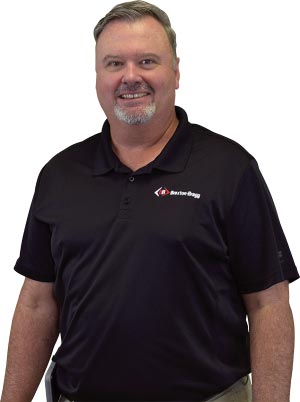 Bill Hickey, V.P. of Sales for Braxton-Bragg LLC
"We ship orders the same day we receive them. We guarantee two-day delivery or less on all UPS shipments. We have over a 98 percent complete ship rate, so when you order something from BB, you can have confidence that we have it in stock. We don't charge extra shipping on back-ordered items. It is not the customer's fault if we don't have it in stock, so we will not make them pay shipping for it. We deal with who we believe is the best manufacturer of diamond polishing pads in the world. Our pads are made with the best quality diamonds and have lots of them. The technology in our pads is what makes them polish fast to a high shine, and last as long as they do. We buy direct from manufacturers ensuring that our customers will get the very best quality at the best price. There's no extra markup from a middleman.
"We have helped numerous inventors get their products to the market. We create and publish more advertising that anyone else in the stone industry. We can get the information about new products in front of the customers through an advertisement that clearly explains the benefits of its use for the customer quicker than anyone else."
I explained how my article series has had a special focus on how businesses need to look at their investment in marketing as essential for success. I asked Bill, "What are the major components to your success with Braxton-Bragg's very effective marketing techniques, and do you give advice on building a successful tile or stone business to your customers that I could share?"
Bill explained, "We create more quality advertisements than anyone else in the stone industry. We also have the best website of any stone supply distributor. We send out e-blasts twice a week to over 5,000 fabricators. We publish the Slippery Rock Gazette and advertise in Stone World magazine monthly. We sponsor the Marble Institute of America's educational summits each year.
"No two shops are identical either in shop setup or in the customers that they have. Yes, we have had customers ask our advice on different things about their business. We are happy to assist them with what we can. We also have many contacts with manufacturers and vendors that we may also steer them to for advice."
Learning how seriously a large tile and stone product distributor like Braxton-Bragg takes their customers, what needs and expectations they have, and how they meet and exceed them provides insight not just on our industry as a whole, but what our tile and stone competitors are thinking about as well. Seeing Braxton-Bragg's approach of being out in the tile and stone industry promoting education, constantly working toward innovation of new products, and understanding what the large to smaller shops are concerned about develops the ability to meet the expectations in the industry.
Upcoming articles will discuss feedback from the end consumer's perspective, in two stages. Stage one: planning for tile and stone services, and general feedback on contractor selection from the consumer's point of view. Stage two: post completion, what lessons, remaining questions or limitations did the experience of completing a tile and stone project bring, and what could have been better or different? Have a great month!
Michele Farry co-owns Humblestone and is passionate about entrepreneurship and small business growth. Michele has received awards for her work with profit-based and non-profit charity organizations.