Selling with a Straight Drive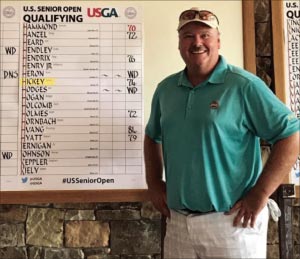 Braxton-Bragg's own VP of Sales Bill Hickey, is a card-carrying PGA member and recently had the privilege of attempting to qualify for the U.S. Senior Open. With a 74, he just missed qualifying, but had a great experience.
Hickey has been a PGA member since 1992, and has worked in the golf industry since 1988. He has played in two PGA tour events, four Web.com tour events and two National Club Professional Championships. Hickey has made it to the second stage of the U.S. Open qualifying twice. He has won both the Tennessee Club Pro Championship, and the Capitol City Open once.
Bill played four years of collegiate golf, and has taught dozens of golfers that have gone on to play collegiate golf as well. If you want to buy some Braxton-Bragg polishing pads, tools or machinery while playing with a real golf pro, give Bill a call at 800-575-4401.