Digital Stoneworking Expo Inspires Shop Improvements
Rachel Scheck

Park Industries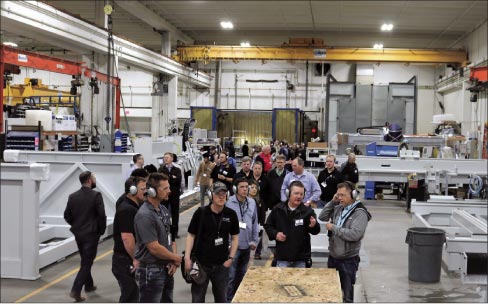 Attendees tour Park Industries at a two-day Digital Stoneworking Expo hosted by Park at its St. Cloud, MN facility.
Park Industries recently held its Digital Stoneworking Expo in St. Cloud, Minnesota. The two-day event educated over 60 stone fabricators and professionals from around the country on how to increase efficiency, reduce costs, and maximize profitability. It was packed with shop tours, fabricator presentations with metrics, and animated discussion on the digital fabrication process.
The shop tours brought the attendees excitement to a whole new level. Each shop filled quickly with a line of tour attendees weaving through the Park machinery as it sliced and severed stone. The voices of enthusiastic questions rose above the sound of the saws, asking more about the digital fabrication process, machine capabilities, and different techniques. The networking amongst the fabricators, shop owners, and Park Industries employees brought about new learning and ignited the conversation on strengthening their competitive edge.
Park invites industry experts and thought leaders to the event, like this May's speakers Scott Hanes (Majestic Marble & Granite) and Dave Scott (Slabworks of Montana), to discuss how digital technology has transformed their processing of countertops. Fabricators attending the event hear first-hand how the advancements in technology impact their bottom-line. In addition, Park Industries shares insight into what the digital future holds in the manufacturing industry. Park provides hands-on demonstrations with their partners: Moraware, Laser Products, alphacam, and SlabSmith.
The event, in its entirety, reveals how to strengthen your competitive edge. It allows fabricators to take valuable knowledge back to their shops at home and make improvements. Kelly O'Connor, owner of Reliable Granit & Tile, attended this event. He comments, "I have been in business for 40 years. The Digital Stoneworking Expo, without a doubt, is one of the best industry specific seminars a fabrication shop owner could attend. I have come away with meaningful knowledge that has the ability to impact business profitability immediately. This event is a must-attend, no matter where you are in your business development!"
The next Digital Stoneworking Expo is scheduled for August 3, 2017 at Slabworks of Montana in Bozeman, Montana.