Tennessee Building Stone, BMJ Stone Merge
Michael R. Moser

Crossville Chronicle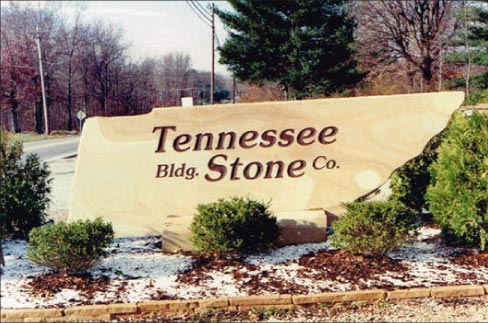 Another chapter is beginning this summer with the announced pending merger of two of the leading stone companies in Cumberland County, Tennessee – Tennessee Building Stone Co. and BMJ Stone.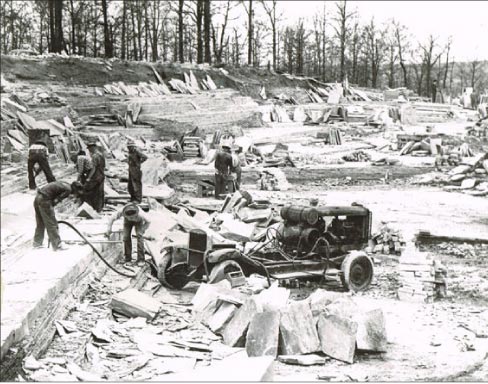 Above: Archive photo shows methods used in the early days to quarry Crab Orchard ledgestone in Cumberland County, Tennessee.
The stone industry in Cumberland County has long been known as a source of pride to the generations who have labored to dig, cut and polish the coveted building material as well as to the community by which Crab Orchard stone is identified.
Another chapter is beginning this summer with the announced pending merger of two of the leading stone companies in Cumberland County — Tennessee Building Stone Company and BMJ Stone. The sale was effective July 1.
"We are excited about what the future holds for the stone industry and our two companies with this merger," said Matt Feinauer, sales manager for BMJ. "We want to honor the Rose family by continuing their legacy in the stone industry and building on their reputation for integrity and ethics in business and quality of product."
"The commitment of the Rose family to the stone industry is unrivaled and not only do we want to continue in that tradition, we want to build on the proud history of Tennessee Building Stone," said Anne Dover who will be overseeing operations at that office.
BMJ was started 15 years ago when a stone company owned by Mike, John and Brian Rector and started by their father was purchased.
Both companies will retain their autonomy and plans call for the two companies to enhance each other's business model.
In the early days of Cumberland County, coal attracted the attention of businessmen and investors and coal mining companies sprang up across the Plateau like jonquils in the spring. In those early days no promoter bothered to consider that an entirely different and independent industry involving the Crossville area's stone was literally underneath their feet.
The story goes that Tennessee quartzite became generically known as Crab Orchard stone when Newton D. Walker in 1927 met with Henry Hibbs, architect on Scarritt College (now Vanderbilt University) in Nashville, at Walker's property on Otter Creek. The two marveled at the beauty of the "Crab Orchard Mountains" as they discussed sandstone deposits being considered for a building project at the Nashville school.
Crab Orchard stone, according to this account, was named that day. The first quarry — Peck quarry — was established and in 1946 was purchased by R.N. Pelot, who had been plant manager.
Another account has the name of the stone coming from the city of Crab Orchard where stone was trucked to be loaded on railcars for shipping around the region, and later, the country and overseas.
By 1945 the industry developed rapidly with companies bearing the names Crab Orchard Stone Co., Tennessee Stone Co., Turner Brothers Stone Co., Cumberland Mountain Stone Co. and Crossville Stone Co. popping up from Crab Orchard to south of Crossville. Silvara Stone Co. merged with Allegheny Natural Stone Co. in 1960 and relocated to Crossville.
One account places the rapid growth of stone produced from 34,660 tons in 1934 to 150,000 tons in 1955. In the 1950s some 1,600 workers were employed in the stone industry, many representing the same families.
At one time there was upwards of 25 stone companies doing native stone business in Cumberland County.
The desire to purchase the multicolored quartzite featuring monotones of tan, buff, gray, blue-gray with shadings of brown, mauve, red and pink grew as fast as the stones could be "pitted by hand."
Dunn, Rector, Rose and Turner and just some of the names identified with the early days of Crab Orchard stone. The late R.L. Rose worked with Charlie Dunn and eventually when Rose took over Tennessee Building Stone he was followed by sons David, Roy and Chester in the native stone business.
In addition to the chapel at Scarritt College, stone sold by BMJ and Tennessee Building Stone Co. can be seen around the swimming pool at the vice-president's official residence, Harvard, Rockefeller Center in the area of the skating rink, Sewanee University, Disney, Country Music Hall of Fame, McGheee Tyson Airport, various buildings in Canada and a casino in Venezuela.
Original Homestead homes are an example and living tribute to the stone industry in the area.
While the field is competitive, there are occasions that call for two or more companies to work together on a project to meet supply and deadline needs of customers.
"The Rose family was committed to the stone industry for years," said Feinauer. "We want to revive Tennessee Building Stone Co. and bring it back to its heyday. The Rose family is one of the last families with a history in the business and we want to honor the family's commitment to integrity, quality and business ethics with this merger."
Dover said that the company will be making an additional announcement about future expansion.
Article and Tennessee Building Stone Co. photo by Michael R. Moser, reprinted by permission Crossville Chronicle. Read our follow-up interview and story in the September Slippery Rock.