Petersen Granite and Marble – Four Generations in a Family Stone Business
Shannon Carey
Photos Courtesy Petersen Granite & Marble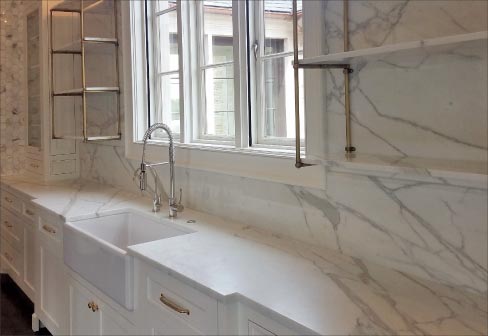 Above: White Calacatta Borghini marble kitchen by Melissa Haynes, MH Design, features honed countertops, and includes full-height backsplashes, marble wall cladding, and even vein-matched accent shelves.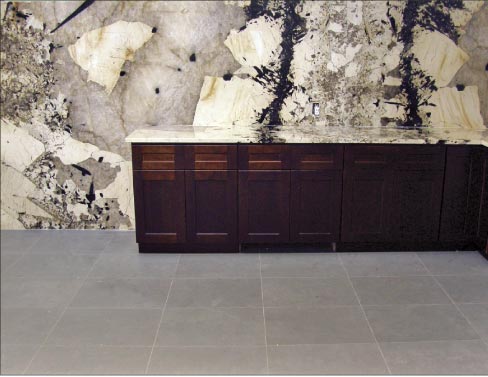 Above: In this masterful use of Patagonia granite, the large patterns and veining extend down the wall and across the countertops.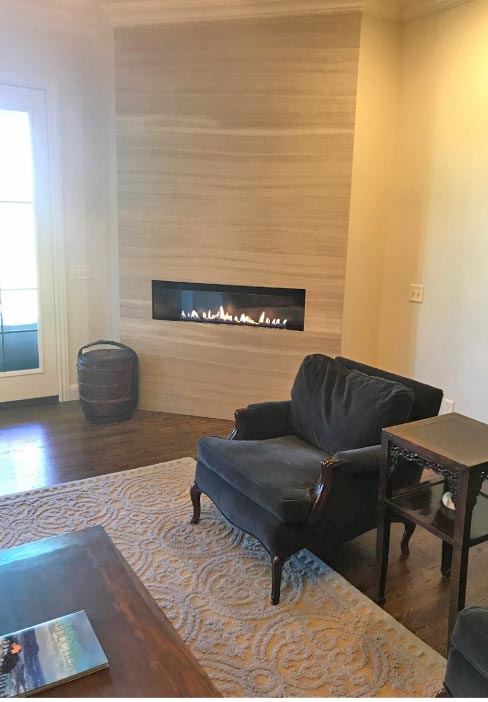 Above: A Silver Cream travertine full wall fireplace surround creates a beautiful focal point in this comfortable family room.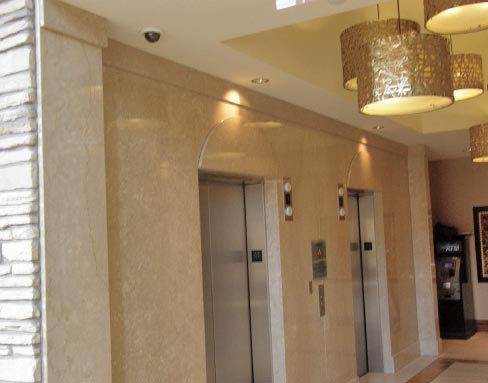 Above: Diano Reale marble cladding was used to remodel the lobby and elevator vestibule at the Branson, Missouri Hilton hotel.
The story of Petersen Granite and Marble is classic, the immigrant story we all know and love: people coming to America and, through hard work and determination, building solid businesses and families.
Larry Petersen is third-generation in the stone trade, with his sister Laila, and son Forrest who is fourth-generation.
Back in 1947, Larry's grandfather Sophus immigrated to New York from Denmark, where he had learned masonry in the old-world apprenticeship style. He learned everything, from stone work and plaster to stucco and tile.
When Sophus and his family came to America, Sophus started going by "Pete" and went to work for Levitt and Sons in New York and Pennsylvania. In 1956, Sophus moved the family to Fort Pierce, Florida, and started his own business: Pete's Tile and Marble. Larry's father Bjarne, who goes by "John," worked there, as did Larry's uncle Henrik, who took over the business when Sophus retired. Larry and Henriks' son Greg both learned the trade at Pete's Tile & Marble, and in 1998 Larry branched out on his own, opening Petersen Granite and Marble in Northwest Arkansas, where Greg also came to work.
A Growing Location
Larry picked the Northwest Arkansas area because he saw potential for growth. His hunch bore fruit, and eventually other family members followed.
"I moved here and they all followed me," he said. "I saw that there was a lot of growth, and there wasn't anybody here servicing the industry at that time. Plus, it's a really nice place. It's a good place to raise your kids."
Petersen Granite and Marble soon developed relationships with the corporations driving that growth, including Tyson Chicken. They've been working with the Tyson family for a decade now, doing both residential and commercial work.
Petersen Marble and Granite fabricates and installs custom stone, including wall cladding, slab showers, steam showers, and mitered work and waterfall edges.
"We do everything ourselves," said Larry. "Nothing's subbed out. It's all done in-house."
Product lines include Caesarstone, Silestone, Cambria and Santamargherita.
A Formula for Success
Larry attributes Petersen Granite and Marble's success to several factors. Staying small with little overhead kept them alive through the recession. But the two biggest factors are their commitment to quality and their treatment of customers.
"We try to treat everything like we're putting it in our own home," he said. "It doesn't matter whether you are driving a Toyota or a Ferrari when you pull up here, we treat you the same way. We try to do everything the best it can be done. We educate our customers so they know what they're spending their money on. It may be the look you're looking for, but it may not stand up the way you want it to.
To Larry, working with stone is an artisan trade, and his company's work shows that.
"It's always going to have the appeal to it because the materials are ever changing," he said. "We try to pay a little more attention to detail, especially when we make islands, getting the veins to match up and make it the best that it can possibly be.
"I can't think of any customers we've ever had that would say they were dissatisfied with what we did for them."
Petersen Granite and Marble has 15 employees including Larry and his wife, who works part time handling finances. When the company first opened, it was just the two of them. Today, Laila Petersen, Larry's sister, handles sales. Most of the company's employees are fabricators and installation crew. Equipment includes Magnum routers for edge profiling, and a Cougar bridge saw from Park Industries.
Looking to the Future
Larry's son Forrest is helping launch the family business into the digital future. With Forrest at the head of the effort, Petersen Marble and Granite has used digital templating for two years now, and they're in the process of switching to digital CNC and router. Larry said both moves are going to save the company time and money.
"We used to make hard templates, but this allows us to do more," he said. "It allows us to be more accurate and do more templates in a day. Once we switch to the digital equipment we won't have as much waste. It's more environmentally friendly because we're not using wood or plastic templates. It was a sound business decision, for sure."
The change will also help the company keep up with demand and adapt to a changing workforce.
"The way things are now, everybody wants it turned around so quick," Larry said. "And finding people who are skilled who want to work hard is another thing. In the next 10 years, skilled people in this trade are going to be harder to find because we're not training them. If it doesn't work with some type of computer, you are kind of limited as far as skilled craftsmen are concerned."
Projects Past, Present and Future
Petersen Granite and Marble has some impressive projects under its belt, and impressive, challenging projects slated for the future.
Right now, they're in the middle of a remodel at Tyson headquarters, and Larry predicts that project will continue for a couple of years. In the past, they did the Tyson main lobby with black onyx in the reception area.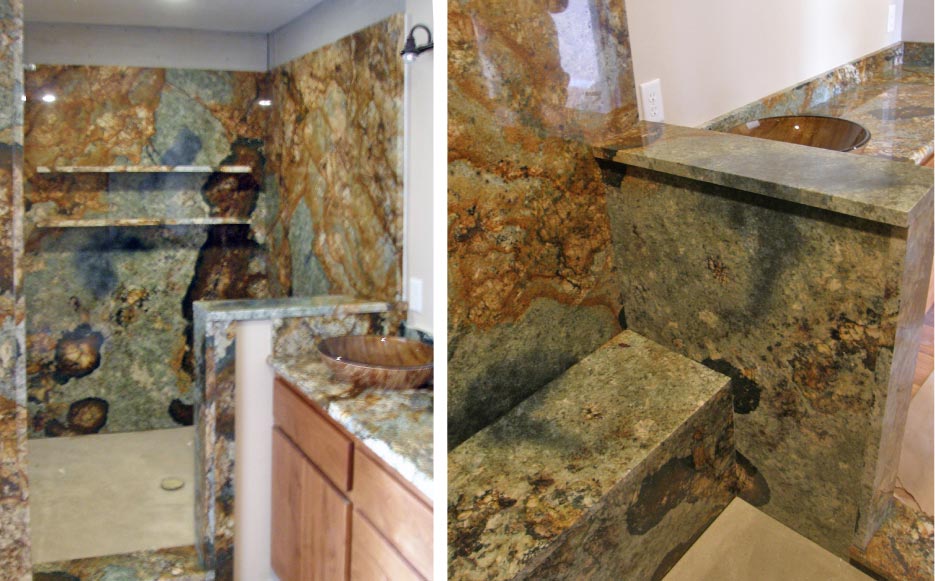 This custom bath project features full slab shower walls with matching bench seat and matching vanity top of 3cm Atlas granite.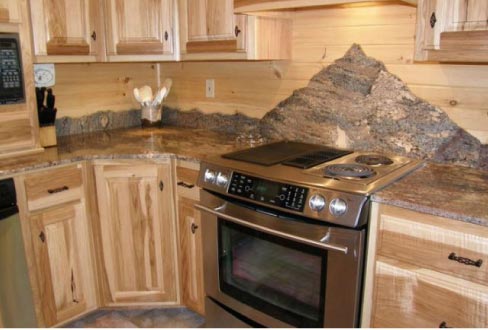 Above: This creative twist on kitchen countertops features 3cm Juperana Crema Bordeaux granite with a chiseled backsplash designed to create a running mountain range.
Another project at Hunt Tower in Rogers, Arkansas, included wall cladding in the elevator areas, a focal point outside the building, and stone in all bathrooms and water fountain areas.
Petersen spent three years on a private residence in Rogers, including columns on the corners of the house in granite from Coldspring Granite, 7,000 feet of flatwork on the driveway, and slabs in the bathrooms.
"We're working on one now with slabs on the walls in the kitchen," said Larry (see photo, page 1). "It's probably got more different types of stone in it than any project we've worked on."
Larry said he's proud of the history of his family and company, and he has high hopes for continued growth.
"Basically, we started with nothing and built it into something where everybody in the construction business around here knows who we are," he said. "Hopefully, everything will continue to move forward. From what I'm seeing in this area, growth will not stop anytime soon."
For more information about Petersen Granite and Marble, visit their website at www.petersengranite.com.

Above, Left: Black Forest granite countertops create a stylish, wrap-around work surface in this traditional kitchen with tile backsplash and farmhouse sink.
Above, Right: This in-progress outdoor kitchen installation features brushed finish Steel Gray granite countertops and wet bar.