Sasso USA Now Distributing Alphacam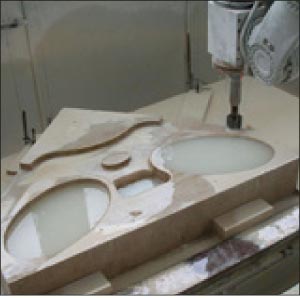 Core drilling within Alphacam Stone is fully supported. Breakout on the underside of worktops can be controlled to prevent edge chipping of the material.
Sasso USA Inc. is now a distributor of the Alphacam software package for cutting stone.
Alphacam Stone provides users with full support for 4- and 5-axes machines. Also referred to as 3-plus-2 machining, this enables Alphacam users to process areas of parts that would otherwise be inaccessible.
Alphacam's post-processing capabilities utilize the full functions of a CNC controller, including plane rotation. This allows for tool-radius compensation and arcs to be used at any angle, which reduces the amount of NC code needed, smooths machine movement and improves accuracy.
"The partnership between Alphacam and Sasso USA is an ideal fit because we share the common goal of exceeding the expectations of our customers," said Perry Boyett, Alphacam Sales & Services Director-North America. "The addition of Sasso to our team helps to ensure that we offer the level of expertise that our customers require to make the most of their investments in software and machinery."
Sasso USA is the U.S. arm of Italian stone-machine manufacturer Sassomeccanica S.R.L., established in 1974 by Tommaso Caroselli Leali and now known worldwide as a premier manufacturer of saws and edge polishing machines that meet or exceed the requirements of the most-demanding customers.
Tommaso's son, Mario Caroselli, is the CEO of Sasso USA.
Alphacam is one of the products offered by Vero Software of Gloucester, United Kingdom. Founded in Italy in 1988, Vero designs, develops, and supplies CAD/CAM/CAE software to enhance the efficiency of design and manufacturing processes.
Since 2014, Vero is part of Hexagon AB, a global technology group based in Stockholm.
Visit the Alphacam website for more information on the software tools available for stone working, www.alphacam.com/alphacam-stone .