Discovering the MIA+BSI at the Massachusetts Stone Summit
Michele Farry
Humblestone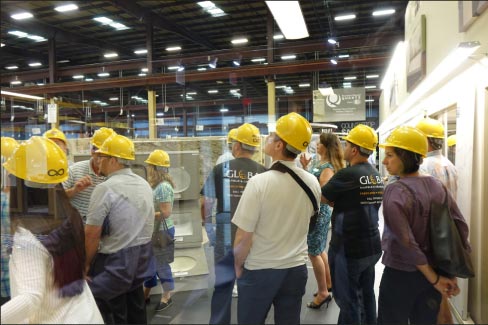 Above: The Massachusetts Stone Summit included a tour of MS International's slab warehouse facility, led by Holly Nelson.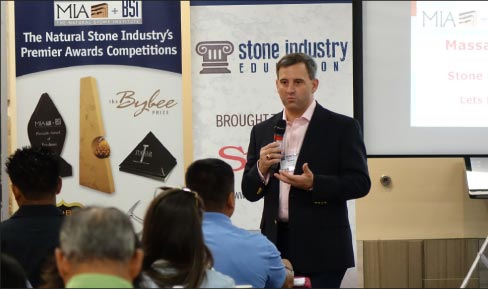 Above: Duane Naquin, a founding partner and CEO of Stone Interiors North America, serves as Chairman of the MIA's Education Committee. This role provides him with the opportunity to travel throughout the country presenting seminars and training classes for the MIA on the natural stone business.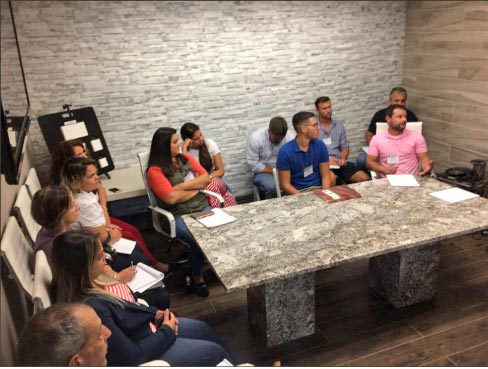 Above: A marketing group roundtable discussion was led by Buddy Ontra of Ontra Stone Concepts.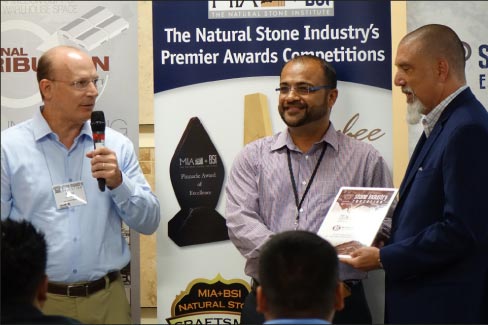 Above: Left to right: David Madonia, publisher of Stone World magazine, host Shamin Patel, and Jon Danese, VP of MS International, Inc.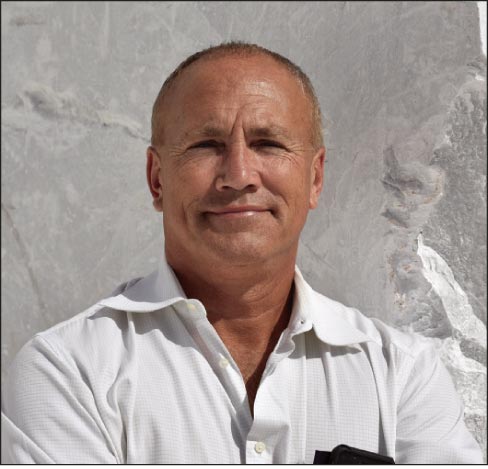 Above: Daniel Wood, 2017 President of the Building Stone Institute tours a marble quarry in Carrara, Italy.
This month's article is a break from my business development series started in the February 2017 issue Slippery Rock. I'll return to part two of getting feedback from the end consumer's perspective in the November issue of the SRG.
A few weeks ago I received a pleasant surprise invitation to attend the Massachusetts Stone Summit organized by the MIA (Marble Institute of America) + BSI (Building Stone Institute) and Stone World Magazine, was actually able to attend, and would like to share what I learned there.
The Stone Summit, hosted by branch leader Shaim Patel, and John Danese, VP of MS International, Inc., was very dynamic. MSI was presented with an award celebrating their 15-year membership and support of the MIA. Having never attended an MIA+BSI event, and with full disclosure, only vague familiarity with what MIA+ BSI do outside of the certification they offer I was eager to observe, take in the information and interact with colleagues, vendors and hosts.
We had a full agenda for the day, including a tour of MS International, which is an amazing facility. Not a minute was lost in opportunities to connect with the more than 80 attendees, which were primarily made up of fabricators, but included a select few distributors and suppliers.
The day was facilitated by Duane Naquin of Stone Interiors. Starting off with introductions, we dove into topics including stone shop management, fabricator resources, mini-presentations, small break-out sessions, and the ability to interact with questions throughout the whole experience.
Many industry-leading sponsors were represented, including BACA Industries, Blanco, Bonstone, Braxton-Bragg, Breton USA, GranQuartz, Integra Adhesives, Laser Products, Stone Boss, Moraware, Pearl Industries, Prussiani USA, and Water Treatment Solutions.
I spent time talking with several of these vendors and found they learn so much on the ground from the information gained being part of the Stone Summits, listening and applying feedback from fabricators. I was impressed with the engagement.
After having had this experience, and given the overview of some of the benefits of becoming a member, I felt I wanted to know more background information on MIA +BSI, their missions in the industry, and discuss why they have chosen to partner up for a two year trial collaboration of memberships.
I reached out to Daniel Wood, current president of the BSI, and Jon Lancto, current president of the MIA. Both generously responded, offering to speak with me for interviews and connect with SRG readers.
Continuing in this article I focused on Daniel Wood and the BSI. In the following article I will expand on information from our conversation Jon Lancto and the MIA.
I started with research on the MIA+BSI shared website, and found extensive offerings and resources available to their members – and pleasantly surprising – for non-members as well. They offer several extensive educational programs and continuing education platforms, safety regulations, OSHA information and training videos, technical standards manuals, awards programs, Women in Stone programs, scholarships, accreditation, marketing and networking events. I found an interesting section on their site that also explains the history, "On January 1, 2016, the MIA and BSI began a two-year joint venture to consolidate operations and focus on five key industry initiatives. Together, MIA and BSI (known as MIA+BSI, the Natural Stone Institute) serve more than 1,900 members in 55 countries, who represent every aspect of the natural stone industry, offering them a wide array of technical and training resources, professional development, regulatory advocacy, and networking events. Two prominent publications –the Dimension Stone Design Manual and Building Stone Magazine – raise awareness in both the industry and the design community for the promotion and best use of natural stone. The BSI incorporated in 1919. MIA traces its roots back to the National Association of Marble Dealers, founded in 1907, which joined with the National Association of Marble Producers in 1944 to form the Marble Institute of America. The National Association of Marble Builders merged with the MIA in 1962."
Beginning my interview with Daniel I asked, "You mentioned the BSI has grown steadily. How has partnering with the MIA expanded that platform and found its alignment with the MIA very useful and beneficial for its membership/members? How did this come about?" He responded, "We have been discussing a consolidation for many years and the leadership and membership just aligned at this point in time to agree to move forward with it."
"I think that both organizations and memberships have benefited from this," Daniel said.
"We have gotten to know each other much better, and we both realize that we are all very experienced and passionate individuals who collectively make a much stronger consensus and knowledge base, working hard to improve the natural stone industry for all."
Daniel also explained both organizations have found a very positive effect in partnering in combined offerings, advocacy, and legislative meetings with house members at Capitol Hill for the stone industry.
Taking in Daniel's successes and accomplishments I asked, "Can you describe how, during your professional journey of spending years associated with the BSI, you have observed our industry grow and develop, and also the development of green technology and certification?" Daniel responded, "I have enjoyed the activities associated with being a stone and materials consultant, traveling the world for many years in working with the stone industry. I have been a member for eight years and have been on the board of the BSI for seven years. In addition, I am the current 2017 president of the BSI. I have personally grown so much more than anything I ever could have imaged. I joined just to learn a little more about stone. I have learned, and am continuing to learn a considerable amount about stone. I also realize how much more I still have to learn, which is exciting, as I know that I will never know it all and will always have a full career where I can continue to stretch and learn more. I have made lifelong friends and have a network of friendships around the world that would help whenever I needed it. In addition, we have come so far in this time frame with the NSC 373 sustainable production of dimensional stone certification and its adoption into the Material Resources section of LEED v4, and the Material Petal section of LBC 3.1. These represent huge accomplishments."
I asked Daniel to speak about his passion for stone and how he connects that to his work. He replied, "I think that stone is one of the primal materials that we all connect with. Its endless varieties and multitude of production possibilities, due to technological advances, continue to yield an amazing array of options for the design community. How can you not be excited about that and all of the creative ways that stone can be employed in projects?" I responded by agreeing, as I have heard from many of the fabricators I meet that are so personally connected to stone: not seeing it just as a commodity, but as an art.
I said, "Daniel, you mentioned craftsmanship isn't quite what it used to be, with our industry become bottom-line driven in larger production and volume operations. Can you expand on that and the benefits and drawbacks please?"
He said, "Craftsmanship is still what it has always been. In some cases I see project investment in less expensive materials to garner more work, and value engineer jobs. Stone in many cases loses in this battle, which is why we have lost some market share, or the time allowed to produce the work equates to less quality material and/or 'craftsmanship,' to get it done on budget."
I agreed with Daniel on these pressures and shared what I had heard in peer exchanges with the various fabricators at the Stone Summit, being shared throughout the day. We communicated with each other and asked questions to the presenters on challenges, demands and even material troubleshooting with things like quartzite versus hard marbles, and more. In order to compete in the materials marketplace, and to do this safely and within tighter margins, some feel the bottom line has become more of the focus.
Daniel continued, "However, I, as a member of the MIA + BSI – what we can we learn from the best of the best of the stone industry members, and how freely people have given advice to me, has helped me advance. Our members genuinely want to see each other succeed by helping each other out, and seeing this engagement in action is where it is truly amazing. Our association has many wonderful ways to get involved: attend events, volunteer on a committee, be a mentor for Women in Stone, write articles, contribute pictures, sponsor events, visit other members and their operations, to continuing to learn and grow… the list is endless.
" I do know that I have been told throughout my career to stick with the winners. My example for this is becoming a member and participating. This is how you go from wanting to be the best to being the best of the best, and being a winner."
I found Daniel's comments to be poignant, especially how we can keep learning as unique experts in the stone industry together, and by investing in education and learning from others. In closing Daniel shared, "Perhaps with a membership to the MIA + BSI one of the most important things you can consider is to send other employees aside from yourself to events, especially younger ones, so that the industry has a future that is being trained and mentored. You will also be growing other individuals in your firm and demonstrating your commitment to them and their development. The other day, a younger individual in the industry referred to me as famous and I started laughing. I let them know that I am just someone who has been willing to suit up, show up, and open up, and that as they do, the same amazing things will become a reality for them."
It was a wonderful conversation with Daniel Wood, who is a very proactive and passionate man in our industry. I am looking forward to sharing Jon Lancto's interview in the next issue. Have a great month!
Wood: "We supplied all of the exterior veneer for this project, as well as all of the stone for the hardscape, pool area and porches, and more."