Stone Restoration and Maintenance Corner: Paying Attention to the Little Things
Bob Murrell
M3 Technologies
Photos by Bob Murrell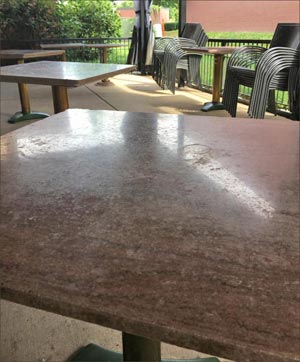 Above and Below: These Tennessee Pink marble tables had taken a beating over years of soda abuse. After consultation with the client, it was decided to go with a color enhanced low hone for more durability.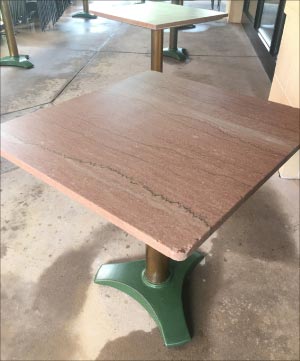 Above: What an amazing difference some honing makes. Regular specialized maintenance is essential to maintaining surfaces subject to daily acidic spills.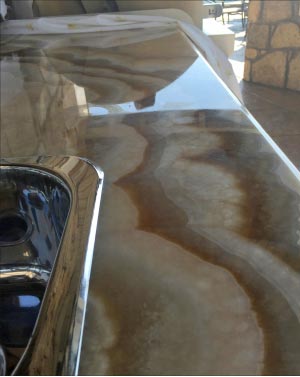 Above: Onyx bar tops would certainly be a good candidate for a higher-level maintenance program. Impregnate, implement a routine maintenance schedule, and be prepared to re-polish often. It is the nature of the beast.
Grinding, honing, and polishing are a given in our industry, right? I think we can all agree that these processes are at the core of stone restoration and maintenance.
However, it is the little things that add up to a "job well done." One of my mottos was to always leave a project site in better and cleaner condition than when you arrived. I'm not just talking about the stone or project surface, either.
As restoration and maintenance professionals, we all know that making a mess is part of the process. So keeping the area clean and organized is not only essential, but something the true professional does as a standard part of their routine.
Protecting adjacent areas by taping and draping, laying plastic down, construction paper, and other protective products is just a part of the everyday process. These are essential but not all that sets the true professional apart from the average contractor.
Going above and beyond the scope of the project is the mark of the true professional. Educating the customer is one of these extra measures that are not only appreciated by the customer, but also help with long-term maintenance while adding value to your project.
Customers need to know that their white Carrara marble countertops or vanity tops are chemically sensitive and soft, and will therefore etch and scratch easily. I have seen a shift in recent years where marble, limestone, and even super soft onyx and alabaster are being used for kitchen and bar tops. Customers need to know that these materials will require special care and higher maintenance. It is the "nature of the beast."
When I say higher maintenance, I actually mean implementing a maintenance schedule where a periodic polishing or honing may be necessary to maintain the surfaces in their best condition. This is especially true of kitchen and bar tops, as well as kitchen floors.
Even though many of these delicate surfaces may be honed, etching and scratching may still develop and normally is fairly obvious, just not as bad as with polished surfaces. It usually depends on the level of honing as to how obvious the damage is.
Impregnating these surfaces should be standard operating procedure. Impregnators will not stop etching but can slow it down and allow more time to wipe up the spill. So every time the surface is repaired, it should be re-impregnated if the surface does not sufficiently repel water. Please make sure the customer does not get a false sense of security from the impregnation and make sure they know that the process simply helps future restoration by keeping the etching closer to the surface.
So impregnate all critical area surfaces (areas subject to heavier soiling and wear), try to convey the importance that the customer should implement the use of coasters and cutting boards, make sure they understand why all spills should be wiped up as soon as possible, and they use the specified stone care products for the routine maintenance.
I don't know how many of these surfaces have been degraded by the use of improper cleaning products. We all know horror stories of the maid using vinegar on a black marble shower because that is what someone told her would cut the minerals and soap scum buildup. Caustic, ammoniac, and acidic cleaners will certainly degrade marble surfaces prematurely.
I recommend that all restoration professionals should always leave behind the appropriate maintenance products for the BSC, maid service, or homeowner to use. Leave nothing to doubt. Make sure they understand how to use the products and where to reorder them. I recommend the Majestic No-Rinse Neutral Cleaner as the standard go-to product for most any situation. It is safe for use on all surfaces that are water-friendly.
Of course, there may be a need for several specific stone care products at some locations. Products such as the Majestic Stone Soap (for honed and textured surfaces), Majestic Deep Cleaner Stripper (for the periodic cleaning of grout lines in commercial applications), and Majestic Bath & Shower Cleaner, are just to name a few. Which products are recommended depends on the application and type of facility, whether it is marble or granite, honed or polished, and whether it's residential or commercial.
As mentioned earlier, I recommend that the professional restoration contractor should implement a maintenance schedule to ensure the surfaces are kept in pristine condition and to avoid more intense restoration in the future. Most clients should appreciate this, and securing a regular a maintenance contract adds ongoing revenue, as well. Try to schedule the next evaluation, polishing, or honing within 12-18 months, and then go from there.
The bottom line is that the true restoration professional should always go above and beyond to ensure that the project area is not only restored to the original polish or hone, but is noticeably cleaner and in better condition than when you arrived. Making sure that the grout lines, access areas, surrounding cabinets, appliances, etc. are all cleaner than when you arrived is the best policy. Mirrors, backsplashes, and glass shower doors should always be cleaned as part of the final process, as well.
There are many other little things to consider. Wearing disposable booties, making sure your truck does not leak oil in the driveway, proper disposal of waste water/slurry, clean up all construction debris… the list goes on. Certainly never allow anyone to leave cigarette butts lying on the ground outside, and you should consider a no-smoking policy on any jobsite. Develop your own checklist to help ensure that each jobsite is left in pristine condition, every time.
As always, the best way to help ensure success is by partnering with a good distributor who knows the business. They can help with product purchase decisions, technical support, logistics, and other pertinent project information.
Bob Murrell has worked in the natural stone industry for over 40 years and is well known for his expertise in natural stone, tile and decorative concrete restoration and maintenance. He helped develop some of the main products and processes which revolutionized the industry, and is currently the Director of Operations for M3 Technologies.
Above: The "go to" product for most stone applications, Majestic Neutral Cleaner can be used on any surface that is safe for water.
Above: This full marble kitchen will need a scheduled maintenance program in place to ensure the lasting beauty of this easily-damaged surface.

The owners should be encouraged to follow a regular cleaning schedule, and a program of annual or bi-annual sealing will be a must.