The International Surface Event Announces New Day Format for 2018 StonExpo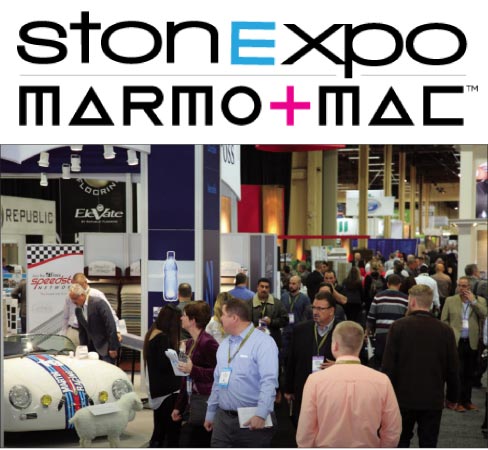 The education program at TISE 2018 will take place Monday through Thursday, January 29-February 1, 2018.
The International Surface Event dates have shifted to a new day format in 2018: Tuesday through Thursday, January 30-February 1, with the education program taking place Monday through Thursday, January 29-February 1. Plan to join your industry peers at TISE 2018 to kick start your year! Visit to sign up to get contacted hen registration opens at www.tisewest.com/notifyme.
TISE 2017 was a banner event for the industry – boasting an incredible 34,000 square foot increase in exhibits and over 800 presenting brands - drawing an attendance growth from the industry of 7 percent over the already very successful 2016 event. Attendees experienced technical installation demonstrations in the Installation Showcase, viewed product demonstrations and award winning technology from Best of Product & Event Winners, discovered trends in the Speed Trending Breakfast and the Trends Hub, heard first-hand techniques and knowledge from over 100 industry experts and influencers in the IGNITE Education program and across the event floor, and were even honored with a presentation from the acclaimed architect, Art Gensler Jr., founder of Gensler.
One industry retailer at TISE 2017 led the example of why The International Surface Event: SURFACES I StonExpo/Marmomac I TileExpo exists as the leading industry resource for products, resources, networking, training and education. Anthony Maye, General Manager, Sparx Flooring and Lubbock Carpet World, from Lubbock Texas, closed his three retail locations completely for several days to bring his entire staff of 23 to The International Surface Event 2017. Investing in the full IGNITE Education program at TISE for each of his staff members and scheduling their sessions daily around show floor experiences and meetings, Maye used the event to team build, train his staff, and position his business for the year.
"I have been to SURFACES twice: for Mohawk and for MARAZZI as a rep. Now as a retail manager, I have always thought it would be great for an entire team to experience all the new year's looks and designs in flooring. We are taking full advantage of the IGNITE TRAINING."
— Anthony Maye,
General Manager, Sparx Flooring and Lubbock Carpet World

Join Us at TISE 2018
Save the date for The International Surface Event 2018 scheduled to be held January 30 – February 1, 2018, with education held January 29 – February 1, at the Mandalay Bay Convention Center in Las Vegas, Nevada. The exposition will feature the latest industry products, materials, equipment and services, including a wide variety of hardwood and laminate flooring, carpet, tools and equipment, natural stone and machinery, all types of tile, and much more.
StonExpo/Marmomac is THE event for stone industry professionals, and is home of the MIA annual meeting. The official sponsors are the Marble Institute of America (MIA) and Natural Stone Council (NSC). The Marble Institute of America (MIA) and the Building Stone Institute (BSI) serve more than 1,900 members in 55 countries who represent every aspect of natural stone industry, offering them a wide array of technical and training resources, professional development, regulatory advocacy, and networking events.
The MIA, www.marble-institute.com and the Natural Stone Council (NSC) naturalstonecouncil.org, home of the Genuine Stone® brand, are leaders in the stone industry and represent the major associations committed to promotion and education of the industry and general public of the value and benefits of natural stone.
For more information on The International Surface Event: SURFACES | StoneExpo/Marmomac | TileExpo, or their sponsors and partners, please visit www.TISEwest.com/.