Arizona Tile Donates to R.I.S.E. Wounded Veterans Foundation
Above: Personalized notes to the Bottrell family from participating organizations were inscribed on the walls.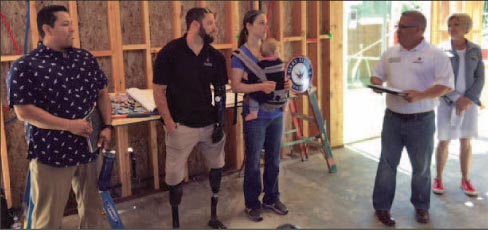 Above: Andrew and Lindsey Bottrell and daughter at the presentation and wall-signing ceremony.
On June 19, 2017, Arizona Tile representatives teamed up with the Gary Sinise Foundation to contribute their time and express their gratitude for U.S. Navy EOD1, Andrew Bottrell. The foundation's R.I.S.E. Program (Restoring Independence Supporting Empowerment) focuses on constructing custom-built homes for severely wounded veterans. On that day, a "Walls of Honor" event was held in San Diego, in which Bottrell's specially-adapted "Smart Home" hit its mid-point in construction.
Industry contributors including Arizona Tile donate time, materials and/or labor toward the construction of these homes. Arizona Tile reps from California attended the event along with reps from other donating organizations to write words of gratitude on the walls of the custom home.
A U.S. Navy EOD1, Bottrell attended Explosive Ordinance Disposal school in 2008 and was later deployed to Afghanistan in July 2011. He, along with his Navy Seal team, were conducting combat operations when his vehicle was struck by explosives. Though he survived the attack, he suffered severe injuries that resulted in the amputation of his legs and left arm. His new home is intended to lessen some of the daily inconveniences he may have encountered in a traditionally-built home.
The construction is organized by the foundation's R.I.S.E. program and focuses on building homes that cater to the unique needs of veterans who were injured in combat. Homes are designed with modifications intended to improve the veteran's ease of mobility as well as support their families and caregivers via custom-built features. First responders and their families are also honored through this and other charitable Gary Sinise Foundation programs.
Bottrell, his wife Lindsey, and their daughter attended the event and were honored by various speakers. Although words of gratitude were given to Bottrell, he was gracious in his response. He shared these inspirational words of wisdom:
"Always push yourself no matter what life brings your way. If you do not like your situation, change it. Do not blame somebody else for it and do not wait for somebody else to do something about it. You are not entitled to anything, only what you make your own. Take control of your own life, because life is what you make of it, so make the best of it."
Founded in 1977 in San Diego, California, Arizona Tile has grown into a nationally recognized commercial and residential distributor with more than 25 showrooms throughout seven Western states.
Arizona Tile is one of the largest independently-owned importers of stone in the United States, offering more than 230 varieties of granite, travertine, onyx, slate, marble, limestone and quartz, plus medallions, porcelain tile and other design creations. Founded by John Huarte, former NFL player and Heisman Trophy winner, the company is still family-owned after 40 years.
For more information regarding the Gary Sinise Foundation R.I.S.E. Program, visit: www.garysinisefoundation.org/programs/rise .