Discovering the MIS+BSI
An Interview With Jon Lancto, MIA President
Michele Farry
Humblestone
While developing a better understanding of what the MIA (Marble Institute of America) + BSI (Building Stone Institute) do, I observed that these organizations are all about serving, growing, protecting and promoting the natural stone industry. Detailing the organization's outreach programs, development of teaching materials, safety promotion, certifications, specifications and guidelines manuals, advising legislation, and connecting professionals, showed readers the benefits of membership and how important these resources can be for a healthy success business.
For this article I interviewed the current president of the MIA Jon Lancto. This was exciting and thought-provoking. Jon's rich history and passion for his work with the MIA + BSI was not an overnight journey, but a path taken over many dedicated years in the industry. His productive and influential career is impressive. I enjoyed our open and genuine conversation. I asked questions and expressed concerns heard from fabricators in the industry when I attended the Massachusetts Stone Summit back in July 2017.
Jon provided me with solid, useful and realistic responses. The MIA + BSI are on the pulse, advocating for the natural stone industry and supporting professionals operating businesses in the field.
How It All Started
Over two decades ago, Jon's wife made the fatal mistake of putting a boiling hot pot of water on their kitchen laminate countertops. Little did Jon know what future this would put in motion. He sought out a little info online and decided to go for it, fabricating new stone countertops in his garage. Having a degree in architecture and experience as a mason, he went into cabinet making and ultimately became a homebuilder. Quickly identifying there was a need in this underserved stone marketplace, he pursued the potential new opportunity and craft.
After finishing his own kitchen, he worked with a small fabrication shop when he and his wife had the option to purchase the business. Together, they developed the fabrication company from a one-man operation to over 100 employees. Mrs. Lancto's role was instrumental to the administration and accounting, and Jon credits her as a partner in their businesses growth.
Jon and Gayle eventually sold their business and now Jon dedicates himself to guiding the MIA and working closely with several organizations aligned with his interests. He is invested in protecting the industry and working hard behind the scenes on regulations, keeping the stone industry viable well into the future. He is experienced and generous with his time.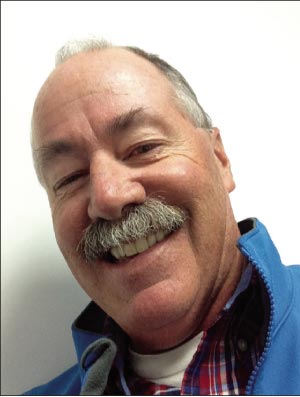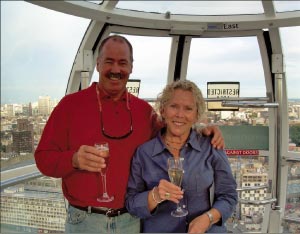 Jon and Gayle Crawford Lancto. Jon commented, "There are three accomplishments I am most proud of during my time with the MIA: our merger with the BSI to consolidate our industries efforts to support our membership; our involvement and support of the Gary Sinise RISE foundation to build specially adapted housing for severely wounded veterans; and our progress with our Natural Stone Campaign that supports the specifying and use of all natural stone products."
Growth and Support
I began with the question, "Jon, we discussed how a majority of our SRG readers own and operate small to medium-size fabrication shops. They are interested in businesses development, marketing and PR and working toward sustainable goals. When you found success as a one-man operation and grew to a company with over 100 employees, over 25 years you mentioned consistently working as an active member of the ISFA (International Surface Fabricators Association). What benefits did this offer you to support you on your journey? What was the key to that success and how does the MIA offer this now?"
Jon responded, "When I was involved with ISFA it was comprised of mainly craftsmen that had grown their business to the point that they needed an education in business management as well. ISFA gave me the opportunity to learn from other fabricators who were willing to share their knowledge of running a successful business. I was also lucky that my wife had the business experience to compliment my knowledge of fabrication. The MIA + BSI, albeit a larger organization, offers the same opportunities to network with fellow fabricators and in addition has many resources to help craftsmen make the transition to business people."
This was a reoccurring theme in our discussion: Jon got involved. He found the tips and techniques while attending the meetings, brought them back and applied them. Jon saw the benefits working in real time, and implementing what he learned paid off. This was part of his motivation to take the next step toward leadership. From his start on the Accreditation Committee, he was nominated to a board seat and then worked his way to President of the MIA. I found this very powerful. His perspective is valuable as a fabricator/business owner who is also versed in all aspects of the MIA operations.
"Jon, you joined the MIA starting with the Accreditation Committee. Did you see your future possibility as the MIA president? Please describe how this became your role, and why you pursued it," I asked.
"No, I never aspired to be president. I have a hard time saying no when asked to help, but that has always served me well in the association world. Involvement is the key to getting a return on your time when it comes to joining. It has helped me enormously to become involved with the MIA and has led to other subgroups that even more narrowly focus my participation like the Artisan Group of fabricators."
I said, "When I attended the Massachusetts Stone Summit we had a record number of women in attendance. In this group the diversity ranged from the position of ownership and co-ownership or family-owned, management, sales, administration or PR and marketing. You were very encouraged and not completely surprised by this with the leadership and mentoring programs the MIA offers for women. Tell me where you see women in stone progressing and how the industry is evolving to be more inclusive."
Jon responded, "I don't see any reason why stone companies can't be run by women vs. men. Our industry has been male dominated due to the traditional pattern of craftsmen growing their businesses to become large companies. In today's world of fabrication, any women is just as capable of running one of these companies as any man. As we mentor and encourage women to step forward in leadership, I believe we will see a transition to a more inclusive industry."
I asked Jon, "There is no doubt that the mom and pop stone companies struggle to be completive in the ever-changing marketplace. How do you see the two paths of high volume production vs. the 'Mona Lisa' shops as you call them still providing their niche in the industry? How does the MIA serve both?"
Jon said: "Both are important segments to be served, and are both viable markets. The MIA+BSI serves both in many ways through education on materials, safety, techniques, and business operation. The great thing about the online university is that you can select what information is applicable to they type of business you run. I have always found that when my customers realized I was an expert in what they wanted to buy the price became less important.
For example: when I owned my shop I was taking a client through a large stone distribution warehouse, explaining the geology and suitability of each stone she looked at. Before long I noticed that several of the unaccompanied customers were following us around so they could hear what I was saying. Knowledge is power in selling, and the MIA+BSI has plenty to share."
OSHA and Silica
We talked in detail about the benefits of OSHA standards, the drawbacks of over-enforcement, and how we can find a balance between both.
"What advice do you give to fabricators to proactively protect themselves and be safe operations big and small?" I asked.
Jon said, "Regardless of the size of the operation everyone is at risk of having an accident. When I do consultative visits to stone fabrication shops I always recommend that they work with the consultative division of OSHA in their state. Having a consultative visit scheduled protects you from having the enforcement division show up from the confirmation of schedule to up to a year after the inspection takes place in most states."
Jon and I discussed the fallout from the possible Silica Ruling and legislation. "Can you tell us how the MIA is working on behalf of the natural stone industry to lobby against unachievable practices and standards? I know you mentioned that silica is a dangerous contaminant, and have you offered input by contributing to active lawsuits fighting the ruling?"
"The new silica standards are not easily achieved and impossible in any dry shop. Not that I think dry shops are a good thing. They are not. If the existing standards were enforced there would be no silicosis risk in our industry. The MIA+ BSI is contributing financially with other trade association's efforts to overturn this new regulation."
New Programs & Education
MIA continues to push ahead with new, exciting programs like the "Checkoff" program. I asked Jon, "Can you elaborate on why this platform will help promote and support the natural stone industry as we move forward in a saturated materials marketplace."
"The 'Checkoff' program will bring the financial resources it needs to give the natural stone industry the common voice it requires to compete with branded, man-made materials marketing and sales budgets. This is a long overdue needed initiative for Natural Stone.
"We have many of our members relying on inadequate resources being provided by the MIA+BSI and several generous stone companies that can't compete with large, multinational companies. This initiative will be a game changer just as it has been for other commodities that have put this in place."
After speaking with Jon, I left eager for the new, proactive programs that will be coming from the MIA+BSI. We also touched on new content in the MIA online university, including green, sustainable applications and techniques offered in the Natural Stone 101 course.
In addition to this basic course, a vast library of tutorials videos, which can be searched by interest and topic, are free to members and non-members. These can be found at www.marble-institute.com under the education section and under various topics in the Natural Stone University option.
Jon Lancto showed me how the natural stone community continues to thrive, promote and adapt in an ever-changing materials marketplace. The MIA+BSI are encouraging growth, advocating on the industry's behalf, educating its community, and elevating professionals, artists and businesses. I look forward to seeing what new initiatives come next for the MIA+BSI.
Michele Farry co-owns Humblestone and is passionate about entrepreneurship and small business growth. Michele has received awards for her work with profit-based and non-profit charity organizations.