Just in Time for Oktoberfest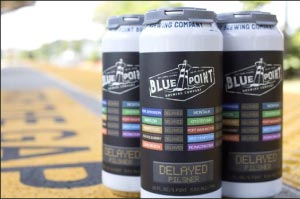 New York City train commuters cooled off their "summer of hell" with a new beer appropriately named Delayed.
Newsday reports that Long Island-based Blue Point Brewery launched the new brew in August at Penn Station.
Blue Point president Todd Ahsmann says he and his employees have spent plenty of time at the Manhattan station waiting for delayed Long Island Rail Road trains to take them back home. The brewery came up with the idea after Gov. Andrew Cuomo said construction at Penn Station could result in a "summer of hell" for commuters.
"Everybody's dealt with the frustration of a delay. If we can give the beer drinkers a little relief through a good beer and something to drink while they pass the time, I think that was the goal," brew master Dan Jansen said. "It's got a lot of malt character, the right amount of hop aroma." The brewery canned 200 cases in the first run.
The can's design resembles Penn Station's departure board, with Long Island destinations followed by the word "delayed."
The new age German-style pilsner blends floral, spice and honey to give it a refreshing taste.
Asked to comment about the beer, an MTA spokesperson told reporters the delays that were feared during Amtrak's summer repairs at Penn so far haven't been that bad – and hopefully, this beer won't be either.
The beer will start as a Penn Station exclusive and may make its way to local (New York City) bars.