Braxton-Bragg Partners with Susan G. Komen Foundation to Continue the Fight Against Breast Cancer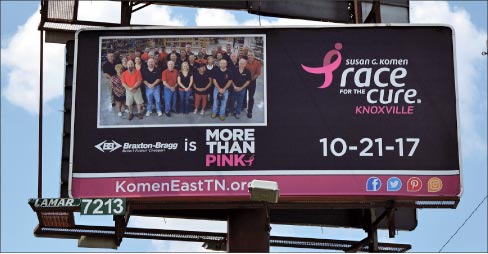 "This will help a lot of people in our community." Proceeds from the Komen Race for the Cure support ongoing research and preventative care.
Braxton-Bragg, LLC proudly announces its partnership with Susan G. Komen East Tennessee in supporting ongoing research and services in preventative care for breast cancer.
Braxton-Bragg's association with the Komen organization will support events like The Komen Knoxville Race for The Cure and Komen Tri-Cities Race for the Cure. Komen East Tennessee invests 75 percent of the funds raised to support vital, local breast health services and also dedicates the remaining 25 percent to national research to find a cure.
"We wanted to get involved with a local charity and chose Komen Race for the Cure because many of our employees have been touched by cancer, and this is one of the largest events in Knoxville," says Karen Richards, Braxton-Bragg Credit Manager and Komen Race team captain. "This will help a lot of people in our community."
The mission of Susan G. Komen East Tennessee is to provide funding for breast health services, breast cancer education and outreach in the 24 surrounding counties, including the Knoxville and Tri-Cities regions.
Everyone is invited to stop by the Braxton-Bragg tent at the Race For The Cure on October 21st at the World's Fair Park, in Knoxville, Tennessee. You'll have the opportunity to meet some of the company's representatives and to pick up some free swag.
Braxton-Bragg is honored to support Susan G. Komen East Tennessee as they continue the work to find a cure for breast cancer. If you would like to support the Braxton-Bragg Race for the Cure team, please visit www.braxton-bragg.com/race-for-the-cure.


Since its beginning in 1994, Braxton-Bragg's philosophy has been to offer the best customer service and the best value for the money. They do that by providing quality tile, stone and concrete tooling and supplies at the best prices, the best in-stock availability.