Angie's List: New and improved
Sharon Koehler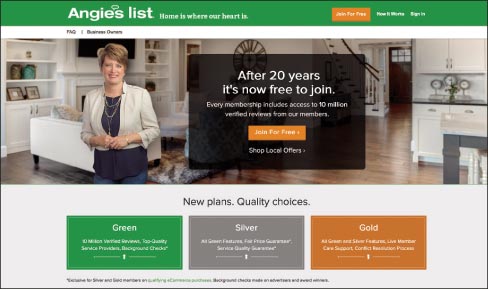 New options make Angie's List a research tool still worth considering.

Angie's List Gold membership is currently $99.99 a year. That's a bargain for a marketing platform that can help you reach thousands of potential customers right in your area.
Artistic Stone Design
When I moved to Richmond, Virginia, I didn't know any contractors or handymen but I needed help. So, I turned to a company way ahead of its time – Angie's List. I joined. The yearly fee was something ridiculously small like $12 a year, but what I got in return far outweighed the yearly subscription fee. Not only did I get help for myself but I got help for my elderly, widowed mother as well.
Back then, Angie's List was truly ahead of its time. Ratings and reviews on local companies? Who ever heard of such a thing? As we all know, online reviews are a part of everyday business now. You can leave reviews for a company in more places than I can count, and some places I have probably never heard of. But back then, other than Angie's List, review sites were few and far between. They found a need and filled it, and thus became a household name, and the go-to place when you need a professional.
As recently as five years ago, they were still strong. We made a good profile with them and since we carried their "A" rating, we advertised with them as well. We also had a "Big Deal" with them. In the beginning, the return was great. We would get 10 or 12 people a month from them, plus we would sell some "Big Deals" every month.
However, as with all things that come before their time, eventually times catch up. Angie's List seemed to flounder a bit in recent years. It makes no sense to pay to see reviews and ratings when places like the BBB, Google+, Houzz and so many other sites are giving them away for free.
So Angie's List took time to retool and revamp. Allow me to proudly introduce the NEW and IMPROVED Angie's List. For the consumer there are now three membership options.


Green Membership
This plan is free. The consumer gets access to nationwide reviews and ratings. This is a change. It used to be only local reviews and ratings. I personally like this change to nationwide. I live in Virginia and a few years ago I needed some moving help for a relative in Illinois. I could not use Angie's list. Green Memberships also give the consumer access to top service pros and the Angie's List digital magazine.


Silver Membership
Silver membership is $24.99 per year. You get everything included in the Green Membership plus:
Angie's List Magazine–This is the same publication as the digital, only in print, arriving in your mailbox.
Fair Price Guarantee –This means that if you purchase services for a project on Angie's list and you find that service cheaper from another Angie's List provider, you may be able to get a refund down to a less expensive price. Angie's List terms and conditions apply.
Service Quality Guarantee

If you purchase services through the Angie's List Ecommerce marketplace and you are not satisfied with the quality given by the provider, Angie's List will help make it right or refund the purchase price up to $100,000. Once again, Angie's List terms and conditions apply.
Care Support – The member can get help from Angie's List Member Care Specialists through either live chat or e-mail.
Blue Book Pricing Guide – If you want to get an idea how much a project will cost, this guide gives you a cost range in your zip code. Prices are updated quarterly. * (See note below at the end of this article)
Project Scheduling–

When you are trying to arrange a service pro or an ECommerce deal, Angie's List will help with the scheduling to make it easier on the member.

Gold Membership
This is $99.99 per year. You get everything in the Green and Silver Memberships plus:
Care Support – Support by phone as well as the chat and email perk in the Silver Membership.
Complaint Resolution – If there is a problem with an Angie's List service provider that the member hired, Angie's List trained Complaint Resolution Team will intervene and try to come up with a solution that is agreeable to everyone.
Handy Chat – This gives the member access to a library of downloadable podcasts created by experts in their field.

Find your topic, download and learn.
Emergency Service Line – If you have a true home emergency like a broken pipe, Angie's List will help you connect to a provider that does emergency work. This is not available in all trade categories.
Insta-Hire – Tell Angie's List the details of your project and they will contact pros in your area that can help you, so those estimates and calls come in quicker.
ECommerce Savings – Angie's List will e-mail offers and limited time savings directly to you so you can take advantage of deals.

Angie's List has also introduced a new advertising program for businesses. They just rolled it out in June. It's called Contact Me. They say it's much deeper than a pay-per-click program. There is no long-term contract and you can make adjustments to the program as necessary. You get monthly performance reports and have the option to cancel at any time.
Simply put, the business pays a small set-up fee and a small monthly fee. You pick the areas that you want to run your campaign in. The area can be as big or little as you want. The customer must contact you through Angie's List either by phone or e-mail. Once that happens, then the business is charged a contact fee. These fees are dependent on the area you are in. There are safeguards in place to prevent being charged for multiple contacts by the same person. The one requirement is that the business must run a coupon. However, when I was talking to them on the phone, they did say it could be as little as $5 off what you are providing.

It just goes to show: everything old is new again.
Please send your thoughts on this article to Sharon Koehler at Sharon@asdrva.rocks.

*Author's Note: I did find a little discrepancy with The Blue Book Pricing Guide. Their online guide listed it as a perk for only Silver and Gold Memberships, but a real, live tech support person assured me it was available to all membership levels.