Update Your Tile Technical Library with New Releases from the Tile Council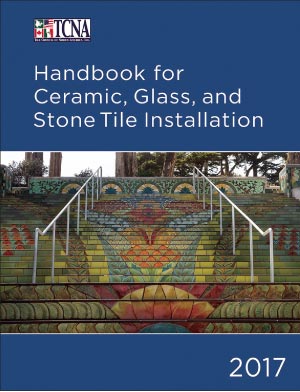 Whatever your role in the construction industry, if you work with tile, you need to be up to the minute on new and revised standards, guidelines and best practices. Get the latest editions of the TCNA Handbook and ANSI standards, also now available for phones and devices.
The 2017 TCNA Handbook for Ceramic, Glass, and Stone Tile Installation contains the following updates:
New section on critical lighting issues and how to avoid them.
New movement joint guidelines.
Expanded substrate flatness information.
New language on tile layouts, modular patterns, visual inspection, and more.

It also includes 2017 editions of Tile: The Natural Choice, packed with pointers for fulfilling green building criteria, and TCNA's Tile Initiative, a collection of bulletins and articles on current industry topics
The digital edition features linked cross-references allowing easy navigation throughout the book.
In other TCNA Technical Library updates, new editions were released in March, 2017, of the ANSI A108, A118, and A136 Material and Installation Standards.
This compilation includes industry standards for mortars, grouts, membranes, and cement backer board, and installation standards for ceramic and glass tile.
These 2017 updates include:
Revised language to allow non-linear (e.g. saw-tooth) movement joints in specified conditions for movement joints to follow grout joints in off-set patterns.

Revised language on running bond/brick joint patterns, to expand applicability of the language to any off-set pattern for tiles with an off-set side greater than 15 inches (previously 18 inches).
*Does not include product and installation standards for "thin tiles." (See update ANSI A137.3/ A108.19.)

An August 2017 release of ANSI A137.1 contains the product standard for ceramic tile. A137.1 was revised with increased breaking strength requirements for quarry tiles and porcelain tiles, as well as tighter specifications on the warpage of calibrated porcelain tiles.
ANSI "Thin Tile" Standards are also available.
ANSI A137.3 is the just-released product standard for gauged porcelain tiles and gauged porcelain tile panels/slabs, 3.5mm to 6.5mm thick (aka "thin tiles"). ANSI A108.19, also just released, is the standard for interior installation of gauged porcelain tiles and gauged porcelain tile panels/slabs.
ANSI A326.3: New DCOF Standard is available as a free download. Whether you're manufacturing, specifying, selling, installing, or maintaining hard surface flooring, it's important to understand dynamic coefficient of friction (DCOF) and slip resistance requirements. ANSI A326.3 is the industry standard for testing the DCOF of hard surface flooring material. It includes methods for laboratory and field testing, as well as guidance on specifying hard surface flooring materials.
You can bundle and save by purchasing the TCNA digital editions bundle:
2017 TCNA Handbook + CAD

files
ANSI A108/A118/A136.1

standards
ANSI A137.1 standard
ANSI A326.3 DCOF standard
Tile: The Natural Choice

TCNA Tile Initiative

See the TCNA website for ordering and pricing information and to download, www.tcnatile.com .