VersaLite Brings Flexibility to Stone Veneer
Shannon Carey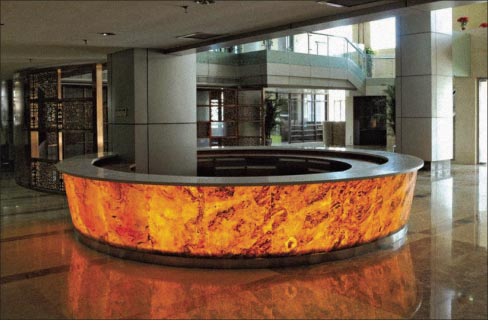 VersaLite's 2mm thickness makes it flexible and 20 times lighter than regular stone tile.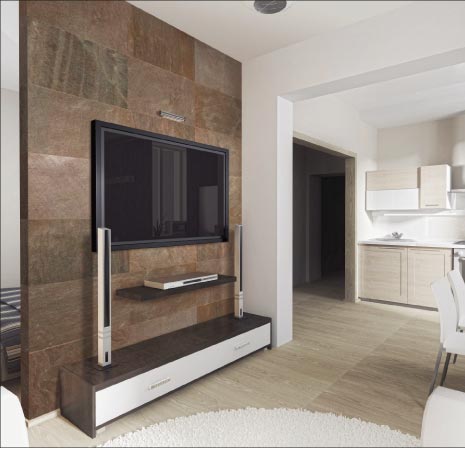 Interior wall applications using VersaLite do not require expensive load-bearing structural modifications. The panel flexibility opens up new possibilities, including doors, columns, cabinet facings and even furniture.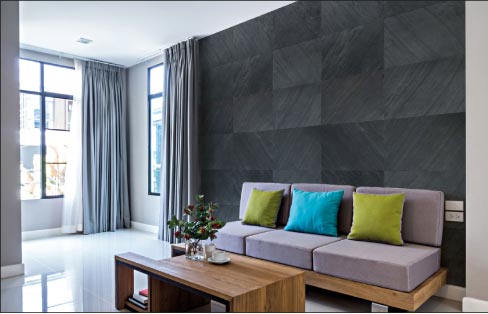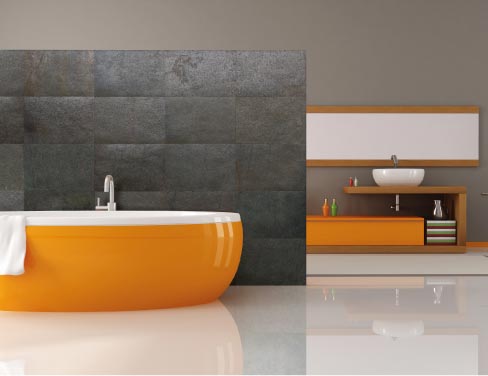 Deoli Green VersaLite veneer used as a monolithic architectural accent in a modern bath.
Photos Courtesy VersaLite
Take a look at the latest fashions in stone and tile, and you'll see that the industry is thinking thin. Veneers, backlit features, huge, seamless accent walls, all the thinner the better.
There's a new product from The Tile Doctor that's set on the cutting edge of this thin revolution.
VersaLite Stone products make installing the most fashionable stone features, and even rounded stone veneers, as easy as laying tile.
Tile Doctor CEO Curt Rapp has been watching the VersaLite product for some time.
He met the manufacturer at a stone show in Verona, Italy two decades ago.
About 10 years ago, Rapp's friend showed him the VersaLite product. Manufactured in India, the product uses a rigid backing or fabric to support extremely thin veneers of slate or sandstone.
"It still had a ways to go with getting the backing property done," said Rapp. "It wasn't suitable for weather. Now they've improved the backing so it is suitable for interior and exterior applications."
Once those improvements were in place, Rapp decided to bring VersaLite to America.
Here's how it works. The manufacturer starts with a naturally cleft stone like quartzite slate or sandstone to which he applies a fiberglass resin. Then, using specialized German equipment, the stone is cut thin along the cleft layer. The resinous backing gives the layer stability but also allows for the stone's natural flexibility.
It can be applied to a rigid, fabric or translucent backing.
Rapp said anyone who can set tile is already prepared to set VersaLite Stone, which can be installed with normal tools and cut with snips or shears.
It works for seamless backsplashes, fireplace surrounds, showers, and many other uses.
Accent walls of VersaLite can be installed without having to engineer the wall to accommodate extra weight.
"If someone wants to DIY, it's just a matter of putting up some kind of adhesive that sets up, and it can be installed by just about anyone," said Rapp. "When I say 'flexibility,' the product's flexible, but it's also the flexibility to do things you maybe haven't thought of before: cabinetry, doors, acoustic tile. There are some really unique applications. It allows people to really put their mind to work and come up with unique things."
Rapp said the VersaLite Stone products are much less expensive to ship than regular stone slabs, a fact that also lessens impact on the environment.
A VersaLite stone veneer that weighs 30 pounds mimics the look of a 400-pound slab of stone and can even be shipped via UPS straight to the customer. The resinous backing also keeps the veneer from breaking, making it "installer-friendly," he added.
But, once a VersaLite Stone product is installed, it functions just like a stone slab.
For stone fabricators and installers, Rapp suggested that they could use a VersaLite product to install seamless backsplashes the same day they install countertops, shortening installation for the customer and cashing in on a service that might go to another professional.
The product can even be installed over existing tile without tear-out.
The product does have some limitations, though. Rapp said it is not good for heavy-traffic commercial applications, countertops or submerged situations, "but that's really more about the type of stone itself."
And Rapp said the response to VersaLite Stone has been great.
The first container arrived over the summer, and it's already in showrooms.
Large customers in Dallas and Atlanta have bought and are coming back for more.
"So far, everyone who has used it has raved about the product," said Rapp. "What drives this product is that people start to think about what they could do with it."
If you're dreaming up new ways to put ultra-thin stone veneer to use, just visit the VersaLite Stone website at www.versalitestone.com.
VersaLite Stone Veneer panels are available through Braxton-Bragg – visit www.braxton-bragg.com.