Stone Restoration and Maintenance Corner: Holman Field Terminal Restoration
Bob Murrell
M3 Technologies
Photos by Bob Murrell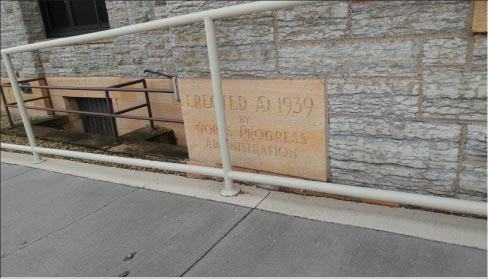 Holman Field was a product of the WPA era, which saw some very fine stone and masonry work completed, and many of these buildings are still in use today.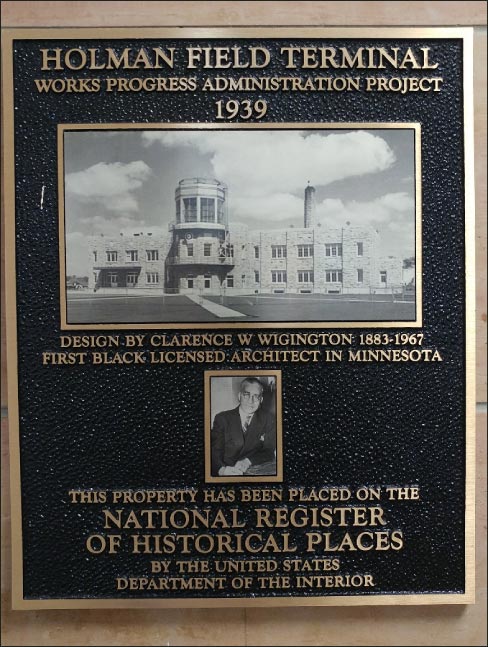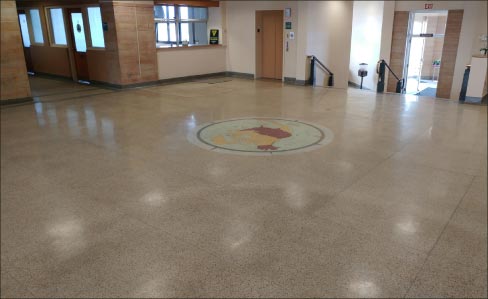 Above: The first step toward restoring the terrazzo floors and travertine stairs (and walls) was removing over 35 years' worth of wax and floor finish build-up.
Above: After stripping the finish, grinding and polishing, the restored terrazzo floor is restored to its former glory.
In preparation for Super Bowl LII in Minneapolis, Minnesota, Classic Marble Restoration, out of Blaine, Minnesota, has completed a major restoration project of the terrazzo floors and travertine stairs and walls at Holman Field Terminal, also known as the St. Paul Downtown Airport. A new restaurant for the pilots and crew will fill a previously empty space. Near a bend in the Mississippi River, it is one of several reliever airports in the Twin Cities area.
Holman Field Terminal has three runways and services over 60,000 private and corporate flights each year. For the upcoming 2018 Super Bowl, it will be unusually busy with the NFL owners and big shots flying in. The airport expects well over 100 private aircraft to visit, just for the big game. It also services the Minnesota National Guard and transient general aviation aircraft. The Holman Field Administration Building was added to the National Registry of Historic Places in 1991.
Because of Holman Field's 6,700 foot main runway, it can handle the bigger Gulfstream jets that can make international flights from Asia, Europe, and South America on a single tank of fuel. That makes Holman Field airport a logistically sound choice for multinational companies doing business in the Twin-Cities area.
There is quite a bit of history to Holman Field. Under the WPA (Works Progress/Projects Administration), which was part of President Franklin D. Roosevelt's New Deal, Holman Field was built in 1939. It was designed by Clarence "Cap" Wigington, who was the nation's first African-American municipal architect. He went on to serve as the senior designer at the City of Saint Paul's architectural office for more than 34 years.
The airport was named for Charles "Speed" Holman who was a stunt pilot extraordinaire. Speed Holman was an airmail pilot, wing walker, barnstormer, parachutist, and aviation record holder for the most consecutive loops in an airplane, 1,433 in five hours. His first pilot's license was signed by Orville Wright. He died in an unfortunate accident during an airshow at the opening of an airport in Omaha, Nebraska in 1931, at the age of 32.
Tim Lesnar started Classic Marble Restoration some 25 years ago. I met Tim at that time, in 1992. To this day I count Tim as not only a professional restoration contractor customer, but also as a friend. The scope of work for Tim and his team of technicians was a complete restoration on both the 78 year old terrazzo floor and the travertine walls.
They started the project on May 3, 2017 and completed work on May 23. They had some help from a national Building Service Contractor company called ABM (American Building Maintenance). Including Tim's technicians and the ABM techs, there was a total of 6 people onsite, at any given time. ABM began the project with stripping well over 35 years of wax and floor finish buildup from the terrazzo floors and travertine stairs.
Once the floors were completely stripped and void of all coatings, Tim and his crew began work on the 800-1,000 square feet of travertine stairs and walls. Extremely dirty areas were first cleaned and then all fissures (holes) were filled using color-matched polyester resins. Once the holes were filled and cured, the walls were then honed with hand tools, generally starting with a Velcro-backed 100 grit diamond pad, but in some areas a 50 grit was necessary to repair and refresh the stone properly. Then the honing process was continued with a 200 grit and finally taken to and left at a 400 grit honed finish.
They completed the stairs and walls with a color-enhancing impregnating sealer. This helped to achieve the desired rich look while offering protection from future foreign contaminants, such as the oils from hands and hair. As you can imagine, vertical work is both physically demanding and tedious. The entire process on the vertical surfaces took about 1-1/2 weeks.
After the vertical travertine surfaces were finished, work began on the freshly stripped 3,500 square feet of terrazzo starting with 40 grit metal bond diamonds under two HTC machines, a 500 (20-inch) and a 650 (26-inch). These machines are 220 volt and had to be pig-tailed directly into the panel box by the electrician from the airport.
They used their machines dry (with dust extractors) for the 40 grit and 80 grit metal bond diamonds, then switched to wet operations for the resin diamonds. They dropped back down from the metals to 50 grit resins then continued on with 100 grit and 200 grit resins. At this point the floor was densified with a lithium silicate product before continuing on through the resin diamonds 400 grit, 800 grit, 1,500 grit, and finishing with 3,500 grit.
The cove mold edges were done using hand tools, 5-inch Velcro-backed diamond pads, and diamond hand pads from 100 grit to 400 grit. This of course was done between the floor machine steps, as it should be. In other words, 100 grit would be completed on the edge work before doing the 100 grit with the floor machine, always overlapping floor work to the edge work to blend the two surfaces.
Once all of the floor and edge surfaces had been properly honed and allowed to dry for 24 hours, an acrylic guard product was applied.
Once the guard had cured, the floor was burnished using a propane high speed floor polisher with a 3,000 grit diamond impregnated pad, and then finally with a 6,000 grit diamond impregnated pad.
All of the waste from the dry grinding was bagged and put in the dumpster. The wet slurry was collected in barrels and a coagulant product was used to solidify the waste. Once the slurry was solidified, it too was put in the dumpster for removal to the local landfill.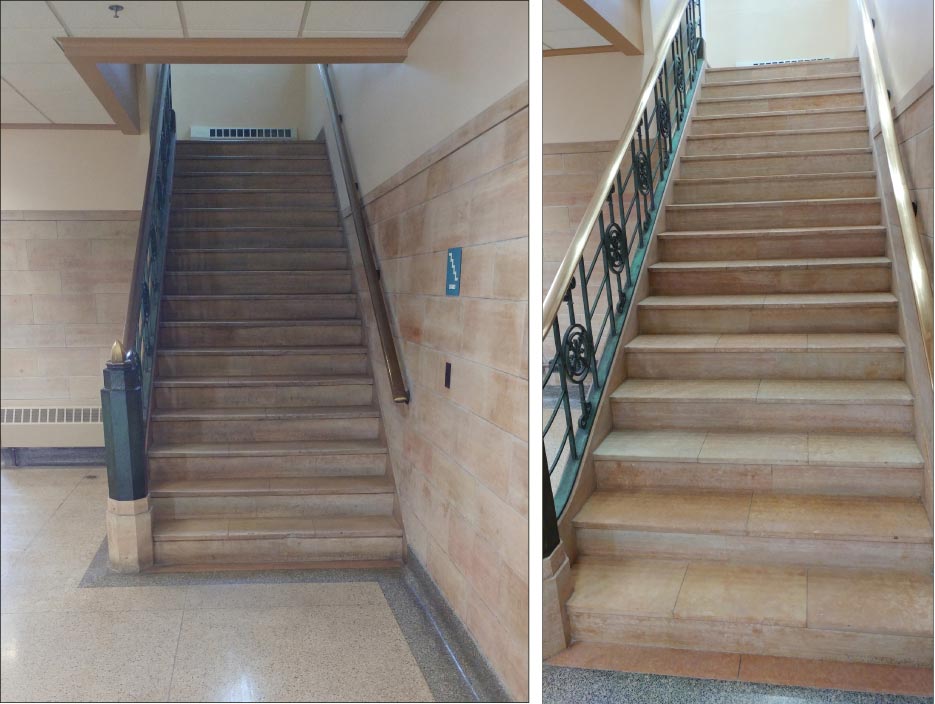 Travertine stair treads and risers, before and after. Extremely dirty areas were first cleaned, and then all fissures were filled using color-matched polyester resins. After honing, a color-enhancing impregnating sealer was used to protect the surface.
Tim and his technicians have once again restored a small piece of American history. The last historic project he did was the Cathedral of St. Paul. (See the June 2015 Slippery Rock archives for details on that project.) So for the upcoming Super Bowl LII there should be plenty of available runway at the historic Holman Field airport for all of the affluent sports fans flying in, and thanks to Tim and his team, it now has a new and refreshed look. Please visit www.classicmarblerestore.com/ for more information.
As always, I recommend submitting a test area to confirm the results and the procedure prior to starting a stone restoration or maintenance project. Also the best way to help ensure success is by partnering with a good distributor that knows the business. They can help with technical support, product purchase decisions, logistics, and other pertinent project information.
Bob Murrell has worked in the natural stone industry for over 40 years and is well known for his expertise in natural stone, tile and decorative concrete restoration and maintenance. He helped develop some of the main products and processes which revolutionized the industry, and is currently the Director of Operations for M3 Technologies.