Delivery of the Future?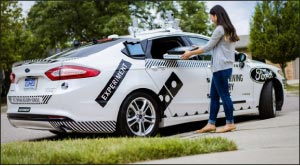 Ford and Domino's are teaming up on a research trial that will see Ford cars equipped with self-driving tech delivering pizzas to regular consumers, as a way of figuring out how everyday people will react to, and interact with, autonomous service vehicles in the future.
Ford Fusion Hybrid Autonomous Cars will be used in the test, outfitted with pizza containers created by Domino's partner Roush Enterprises designed to keep the pizzas warm en route, and to unlock when a customer types in their unique delivery code. The vehicles will be available to randomly selected Domino's customers who order pizza in the Ann Arbor, Michigan area, with the ability on the customer end to opt in to receiving a delivery via AV when they're selected.
Both Ford and Domino's will be using the test to see how people react to receiving pizzas via self-driving vehicles. Domino's and Ford have worked together on a number of projects in the past, including in building a way to order pizzas via Ford's in-car SYNC software and apps platform. The autonomous cars used in this trial will have an on board back-up driver, for safety.