The Wall that Heals
Navy Vet Volunteers for the Traveling Vietnam Memorial Wall
Shannon Carey
Photos by Larry Hood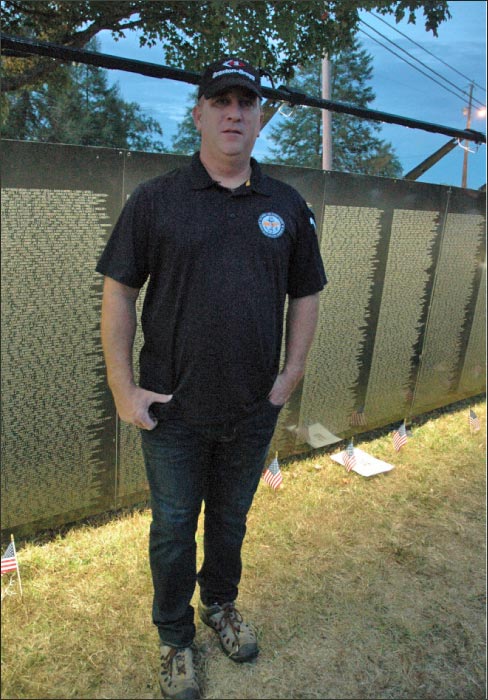 Braxton-Bragg salesman and Navy vet T.J. Johnson says volunteering at The Wall was a 'humbling' experience.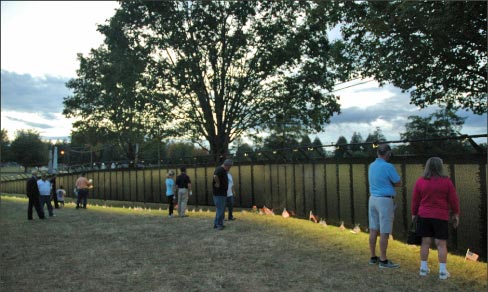 Part of the purpose of The Wall That Heals is to bring the Vietnam War Memorial to those who cannot travel.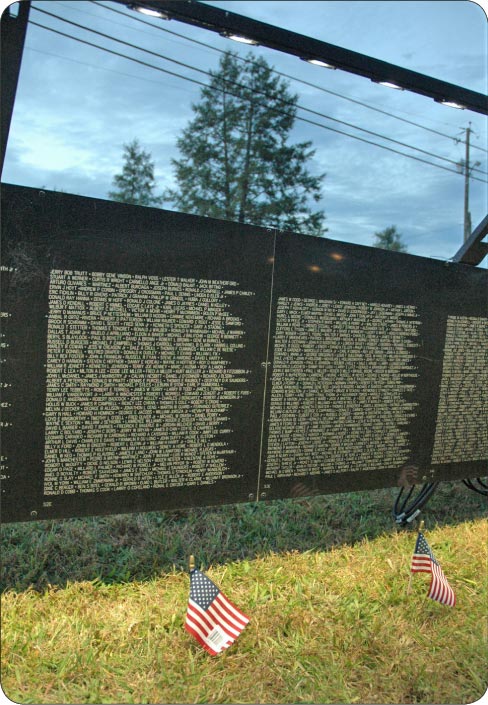 Johnson said the hundreds of flags planted in front of the wall were all brought by visitors, who also often leave mementos that are saved and become part of a special traveling collection.
Retired U.S. Navy chief T.J. Johnson understands the importance of the Vietnam War, both in our nation's history and in the hearts of the conflict's veterans. His father served in Vietnam, and his father inspired Johnson's choice to join the Navy.
So, when Johnson found out that The Wall That Heals, a mobile scale replica of the Vietnam War Memorial in Washington, D.C., was coming to Knoxville, Tennessee, Johnson made sure he was there to help, and he brought eight young people to learn from the experience.
Johnson was 24 years in the Navy as a combat door gunner and rescue swimmer, stationed on the east coast most of his career and serving several tours in Iraq. He came to Knoxville as command chief of the Knoxville Naval Reserve Center, then looked for a job when he retired from the military.
He made the acquaintance of another previous reserve center command chief at his church, and that person recommended that Johnson apply to work in sales at Braxton-Bragg.
"He had all these positive accolades," Johnson said. "It really has been a good experience. The small, family-size atmosphere is very personal. I'm grateful to have a chance here in the civilian world."
He's also grateful that Braxton-Bragg lets him have the flexibility to volunteer. He commands the Naval Sea Cadets in East Tennessee, a program like JROTC that trains young people for future positions in the Navy or Coast Guard.
Johnson chaperoned a group of eight cadets to The Wall that Heals when it came to Knoxville, and the experience was one that they will not forget.
"We went there as a team to stand guard and assist. We helped people find the names of their friends and family and also helped people with disabilities at the wall," Johnson said.
"(The cadets) can't determine their future without knowing their past, and they definitely did that. One found his last name all over the wall. They were Marines like he wants to be a Marine. They were all very grateful and humbled to learn the history. One of the younger cadets hasn't learned (about the Vietnam War) in school yet, and now he has this real experience to connect to his school learning."
The Wall That Heals is a project of the Vietnam Veterans Memorial Fund, bringing the closure and healing of the Washington, D.C., memorial to people who may not be able to travel.
Visitors have 24-hour access to the wall, and Johnson said close to 4,000 people visited the wall as it stopped in Knoxville.
"One man took two hours to find all 44 of his friends from his squad in Vietnam," said Johnson. "For me, it's the emotions that come to the wall, the honor and respect. Everyone's telling stories and reconnecting.
"My dad was in Vietnam and did not get a good welcome home. It was a political war with brutal guerrilla warfare. Knowing the brutality they faced in the jungles, many of the Vietnam veterans have survivor's guilt. I think it's a healing opportunity for all of America when they see and discuss the Vietnam War."
The Bill Robinson Chapter
Johnson noted that the Knoxville chapter of the Vietnam Veterans of America is named for Bill Robinson, the longest-held prisoner of war in Vietnam.
"We have the privilege of being friends with and knowing Bill Robinson," said Johnson. "He walks among us. Some people in the community don't know that. You never know who's walking past you if you've got your head down in a phone. There are important people around here who have survived great ordeals."
Both the memorial in Washington, D.C., and The Wall That Heals are surrounded by powerful emotions, and Johnson said it was an honor to serve veterans who visited the wall.
"It's important because it brings closure," he said. "It's a chance to remember, relive and reconnect. I don't know how to put it into words what it feels like. It's a sobering, humbling and rejoicing that happens when you get to be part of that wall and see people touching it and finding their friends. This coming to my city, it's most important to me to honor my dad that went to Vietnam and survived. I'm just thinking about what he would say about me being a part of this."
For more information about The Wall That Heals, including schedules and volunteer opportunities, visit www.vvmf.org/twth.