Penance? 5-10 Years and 2.5 Million Hail Marys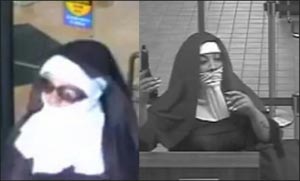 Two women charged with robbing a New Jersey bank are also suspected of trying to rob a bank in Pennsylvania's Pocono Mountains while dressed as nuns.
Nineteen-year-old Swahilys Pedraza-Rodriguez, of New Haven, Connecticut, and 23-year-old Melisa Aquino Arias, of the Dominican Republic, appeared before a judge in Newark, New Jersey. They're charged with robbing a bank in Garfield, New Jersey, while one wore a head covering.
The Garfield heist was Sept. 27. The women were arrested after leaving a Teaneck, New Jersey bank one Sunday when an employee called police, according to federal prosecutors in New Jersey.
Law enforcement officials say the women are also suspected in an attempted robbery of the Citizens Bank in Tannersville, Pennsylvania, on Aug. 28. Those robbers were dressed as nuns and ran away without money after an alarm was triggered.
The FBI had posted surveillance photos on Twitter from the Pennsylvania heist.
The women's attorneys didn't immediately return messages.