Brimfield Granite & Marble
An Interview with Owner Wendy O'Shaughnessy
Michele Farry
Photos provided by Brimfield Granite & Marble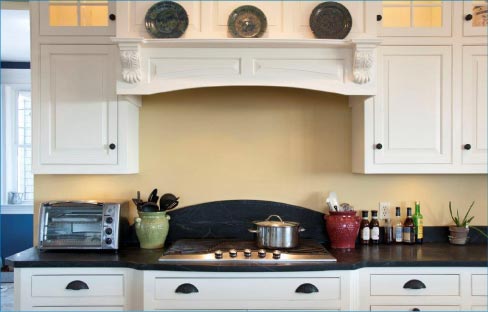 Above: This beautiful Soapstone kitchen features an arched backsplash.
Above: The Cedar Street Grill in Sturbridge, Massachusetts, is a good example of Brimfield's commercial work. The Cedar Street Grill chose an exotic Rainforest Green granite for their wrap-around bartop, and the restroom vanities.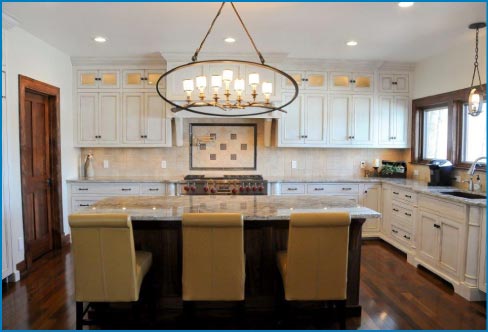 Above: This kitchen features a Bianco Romano countertop which truly reflects all the natural sunlight from the surrounding landscape.
For this January 2018 edition of the Slippery Rock, I am excited to begin a new series highlighting women in stone. The terms "women in stone" or "woman-owned business" are used more frequently with the launch of wonderful programs facilitated by the MIA+BSI, and many other organizations, but what does this terminology really mean, and who are these women?
Women are key contributors to the growth and sustainability of the tile and stone marketplace. As members of our rapidly changing marketplace, it is crucial that we are all active participants and mentors, and are working toward a more inclusive industry. Undeniably, the knowledge and diverse roles that women have are expanding by developing new leadership and moving forward with new ideas. Digging a little deeper for the SRG readers, the upcoming women in stone articles will be a terrific new way to explore growth in the tile and stone industry from a new perspective.
As it has become increasingly more common to hear of fabrication and installation shops owned by women, for this first article I reached out to a successful entrepreneur and business owner Wendy O'Shaughnessy, of Brimfield Granite & Marble. Located in historic Brimfield, Massachusetts, and nestled in a rapidly growing community of historic home renovations and new construction, Wendy has seen the ups and downs of the market, rode out the housing crash, created her businesses niche, and negotiated contracts as a stone fabrication provider for many companies of different sizes. This range has included commercial clients like Planet Fitness and high-end custom projects on Martha's Vineyard for Paul Girouard of Fine Lines, all the while providing products and services to a local client base.
Brimfield Granite & Marble fabricates custom granite, quartz, soapstone, marble countertops, shower and fireplace surrounds, and also offers granite repair services. They pride themselves on installing large islands and fabricating custom, seamless countertops. Utilizing distributors such as LeaMar, MSI, Marble and Granite, IGM, Verona Quartz, and Kazza Quartz, Brimfield Granite offers its clients a full range of material options.
Wendy has a generous approach toward her work and the sharp acumen and attention to detail of a seasoned, accomplished business owner. Wendy is a driven and passionate owner, and her over 20 years of experience in the stone industry gives her an impressive store of stone and fabrication knowledge.
Her unique circumstances as a business owner stem from meeting her husband Michael over 20 years ago. Michael is the head fabricator of Brimfield Granite & Marble, and introduced Wendy to the stone industry. They built their business from the ground up. While Michael feels most comfortable running the shop, he has the utmost trust and confidence with Wendy developing their customer service department, selecting materials, establishing vendor relationships, building a healthy customer roster, and overseeing the Brimfield Granite and Marble team and overall project management. Wendy enjoys being involved in all aspects of the stone business and has a willingness to do whatever it takes to get the job done with her team.
I asked Wendy to give me some feedback on her experience as a woman business owner, specifically the challenges she has faced most recently, versus when she started out.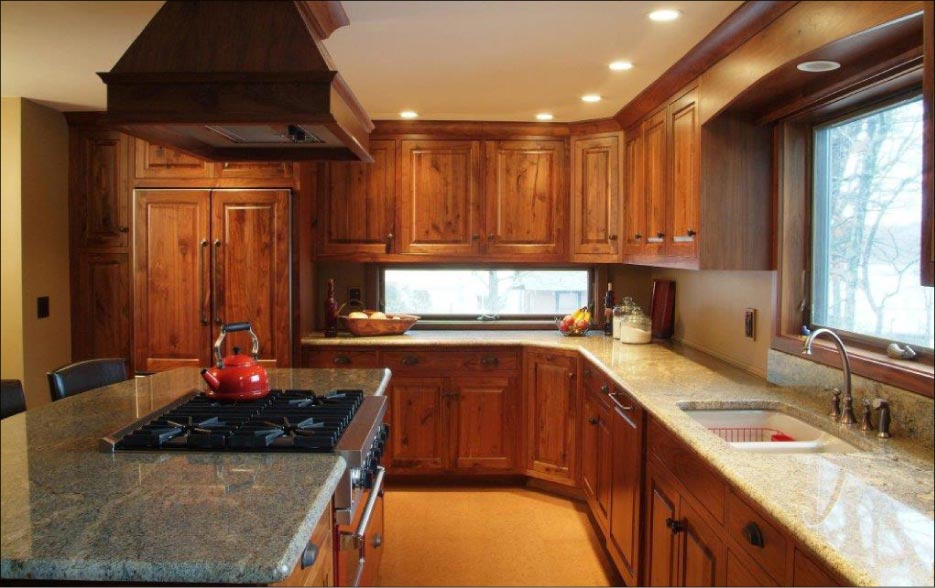 Kitchen with a harmonious combination of a Verde San Francisco island as a focal point, and African Ivory countertops and backsplash.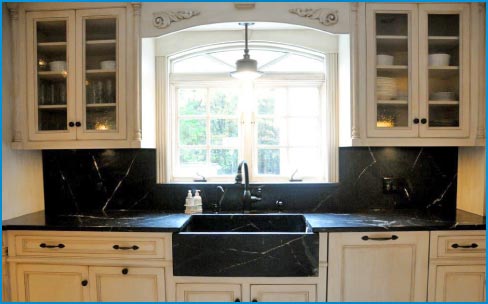 Above: Detail view shows the soapstone countertops and the custom slant front sink.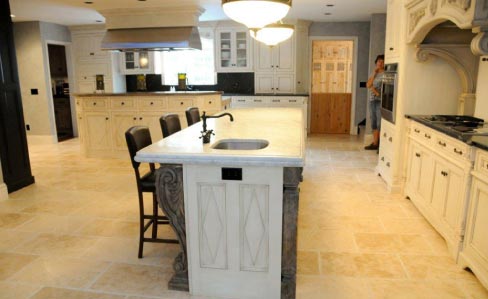 Above: This charming Sturbridge home features a Bianco Carrara island with Brazilian Soapstone surround.
"I have observed women becoming more involved in the construction industry in general over time, and a growing acceptance of women in the trades. Major shifts in material quality, type, thickness, and lighter-color materials with their own softness and fissures issues have presented new communicating hurdles with my fabricators, namely how we will meet the customer demands and (ensure their) satisfaction with the end results. There is nothing worse than refusing a slab of stone that my customer has chosen because of quality issues with the product or the machine finish, but recently I have rejected more slabs than I ever have in the past. Material product and quality control has become one of the most important parts of the job. As an extra critical aspect on the checklist for the fabrication process, I can never overlook this necessity.
"We have experienced that the competition is changing, with very inexpensive fabricators popping up everywhere. I am finding these competitors including things like sinks and bundled packages, and it's hard to be as competitive with pricing. When we are bidding a project I have to stand firm on pricing and the value we offer at Brimfield Granite & Marble. This can be very challenging when I want to pursue new customers like contractors, who have many options with price versus quality. Sometimes we will strategically invest in a client because of the potential opportunity, offering a reduced rate from our norm and willing to prove what we have to offer over the cheapest rates going. What is most different from when I started? As a woman in stone, my confidence with my knowledge in sales, materials, the availability to offer superior customer service and general advice is more refined and proven. "
Our interview continued as I asked, "What have you found to be an advantage being a woman-owned fabrication shop?"
Wendy said, "As a woman, I have found my customers will rely more heavily on me for design assistance. If they have questions on their decorative choices with clean lines, warm, cool or a cozy aesthetics, I realized early in my career, customers will trust my judgments a little more frequently. I have a spectrum of clients who have different demands, from the confident customer who knows what they want, to the customer who does not know what material they should use. This aspect of owning a fabrication shop has always seemed to flow for me, and as a woman owner, I was able to quickly establish trust with my customers, and I have appreciated any advantage that allots me."
I asked, "Wendy, when people have asked you how you can be so experienced in stone, when you are not the actual fabricator, what do you tell them?"
She responded, "I can say that actually, I am almost always on the project from template to installation, am at almost every install, engaging the customer and explaining the process. I will cut off the ends off a shim and steel wool a seam to keep involved. I know every single step from project inspiration to completed installation. I had the benefit of having my husband as a fabricator who patiently taught me. I wanted to know all the aspects of stone fabrication when building my business."
I asked Wendy where she sees the stone industry going for women.
"I had a unique opportunity by marrying a fabricator, but for women in this business, you will be fine if you work hard and learn the techniques of your shop. I believe women are respected in the business. One thing you can't do is wing it with expensive stone as your product. I treat my customers with professionalism, and they get what they are paying for. It takes time and knowledge, but for women in general, if you can find a fabricator you work well with you can do great! The key is being very close and having mutual respect with your team and fabricator, and being on the same page, always focusing on communication and the desired end result."
It was a pleasure speaking with a woman running a family business for the first installment in this series – look for the next article in February, where I will present another important facet of women in stone – sales.
For more information, visit www.brimfieldgraniteandmarble.com.
Have a great month!


Michele Farry is the co-owner of Humblestone and is passionate about entrepreneurship and small business growth. Michele has received awards for her work with profit-based and non-profit charity organizations.