Cutting Edge Countertops Celebrates Groundbreaking for Facility Expansion
In response to increased demand for its products and services, Cutting Edge Countertops, an Ohio-based countertop fabrication company, has announced an expansion plan that is designed to provide additional capacity required for its anticipated business growth over the coming years.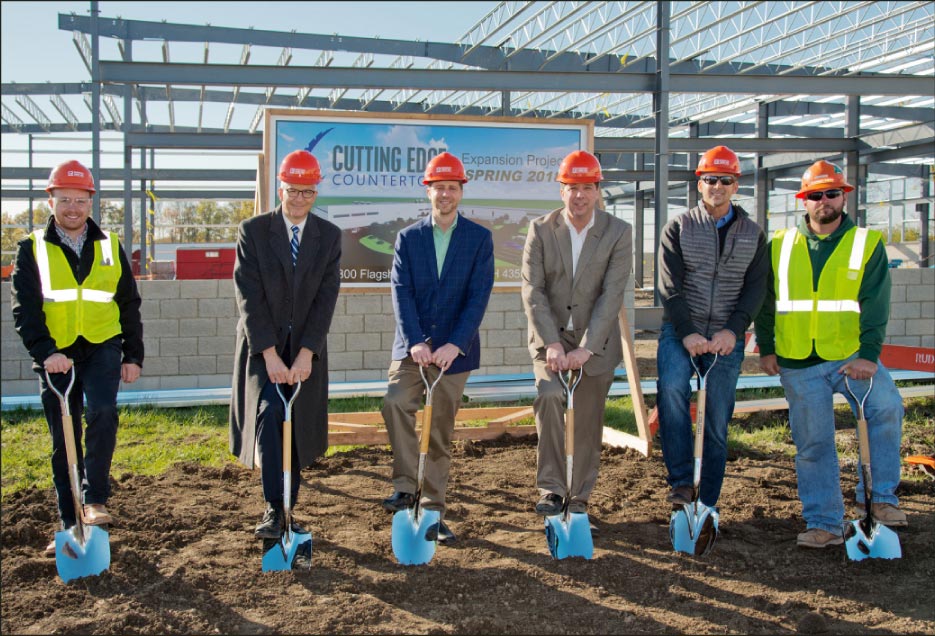 Cutting Edge held a groundbreaking event at the construction site on November 8.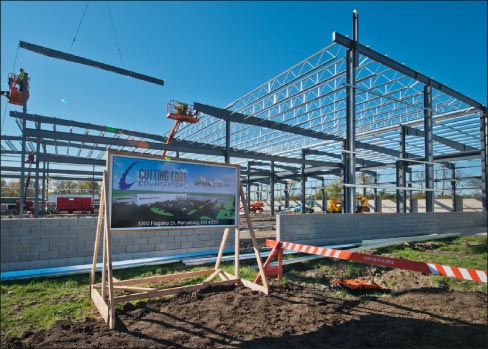 The expanded facility will house a new Brembana cutting line and five 4-axis CNC routers.
The new 71,400 square-foot Varco Pruden pre-engineered metal building addition will increase Cutting Edge's existing 24,000 square-foot Perrysburg facility to more than 95,000 square-feet, quadrupling their operation space. In addition to expanding production, this new construction will also increase the company's workforce by approximately 20 percent, to over 200 employees.
Living up to their name, Cutting Edge is investing nearly $4 million into machinery and equipment to outfit their newly constructed facility, including two CMS North America custom Brembana cutting lines featuring semi-automatic shuttle tables, a 16-ich cutting blade and a 5-axis waterjet head. The space will also house five 4-axis CNC router machines, material handling systems from Bohl Engineered Handling Systems and high capacity water filtration systems from Water Treatment Solutions.
"This is an exciting time for our company," said Brad Burns, Cutting Edge Countertops founding partner and head of sales and marketing. "We've experienced rapid growth in the last few years and this expansion is a necessary part of our long-term strategy for ensuring that our business can continue to prosper and create high quality countertops for years to come."
Rudolph Libbe Inc. is the design/build contractor and is performing the concrete, masonry, carpentry and site work. The expansion will add a two-story office, manufacturing, warehousing, shipping and receiving areas. This will allow Cutting Edge to support growth in their existing locations across Ohio, Michigan and Indiana, as well as new markets in the future. The project is scheduled for completion in Spring 2018.
"Having this project literally in our back yard is so rewarding," Burns added. "Every day our employees can see the progress and are motivated by what the future holds for us. We're also looking forward to having the opportunity to add new team members in the coming months."
Founded in 2006 by Brad Burns, Brian Burns and Jeff Erickson, all veterans of small, family-owned businesses, Cutting Edge Countertops, Inc. fabricates, manufacturers, and installs countertops for both the residential and commercial markets. For the last decade, Cutting Edge Countertops has served as a leader within the stone industry for year-over-year revenue increase and large-scale business logistics. For more information visit www.cectops.com.