Michels Sells Michels Stone Assets, Remains in Aggregates and Granite Industries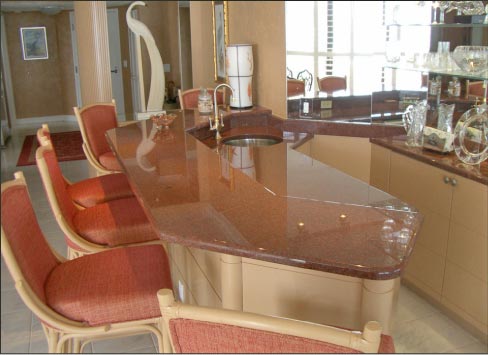 Michels mines the only deep red granite in North America – one of the hardest and most beautiful granites in the world and the Official State Stone of Wisconsin.
Michels Corporation entered into an Asset Purchase Agreement with Fond du Lac Stone, Inc. for the sale of substantially all of the assets of Michels Stone, a division of Michels Corporation. The transaction closed on November 18, 2017. The buyer, Fond du Lac Stone, Inc., is an affiliate of Natural Stone Veneers International, Inc.
The sale of assets resulted in the closing of Michels Stone, a retail business involving dimensional and landscape stone. Michels, through its aggregate division, Michels Materials, remains a market leader in the Wisconsin aggregates industry. Michels also continues to own and operate Anderson Bros. & Johnson, which mines dark red granite from its quarries in Wausau, Wis.
"This transaction was driven by our Board of Directors. Strategically we believe this transaction will allow Michels to remain focused on our core construction businesses during a time of anticipated growth in the construction industry," said Patrick D. Michels, Michels Corporation President and CEO.
Anderson Bros. & Johnson sells dark red granite, Wisconsin's official state stone, to architects, landscape designers, developers and sculptors. Anderson Bros. & Johnson also produces silver granite, black granite and quartzite for multiple uses, including monuments, sculptures, countertops, tiles, building stone, armor stone and crushed stone.
Anderson Bros. & Johnson's production facility includes diamond wire saws for cutting custom blocks, bricks and slabs.
About Michels Corporation: With a fleet of more than 12,000 pieces of equipment, Michels Corporation is one of the largest self-performing contractors in North America. Michels' expertise in infrastructure construction includes transportation, power delivery, oil and gas, communications, renewable energy, deep foundations, sewer and water, heavy civil, railway work and construction materials. Michels offers construction, engineering and procuring services to keep pace with customers' growing demands.