Park Industries Californian Event at Arizona Tile a Success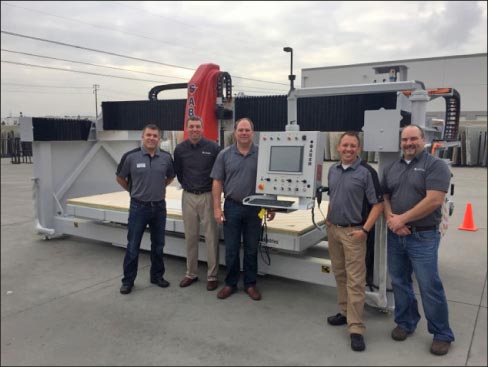 Attendees learn about the Park Industries® SABER CNC Saw at the California Open House.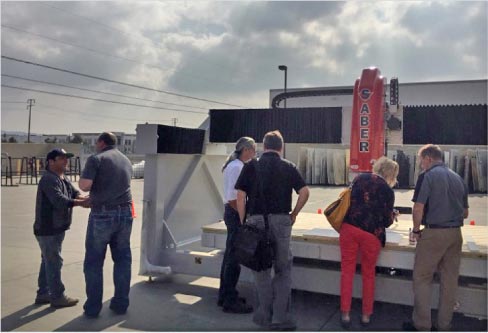 Park Industries® recently held an open house at Arizona Tile. The full-day event allowed attendees to observe the SABER 5-Axis CNC Saw, a variety of Arizona Tile slabs, and engage in animated discussion on the digital fabrication process.
The audience for the open house ranged from current Park customers to new fabricators with growing shops looking to gain knowledge and direction. Interested countertop fabricators from across California filtered in throughout the day to view, discuss, and gain a deeper understanding of the SABER CNC Saw's capabilities.
A cornerstone for any worthwhile event, attendees were well fed, with doughnuts in the morning, and a taco bar during the lunch hour. Solid conversations were bubbling up over the SABER as the attendees excitedly asked more about the machine features and how they could incorporate it within their own fabrication process. The event, in its entirety, allowed for dialogue to open up and give fabricators a real-life example of what "going digital" entails. Also present were Park's technical trainers, who provided hands-on demonstrations of alphacam and Slabsmith software products.
Attendees were given Park apparel and left the event with full bellies and a better understanding of the breadth of Park's machinery. Three lucky fabricators, even walked away with a $500 gift certificate courtesy of Arizona Tile. In response to the value gained from the event, fabricators stated that they expanded their knowledge of modern stone trends and state-of-the-art machinery to take back to their shops and make plans for improvements.
Marc Miscione, Director of Business Development, from Arizona Tile helped co-host this event. He comments, "This was our first time partnering with Park Industries on an event like this. While we knew from Park's strong reputation in the industry that the event would be a success, we were very impressed and pleased with the response to this brand new open house! We look forward to a strong partnership with Park Industries for events like this in the future."
For information, visit www.parkindustries.com .
Park Industries is the largest manufacturer of stoneworking equipment in North America with headquarters and two manufacturing facilities in St. Cloud, Minnesota.