Digital Stoneworking Expo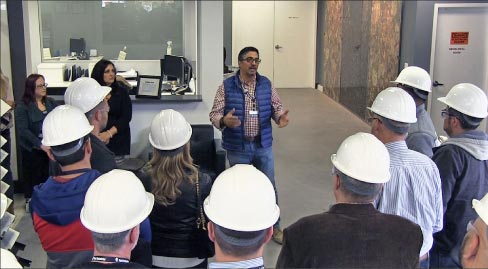 Above: Marco Duran about to take DSE attendees through his stone shop: Atlas Marble & Granite in Springfield, NJ.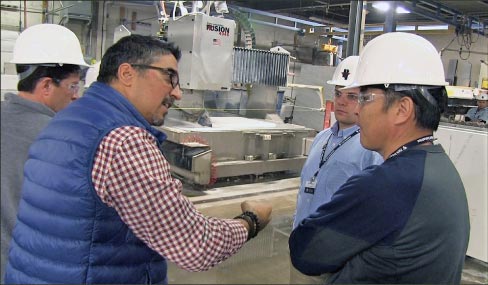 Above: Duran, shares his digital fabrication process with attendees.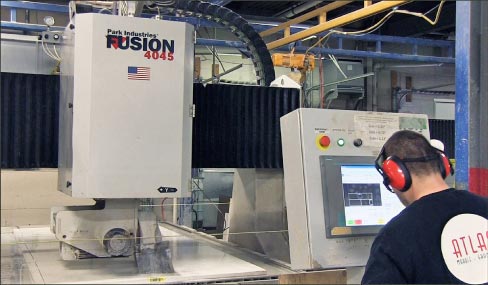 Above: The Shop tour at Atlas included a Park Fusion demo.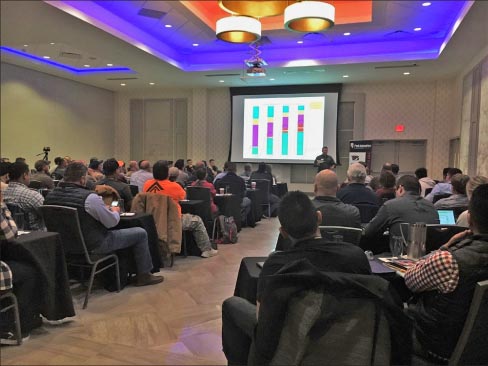 About 100 fabricators attended the DSE to learn how to better their business.
Park Industries recently held its Digital Stoneworking Expo in Springfield, New Jersey. About 100 stone fabricators and professionals from around the country flocked to the DSE for education on how to increase efficiency, reduce costs, and maximize profitability. This event was packed with fabricator presentations that include metrics, a shop tour, and animated discussion on the digital fabrication process.
The shop tour at Atlas Marble & Granite gave attendees the chance to watch Park machines working on stone slabs in a relatable environment.
When weaving through the machinery as it sliced and severed stone, many attendees were inspired to start snapping photos and videos with their phones. The voices of enthusiastic conversation rose above the sound of the saws carving through rock-hard stone, as questions were sparked on machine features, productivity, and new business ideas.
A chorus of conversation began as attendees entered the fabrication shop and carried into the afternoon portion of the Digital Stoneworking Expo.
Attendees were excitedly asking to learn more about the digital fabrication process and, after viewing the procedure at Atlas Marble & Granite, different techniques. Networking amongst the fabricators, shop owners, and Park Industries employees sparked learning and ignited the conversation on strengthening their competitive edge.
The event reveals how to strengthen your competitive edge. The shop tours and presentation work as an introduction, and it allows for discussion to open up reflecting on the attendees' shops and defining the metrics within their organizations.
Fabricators are asked to evaluate their shops' performance. The analysis helps develop suggestions on how to improve their process efficiency and bottom-line profitability.
Park invites industry experts and thought leaders to the event, like this November's speakers Dave Scott (Slabworks of Montana), Liz Roth (Keystone Granite), and Blake Wamstad (Hatton Granite) to discuss how digital technology has transformed their processing of countertops.
Fabricators attending the event hear first-hand how the advancements in technology impact their bottom line. In addition, Park Industries shares insight into what the digital future holds in the manufacturing industry. Park provides hands-on demonstrations with the following partners:
Moraware
Laser Products
Alphacam
SlabSmith

Aside from an abundance of learning through discussion, demonstration, and the tour, there is time left to network with others and share the best practices to improve efficiency while reducing costs.
The conversation is facilitated around topics that the attendees find most concerning. This event allows fabricators to gain valuable knowledge for making improvements to their shops at home.
James M. Chapman of Contemporary Concepts, attended this event. He comments, "The lineup of speakers was great! I found value in attending, and would definitely recommend other fabricators to attend this event."

For information, visit www.parkindustries.com/events/news/new-york-dse-recap/
Park Industries is the largest manufacturer of stone working equipment in North America with headquarters and two manufacturing facilities in St. Cloud, Minnesota.