Michigan Kitchen Distributors
January 30, 2018
Peter Marcucci
Photos provided by MKD
In 1950, W.S. Townsend opened the doors to his new company in Marshal, Michigan, selling plumbing supplies and sinks to area hardware stores and lumberyards. Ten profitable years later, the company began offering kitchen supplies and cabinets under the name of Michigan Kitchen Distributors (MKD). The company is now led by the third generation of Townsends — J.W. Townsend, CEO, and Steve Townsend, President .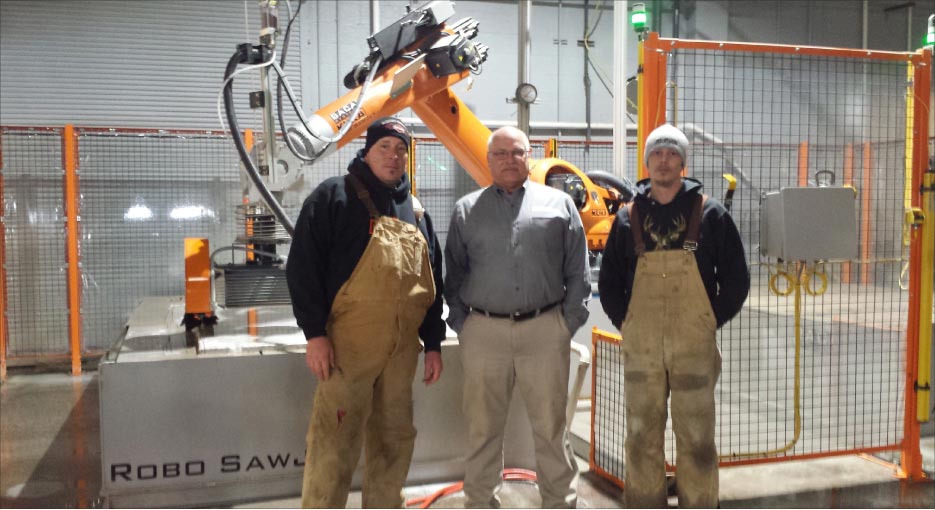 Left: Chris Montague (Material Manager; Center: Mike Ostafin (Plant Manager); and Right: Eric Gibbs (Head Sawyer) started the MKD Granite shop in 2002.
Above: MKD President Steve Townsend represents the third generation of leadership for this family-owned company.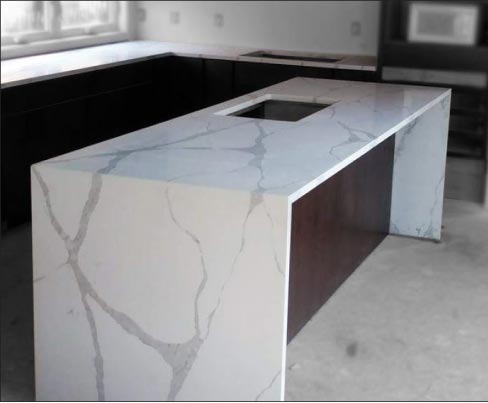 Above: Mitered waterfall-edge island for a custom builder client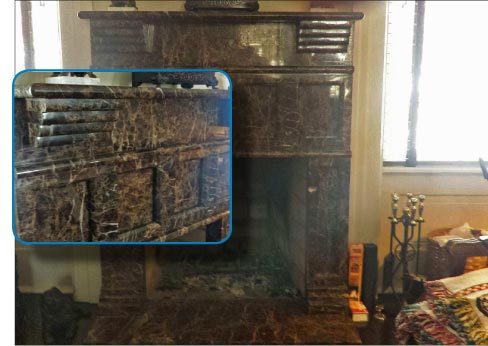 Above: Brown Empire marble fireplace fabricated for a residential client has a wealth of detail, built up out of stacked bullnose shapes.
Above: Quartz countertops and islands, with custom cabinetry for a residential kitchen.
By 1965, MKD had built its own facility to manufacture its own brand of laminated countertops. Now a Midwestern force to be reckoned with, the trend-savvy, family-owned company continued to flourish through the three decades due in part to their prudent, entrepreneurial approach.
With America trending towards new styles and materials, MKD built a brand new solid surface countertop division in 1993 to service this market. Fortunately, and as fate would have it, Mike Ostafin was hired. Ostafin, a general contractor and current plant manager with 10 years of experience brought many needed assets to the job. Unbeknownst to the company owners at the time, Ostafin's biggest asset wouldn't be contractor-related at all. It would be his vision of fabrication in the new millennium using CNCs and robotics instead of track saws and routers.
"Jack H. Townsend asked me to start up the granite shop in 2002," recounted Ostafin. "We had zero experience, and we were basically self-taught the first couple of years.
"We started out by ordering those pre-fabricated slabs from China that came in crates.
At the time, we were cutting with a track saw, and it was rough.
"We would build a top, put it in a pickup truck, go out and install it and come back and start on the next job. We did that for several months until we got into doing custom slab work. We then bought a Park Industries Sierra bridge saw and a Sector hand router, and that's the way we did things for a couple of years. After that, we added Intermac machines and ran them for about seven years.
"By 2008, when the recession was taking hold, we were a little concerned when a lot of the fabricators in our area went out of business. Fortunately, we were able to combine a lot of their business with ours from 2008 to 2011. So we really were fortunate during this tough time, because we not only captured their market share, but captured our own from our many showrooms in other cities."
With production rising and cash flow steady, everyone at MKD felt that it was time to buy a full array of Park Industries equipment. First on the shopping list was a Park Fusion saw/waterjet.
Moving to Higher-Tech
"We still have that Fusion saw," said Ostafin, "but by 2016 we were at the point where we again had to increase our cutting capacity and were looking at buying another Fusion or something else."
As requirements change — so changes technology, explains Ostafin. "The president of the company had gone to the Las Vegas stone show and saw a BACA Systems Robo Sawjet and asked if I would check it out. My first reaction was, 'I like it!' It was installed in spring of 2017. The operator who had been running the Fusion transferred to the BACA, because he was very familiar with waterjet. So he along with our programmer and I went in for three days of very thorough factory training."
Ostafin went on to say that he thinks robotics is the wave of the future; not just for saving production time, but also for saving shop space. "The footprint of our double table BACA is the same size as a single table Park Fusion.
"The BACA has also increased our manufacturing capacity because it's very efficient." As far as the Park Industries Fusion purchased in 2011, Ostafin said they've got around 90,000 hours on it, and it's still working great!
Other shop assets include a Park Industries Fastback edger and three Park Industries Titan CNCs, while a generous number of jib cranes service the strategically placed machines throughout the 60,000 square-foot shop. Quarterly, company-wide safety meetings are part of protocol throughout all divisions, said Ostafin, adding, "We are fully OSHA compliant with no major past infractions. OSHA has inspected us two times and basically had zero issues. They came in, we showed 'em what we have, and we were good to go."
Big Box Contracts? How's that Been Working Out For You?
With a huge slab output ranging from 13,000 to 23,000 square feet per month, inventory is purposely kept to a minimum of 50 to 100 slabs. At point of sale, big box stores included, Ostafin said that the design staff encourages clients to visit local stone retailers such as MS International (MSI) and Dwyer Marble & Granite in Farmington Hills, MI to select their materials. From an accuracy standpoint, this makes perfect sense, because no matter what samples clients are looking at, there is no mistake with the final product. "Clients are seeing what their slabs really look like," continued Ostafin. "They will then select and tag it, and MSI will call us. This way there are no unpleasant surprises on the day of installation."
As far as demographics, MKD's clients largely consist of big box with a smaller percentage being mostly homeowners and contractors wanting one-stop-shopping for kitchen and bath countertops, cabinets and fixtures. "Big box clients consist of your normal box store shopper; you just never know who you are going to get," continued Ostafin, "But our kitchen showrooms get a combination of middle and upscale residential owners. All showrooms have several designers to assist clients with all their needs. We also have several remodel crews on staff that can go in and tear out the old and install everything."
The majority of MKD's work is within a 200-mile radius of Marshal, Michigan. They do, however, cover the entire state of Michigan and northern Indiana and Ohio as well.
Ostafin stressed that providing a superior product and customer service at a competitive price has been their mantra from the start. He added that they have a dedicated customer service department. "If there are any issues with our installations, we'll send a craftsman to the jobsite within a few days of the installation.
"We also have an office that calls the customer to make sure they are pleased with the product we've provided. We've always been committed to customer satisfaction, and I would say that this has always been our greatest strength. We also try to keep our lead times to three weeks from time of template. Everybody seems pleased with that."
That said, if it's one thing that makes the company different, it's probably production capacity, explained Ostafin. "Let's say that you come here and tell us that you only have three weeks and need 100 condo units done. We can do that! Jobs like this come several times a year. We have a contractor that comes to us once or twice a year with 12 to 40 units and needs quick turnaround."
Five one-man template crews covering five separate territories around Michigan all use the Laser Products LT-55 digital laser templater. Data is then emailed to the office in Jackson, Michigan, to verify that square footage is correct, adjustments to customer costs are not needed and colors and options are correct. It then goes to the scheduling department, then to the person in charge of materials, and then to the programming office. "With the volume that we do, we need this type of system. It's just too much for just a couple of people to do. All jobs are tracked throughout the process using Moraware software."
Does Automation Equal Fewer Employees?
One of the biggest fears people harbor toward technology, especially robotic technology, is the fear of being replaced by one of these cutting-edge machines. This may be true in some instances, such as within a normal production environment, but hardly true when growth and increased production is the goal.
Case in point: MKD's Fusion operator became their BACA operator, and a new employee was hired to replace him. As a result, the company has to deal with higher production, which increases the need for more warehouse personnel and installers. In this demand/growth situation, good incentives and benefits are key to attracting new people and keeping the ones you already have happy. For a constantly growing and well-managed company, this growth and hire cycle renews itself every few years, but not without challenges, said Ostafin.
"One of our biggest challenges seems to be getting the different personalities to work with each other and accept that their job has changed. Generally, people are resistant to this. Our saw guys had to learn two different systems, and our programmers actually had to learn three different systems from when we started. We also had to move people from certain areas to make room for machines. Right now we've got a great crew, and it's working. All are very good, and some are extremely talented. In our stone division, we have 30 employees. That counts shop, programmers and office. MKD is a good company to work for and many employees have been with us for a long time. We offer competitive wages, good benefits and we will work with people when they have issues outside of work that they need to take care of. We also have two shifts and offer a choice for families that have two income earners."
What's Next
"We are never going to stop expanding and looking for new employees to fill key positions. Our immediate plan, which is in the next 12 to 16 months, is to install another Park Industries Titan and a BACA Robo SawJet. We are constantly evolving, and I believe that this is the way to control the market share that we already have. We will also continue to invest in new technology and materials. I'm very fortunate that the company owners are open to changes, such as software to help us become more efficient. So if I research it and find that it's good, we'll probably do it."
For more information, visit www.mkdkitchens.com .