Arizona Tile Celebrates 40 Years
Peter Marcucci
Photos Courtesy Arizona Tile
If you have never ordered material from Arizona Tile, it's probably because you've never lived in the west or southwest. Not including its distribution centers, Arizona Tile's presence is 26 locations wide and staffed with over 800 talented folks with a knack for knowing what the customer needs, when they need it, and what they'll want in the future. In other words, they're big… and they're still growing.
In its embryonic stage, 1977 to be exact, Heisman Trophy winner and retired pro football player John Huarte was at the helm. Actually, he was at the steering wheel of the family truck, explains son and vice president of operations, Mark Huarte.
"Dad was raised on a ranch here in Orange County, California, and always wanted to work for himself. While playing football, he got his stock broker license, real estate license and also worked at a bank. He had to back then, and was trying out different professional careers and checked off the ones that he didn't want to do. Luckily, Dad's younger brother was in the tile business, and through family discussions, he found the tangibles of tile to be interesting.
"Then, when playing football ended, dad still wanted his own business, and took a job as an outside sales rep for a tile conglomerate put together by a group of companies in Italy. He had a strong motor and liked to work, but after six months, he wanted to work harder.
"After quitting that company, Dad began buying tiles here in Anaheim. He would put them in our family truck and every morning take them about 80 miles to San Diego where he'd made a profit reselling them.
He did that for about a year.
"Then, somebody convinced him that if he drove across the desert to Phoenix, Arizona, he could sell the same tile for a greater profit and less competition. So he got on a plane, went to Phoenix, looked around and opened up the first Arizona Tile. He did that for a year, and when he was convinced it was going to work, he moved the family with our family truck, loaded with tile."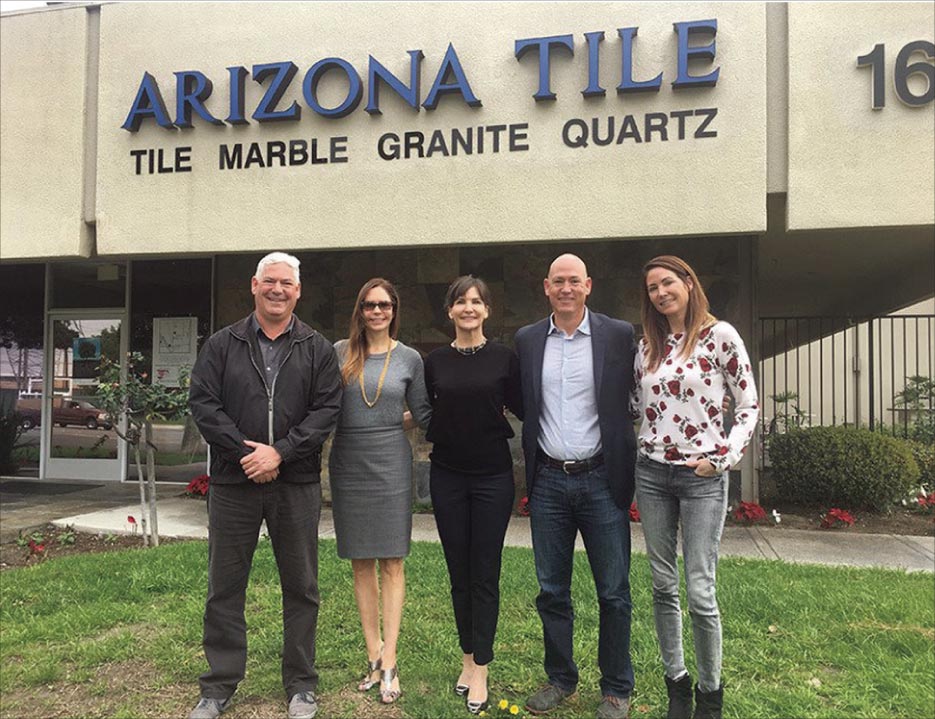 From Left: Arizona Tile company officers Matt Huarte, Mariah Huarte, Bridget Going, Mark Huarte, and Monica Kennedy.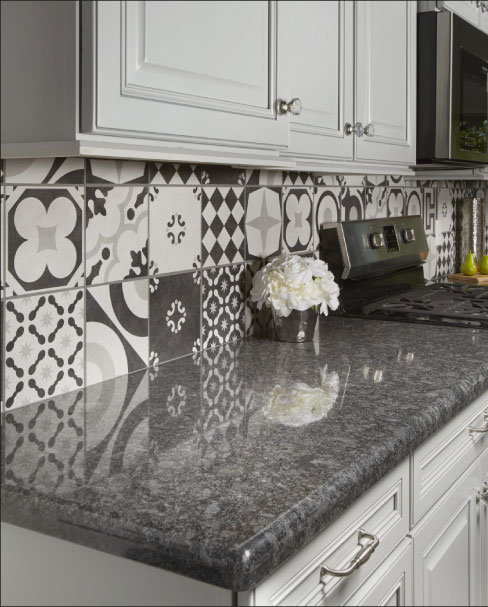 Above: Steel Grey granite is paired with a Cementine Black and White porcelain backsplash for a color-balanced and playful kitchen design.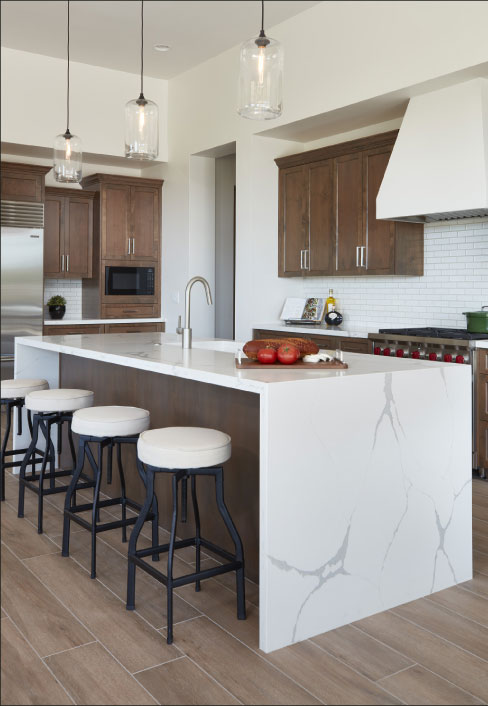 Above: Nouveau Calacatta quartz counters and waterfall island, paired with Aequa Silva porcelain floors.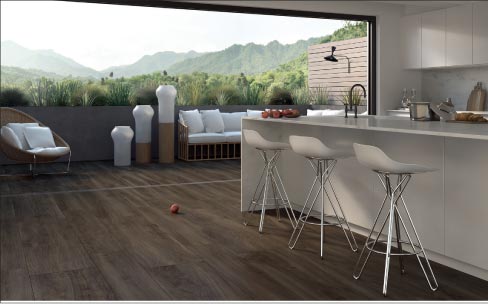 Above: More Wood Noce large format tile, 24 by 48 inches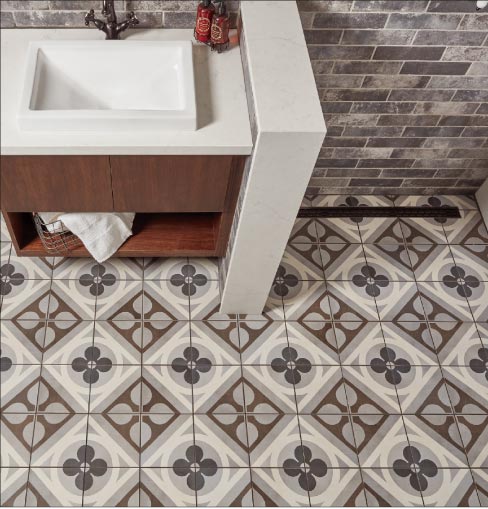 Above: Castle Brick Grey porcelain wall, Cementine Retro 1 porcelain floors, New Carrara quartz counters and wall divider
Quality and Service are the Focus in All Locations
Still family-owned and operated, Arizona Tile continues to expand with brother Matt Huarte and brother-in-law Joe Kennedy. Other key names accredited with the company's continued success are (but not limited to) Traxler, Morreim, Kesteloot, Skarsten, Gaughan and Kunihiro. Mark's mom, Eileen, had also been a big part of the company for many years, recounted Mark. "Mom was working at Shea Stadium as the elevator girl when dad was playing for the Jets. It was there that they met. Six months later they married and have been together for 52 years. Mom was a big part of the early years, attracting strong sales and showroom talent to join Arizona Tile.
"Building the company was definitely a joint effort, and it was not all about money. They just wanted to build something and build a team, and that was it. They had no idea that the company would grow to 26 locations and 800-plus employees – that was not even in their minds as they started this business journey. The goal was freedom to do what you want and the opportunity to build something you we would be proud to put your name on."
Wholesale Only — Walk-Ins Welcome
Arizona Tile is an importer that brings in over 10,000 containers of slabs and tile per year. Servicing a mostly west and southwest audience, sales mostly are to contractors, builders and fabrication shops. Last October, at a major stone show, it was announced that Arizona Tile is going to put a new facility in Atlanta, Georgia, said Mark. "We are definitely staying in the Sunbelt. That's where the growth has been for us. This strategy has worked well, and having a presence in Atlanta reflects this strategy."
However, the company does service their commercial (only) accounts to all points north, northeast and northwest, added Mark. At the time of this story, a new location in San Juan Capistrano, California, had opened a few weeks prior.
All locations are wholesale only, but all have cash drawers, said Mark. "We are strictly a distributor and wholesaler supplier. As we've grown, certain markets are much more sensitive to how we approach them, and we are careful about how we are labeled. We do adjust to every local market, but going through the trades is by far the best way to move our products. We sell through every channel, mostly dealers, contractors, fabricators and builders. Certainly the custom homebuilders send us their clients, and we'll design the whole house for them if they want. Sometimes the builder will buy it, or sometimes the builder will let the homeowner buy it. We really try to be flexible according to the market and the individual. We staff our showroom very well with talented designers, so when you walk in you're going to get helped. Dad's biggest philosophy was hire good people and let them do their job. If they're accountable and they achieve well, then that is fantastic for everybody."
Going the Extra Mile
Arizona Tile excels at building what Mark calls a "local bond" with the companies they supply, he explains. "Our showroom staff loves to build relationships with the companies we supply. It's kind of a local bond with entrepreneurial spirit. Sometimes a homeowner will show up saying, 'We are just here, and we don't know where to start. Can you help us out?' We'll then help get them together with a [friendly to Arizona Tile] contractor and fabricator that does quality work. Our people love doing this.
"The other scenario is when a fabricator sends their client to us to pick out their slabs. They'll come in with their budget, we'll walk them through the yard and educate them on the material, and then help them select. I like to start with countertops first and start designing from there. The fabricator will then give us the number of slabs they need, and we'll tag the material and invoice them. If the client wants anything extra, like a custom backsplash, we would take them into the showroom and design that for them, as well. We always do a good job of qualifying the customers when they walk into our showroom, and make sure we respect the wishes of the person or company that sent them to us."
Marketing Ever-Changing Fashions
Arizona Tile does very little advertising, said Mark, while emphasizing that marketshare is due to word of mouth and other approaches. "We invest in search engine optimizing for people looking up stone or tile, and we make sure ours shows up." As for material sales ratios, Mark said it is ever-changing, and it just shifted again. Years ago, marble had a larger market share than granite. In the 1990's, that changed to granite and quartzite having a larger market share. Most recently, quartz has taken some market share from all natural stone.
"We have a collection of engineered stone called Della Terra that we are very proud of it. Sales for this collection have continued to increase year after year over the last six years, and this has taken the lion's share, now. Granite is granite, and it's not going away, but it has slowed down, so we just shift direction to more marble, quartzite or engineered slabs. So we are flexible."
Mark also commented that they are watching the growth of porcelain slabs very carefully. Porcelains, he said, are the next frontier and come in 12 millimeter and 2 centimeter thicknesses, 5 feet by 10 feet. "We are still going strong with engineered and quartzite materials, but we are watching the porcelain market. At the trade shows for the last couple of years, there was a big push in this area, but I still think it's a little bit early. I think fabricators are resisting it because they need to address re-tooling issues and their knowledge of how to work with this material.
"Another problem is that porcelain colors do include veining, but currently that veining does not go all the way through; so when you do your edge detail you have a challenge. This is why we are not fully in it, yet, and we are waiting for the manufacturers to solve this problem. When they do, we will definitely head that way. Breaking strength is the same as porcelain, which is fantastic. The 2 centimeter material certainly doesn't need any substrate for reinforcement, but the 12 millimeter is going to vary by factory if they put mesh on it or not. Others may use backer board. The wear factor is also fantastic, especially the Italian porcelain. Just think of the walking traffic we put on the porcelain floors in hotels."
New Products and Design Trends for 2018 and Beyond
"For the last 20 years, our strength and backbone has always been our inventory," continued Mark. "We say people, locations and inventory, and we have a great reputation for fill-ratio. When people call or email us an order, we always fill it. They are never told that what they need is out of stock. We keep a healthy inventory of everything we show. I think this gives confidence to outside designers or commercial specifiers that are using our materials, and this is by far one of our greatest strengths. In our markets, the average remodel is seven to 10 years, and more and more people are moving to the west and the Sunbelt through Texas. Our products, specifically our tile, stays in fashion in these markets and are practical for every home.
"For 2018, we've added more colors to our engineered stone inventory. We are going heavier in this direction in both inventory and looks. In our porcelain tile collection, we are adding a few new marble/porcelain lookalikes. With that, there is one called "Themar" made by a manufacturer called Saint Augustino. They are a first-rate company in Italy. The interesting part of this collection is that it's a full collection, including multiple sizes and multiple finishes with trim packages that people are using from the entire floor, to the walls, to the countertop.
"Large-format tile is also getting a big push for 2018. We now stock 24 by 48 inch tiles in regular thicknesses. In this collection, there's also a line that we call Reside, made by Iris, another Italian manufacturer. This line has more of a contemporary look. The interesting part of this is that we are basically doubling-down on this line by adding a larger size. Now we're stocking 24 by 48, and it's doing very well.
"The next collection we are adding to our line is going from the inside of the house to the outdoors. It is called R11, which refers to the texture of the product. R11 comes in the same colors and thicknesses as the indoor tiles, but is a textured finish. This finish is offered in four different tile lines, letting the letting the homeowner take the tile they use inside, to the outside as well.
"Last but not least are our porcelain slabs used for outdoor residential cladding. Toll Brothers, a large custom builder, is using it outdoors around the perimeter of some of their homes."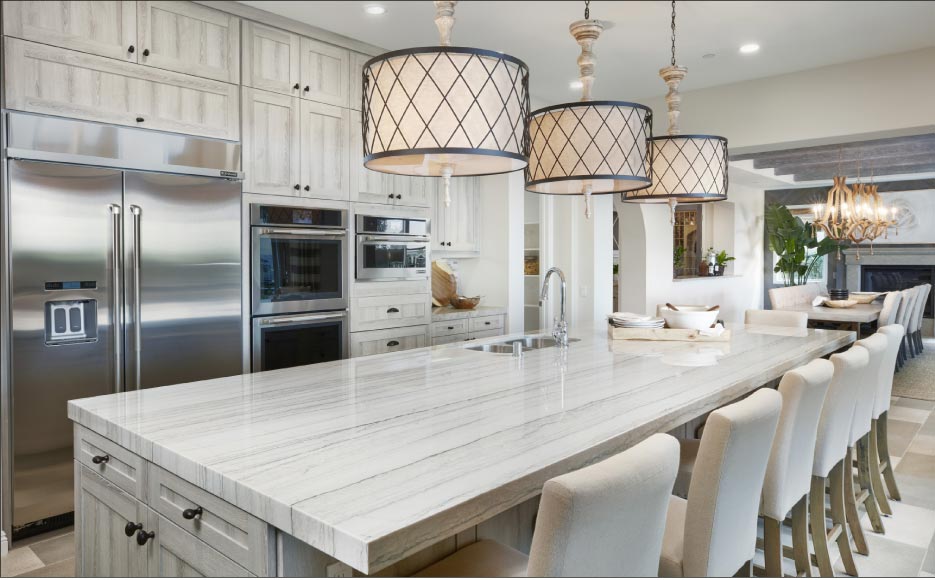 Macaubus White quartzite in an island application.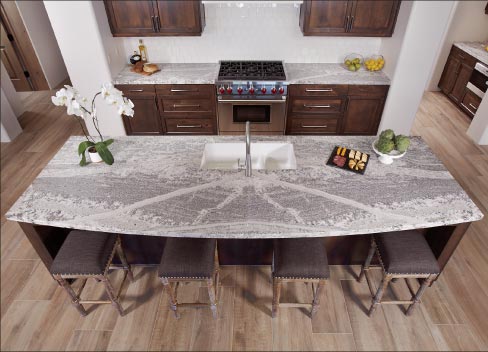 Above: Aequa Silva porcelain floors, paired with Monte Cristo Satin granite counters, bookmatched island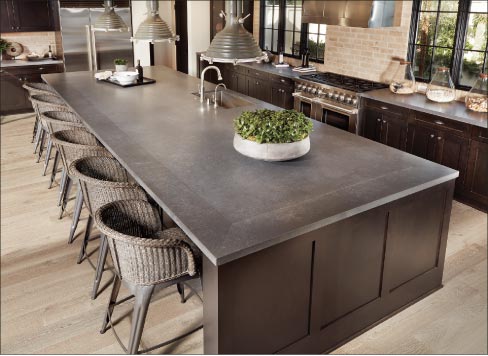 Above: Metropolis Grey quartz (island and counters) is often specified to give residential kitchens a modern, urban-industrial look update.
Mark Huarte: Outlook and Expectations
"I'd say the future is steady and that we are covered in California, Arizona, Texas and Denver with steady growth. I think our coming presence in Atlanta will take us to the east. We are always very cautions to not rock the culture, and our desire is to continue growing this company at a steady pace. We have never out-stepped ourselves or taken on a lot of debt, and have always been cautious in these ways. As for the industry, we are very pleased with the way it continues to grow.
"The majority of our tile collection is imported from Italy but we also work with three of the five U.S. domestic tile producers. These company have shown tremendous improvement over the past three years and we see great opportunity and growth on the horizon.
"We are looking forward to doing a better job in the engineered stone business in terms of looks, staining and chipping of materials. As far as graphics, I think that the digital technology used to enhance the esthetics of porcelain and engineered materials will continue to improve to meet the needs of ever-changing fashion.
"So we are active, the markets are good, and we are getting great responses from our trade partners. Many are hiring and investing in their company for equipment, trucks or installers. Some come to me and say, 'We are looking for a crew. Do you know anybody?' We try and stay out of this, but it's a good sign for 2018 and where we are headed. So I think we'll have another solid year."
As for Mark's dad, John Huarte, he retired 10 years ago, stays extremely active by getting up at 4:30 am and hiking four miles to the beach to his favorite area. He'll then welcome the new day by sipping coffee and reading the Wall Street Journal. John also shows up at corporate meetings twice a year to check in on how the culture and the direction of the company he created is going.
As for Mark's mother, Eileen is enjoying her 13 grandkids, teaches religious education at Corpus Christi Catholic Church in Pacific Palisades, and is currently busy building a new home from the ground-up while working hand-in-hand with the builder.
Arizona Tile is an active member of the AIA, ASID CTDA, NTCA, NKBA, NAHB, US Green Building, NARI, BIA, NKBA, MIA and HBA.
2018 Shows they will be attending are the HD Expo, May 2-4 in Las Vegas, Nevada; PCBC, June 27-28 in San Francisco, California; and Metrocon, August 9-10 in Dallas, Texas.
For more information visit www.arizonatile.com .