Focus on Women in Stone
Holly Nelson and the M S International Sales Team
Michele Farry
Holly Nelson, Customer Service Rep at MS International
Photos Courtesy M S I
Looking deeper at the role of the sales person in the stone industry, I connected with the global company M S International. I had the pleasure of spending time and talking this month to a true "woman in stone," who has a thriving career specializing in both tile and stone sales, and the challenging task of representing MSI to a global market. It is estimated MSI carries no less than 3,000 tile SKUs and another 1,000 slab SKUs. For a salesperson to be exceptional while wearing so many different hats at MSI is a daily miracle.
Holly Nelson embraces the diverse and culturally rich territory areas of Massachusetts. She treats her clients like extended family, with a special emphasis on materials and product education, while promoting inclusivity in the tile and stone industry and hands-on support for woman in management and ownership roles. Nelson is an expert outside sales representative, covering the New England, Rhode Island and Central Massachusetts territories, and has developed proficiency in her approach. Nelson's clients thrive with her partnership and support. If you ask Holly she will humbly tell you the engagement and the learning process go both ways every day, from the sales expert side to the fabricator, and back. I admire Holly for her knowledge, thoughtful approach and dedication to being an outstanding example – and she is just one of the many women demonstrating innovation within the MSI team.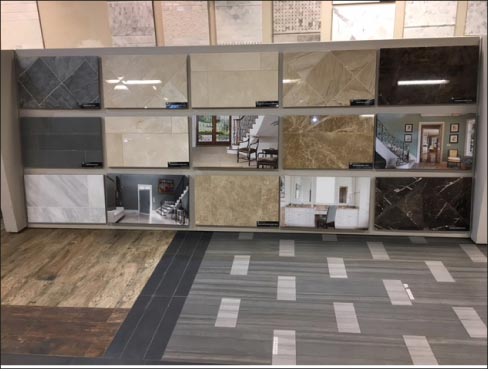 MS International showroom in Norwood, MA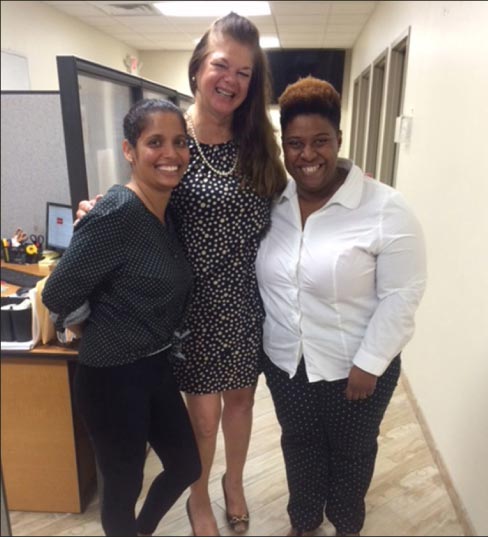 Left to Right: Prutha Patel, Outside Sales MSI; Holly Nelson Outside Sales MSI; and Meica Kelly, Promoter MSI
Background
Holly Nelson has followed her passion for beauty and art and worked in the design and sales professions for more than 15 years. She understands how tile and stone inspire creativity, serenity, and promotes an enriched family life in various spaces. Nelson has used her love of nature, gardening and sports to foster an eclectic style that has a traditional heart with a transitional twist and mastery of industry material knowledge supporting her sales clients. Working in wholesale tile and stone distribution for MSI, Nelson's design/sales combination experience allows her to provide a professional and valuable experience to all of her customers, with the added benefit of finished product insight.
Nelson joined MSI a little over two years ago, and has worked tirelessly to promote tile and solid surfaces, and get her customers comfortable with the newest affordable and accessible inventory and trending colors in the marketplace.
"With the expansive collection, and our 'Tool Box' state-of-the-art website we make designing easy. We have a blog for the trade, a visualizer that is very user friendly. Our Top Five Trend break-outs include: 1- Stand-out focal walls; 2- Everything mod and shiny, 2cm & stainless; 3- Black & white with high contrast comeback; 4- Fine lines, limestone, planks, and grains launch the stone with movement trend; and 5- (The biggest new department) Alfresco Living, "take it outside" poolside, patios, outdoor kitchens, fire pits and living spaces."
Holly and I started our conversation with some insight on MSI's profile in the industry, and to get an idea of their scale of operations. Holly said, "I am so glad to speak with you, Michele, about the company I represent. Mr. Shah founded MSI 45 years ago. MSI is family owned and operated, and is a premier solid surface provider and wholesaler. Mr. Shah started MSI in the basement of his home, offering granite, Travertine tile and monuments. Those were the initial surfaces he imported. He then was offered the opportunity to provide material for the Vietnam War memorial, and premium black slabs were the first of our stone offerings from over 60 countries, and over 120 colors that we now offer. The rest is referred to as inertia. Hard work, sacrifice and dedication by the Shah family, in combination with the growing MSI team, proved to be a huge success with many major milestones achieved. In 2017, MSI marked the billion dollar mark, in one fiscal year."
I said, "That's an incredible story, Holly. I know MSI is a major player in the tile and stone marketplace and industry. It's hard to believe they were once a company that started out so small. That is an inspiring history, and it's amazing they are enduring as a family-owned business."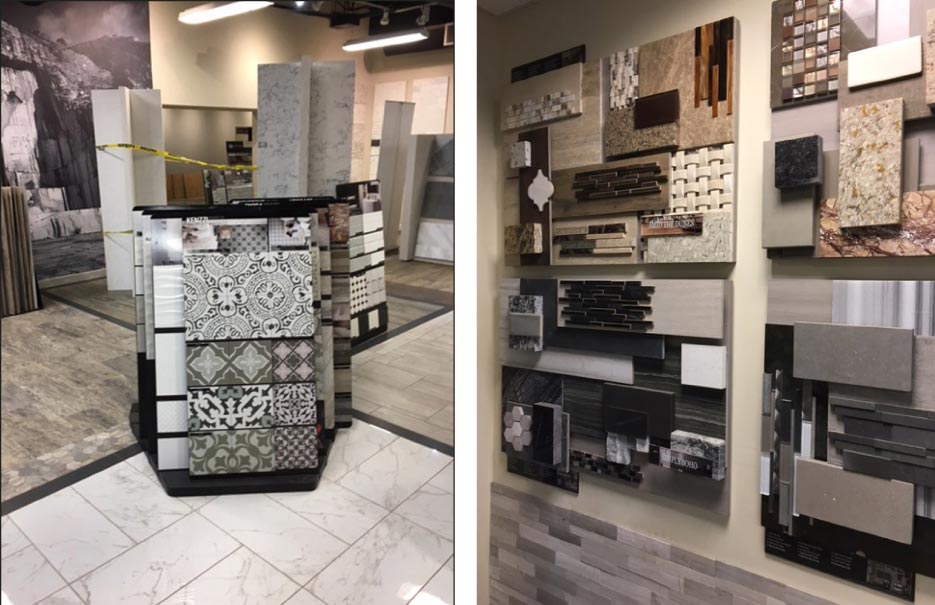 Concept boards designed to inspire are a prominent feature of MSI showrooms.
I asked Holly about MSI's client demographic and volume of sales.
Holly replied, "Our customers are kitchen and bath dealers, design centers, fabricators, architects, commercial developers and private tile and stone installation companies. I am especially focused on helping my customers reach their goals as far as their showroom, fabrication and sales are concerned. For example, in my territory I see a sales volume of around $250,000 in solid surface materials a month.
Holly and I went on to discuss the shifts she has observed as a designer and salesperson, including women fabricators.
She observed, "The industry has changed with the trend being toward movement stones, and these stones require more working time, starting with selection, then the layout, and then fabrication. Design elements with two selections of stone and two different colors of cabinets as well as movement in the floor are part of the current trends, as well as brushed, leathered, and honed textures. I do frequently and regularly see women fabricators who have two roles, designer and fabricator."
When I visited MSI I mentioned how I appreciated the many welcoming and friendly faces when I walked into the showroom for the latest Stone Summit MSI hosted. Holly elaborated on this.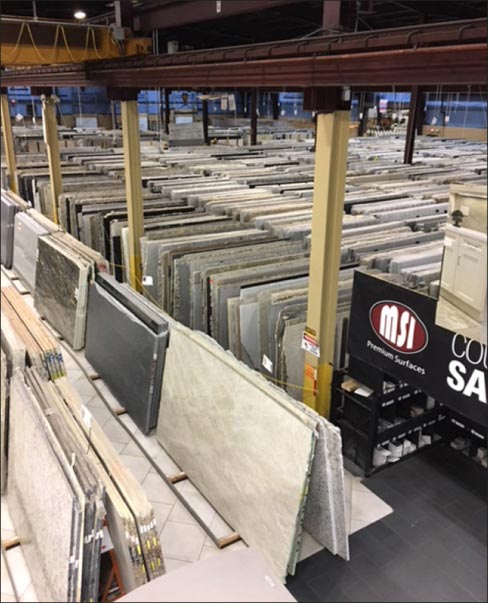 MSI offers a wide variety – over 1,000 slab material SKUs.
"We have a great, supportive team and group of women colleagues at MSI. Our showroom sales team is a mix of male and female, however, for example, our top writer is a woman, and what makes her so good is that she listens to her customers' needs closely. Often as designers and women, we may have an edge on what works and what looks great. I see the sales team every day pull off a pristine backsplash and much more by aligning the client's needs for a perfect, coordinating floor and tying everything together. For myself in wholesale sales, one of my strengths is to help fabricators design their showrooms with new, top-trending material, helping to create that dream kitchen look. I have found this helps drive the complete project, increasing the budget for the homeowner and often demonstrating in the showroom that the company's workmanship is on-trend, or familiar with classic aesthetics.
"One of our top New England accounts is owned and operated by a women. I asked Dorothy Ernst of Stoner Creations New Hampshire, what her secret was and how she kept staying on top and fresh. She said that she had a wonderful team, and that together we all achieve more, and that she looked to Europe which was usually five years ahead of the U.S., and then to California, which was five years ahead of the East, and this learning curve trend gave her the leg up she needed to always have the newest looks in her showroom."
I asked what advice Holly might have for women who are interested in getting more involved in the tile and stone industry and what she is excited about moving forward. Holly enthusiastically replied, "This industry is fun, exciting and also needs more women contributors in all aspects. If you think about it, people start their day in the bathroom and finish in the kitchen. Having beautiful tile and stone materials in the home, workplace or public spaces helps adjust the contentment we feel in our environment, or for our home. Attitudes are built by these feelings of joy and happiness in one's surroundings. Not only do these two rooms also help sell homes and buildings that are on the market, but almost always prove a good investment all the way around by customers and businesses. I also say be a sponge, learn everything there is to learn about your trade, and stay educated and involved. I recommend joining an organization like the Natural Stone Institute and possibly your builders or designers local chapter to get involved and stay passionate about your work."
Holly Nelson from MSI was not only knowledgeable about the tile and stone industry, but also a genuinely kind, passionate and positive person. Holly's approach to sales and supporting her clients was awe-inspiring and influential. She has facilitated an educational class for the Natural Stone Institute, MIA+BSI program and I hope she will offer many more soon.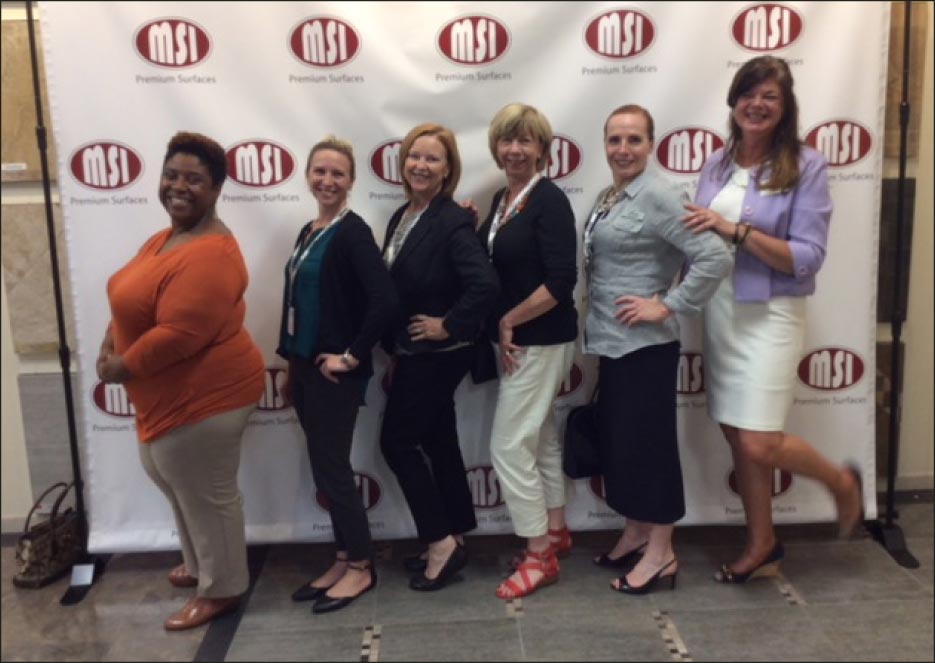 Left to Right: Meica Kelly, product promoter MSI; Sara, designer Cape Cod Kitchens; Kate Marchisio, Cape Cod Lumber; Linda Baldwin, Cape Cod Lumber; Toni Campbell, Cape Cod Lumber; Holly Nelson, MSI/MIA Speaker
I appreciated getting to know Holly even more and the MSI team. MSI should be recognized as a pioneer supporting "women in stone." I also enjoyed the opportunity to interact with the women-led management at MSI and their superior expertise relating to sales and accounting. MSI is a company built on embracing inclusivity and supporting individuals based on equal opportunity, and progressively looks forward at our industry's next steps.
In May, I will continue with the Women in Stone series.