TISE 2018 Recap: Park Customer Named 2017 Fabricator of the Year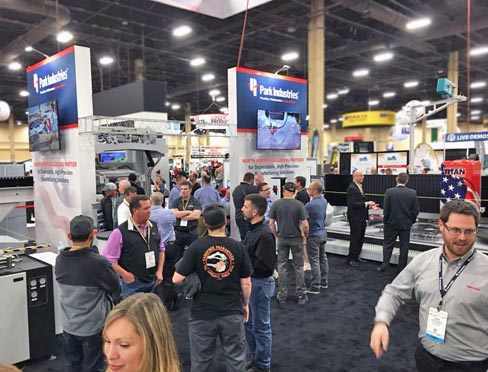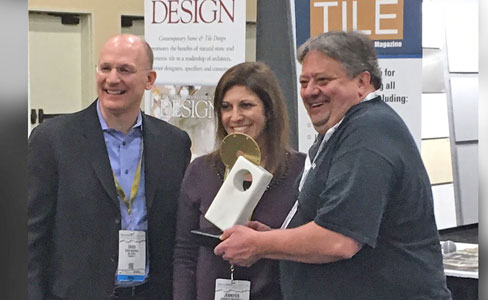 Above: Dave Scott of Slabworks receives the 2017 Fabricator of the Year award.
Above, From left: Jon Lancto, Mike Schlough of Park Industries and Buddy Ontra. Schlough was recognized for his contributions to the MIA and NSI.
The excitement reverberated throughout the Mandalay Bay Convention Center in Las Vegas as thousands of fabricators, builders, and designers filled the building for the 2018 International Surface Event.
The overall registration for TISE was up 20% from the previous year and in booth #3837 the activity was strong.
Park Industries' open booth welcomed many visitors to move around comfortably and invited them to stay to discuss the machine features.
Park's machine lineup included the newly introduced SABERjet and ATLAS Tool Measurement System paired with the legends in stone, TITAN® and HYDRASPLIT®.
Off the main floor of the show, there were over 70 educational sessions, and one speaker among them was Joan Schatz, Park Co-President.
Joan inspired attendees at the trade show with her Whitewater Presentation about turning obstacles into growth opportunities.
In addition to the networking and education of the trade show, Park Industries® enhanced the experience with an open house.
After the show on Wednesday, Park industries held an open house at Desert Eagle Stone. With a crowd of over 60 fabricators in attendance, it was a smashing success with attendees viewing live production of Desert Eagle's variety of Park Machines.


Park Customer Named '2017 Fabricator of the Year'
Longtime Park customer, Dave Scott (Slabworks Montana) received Stone World Magazine's prestigious "2017 Fabricator of the Year" award. Dave has always been a great partner and customer to Park Industries®. In an effort to continually improve himself and his peers, he encourages discussions of new technology and innovative business strategies between fabricators.
Part of that effort involves his numerous presentations at Park's Digital Stoneworking Expos. Last year he hosted a DSE at his shop in Montana, and will be presenting at both of the upcoming Digital Stoneworking Expos on March 22nd in South Carolina as well as April 19th in Colorado.

Park Co-President is Recognized by the Natural Stone Institute
In other news from TISE 2018, Mike Schlough, Park Industries® Co-President, was recognized for his contributions to the Board of Directors at the Natural Stone Institute (formerly known as Marble Institute of America).
For more nformation, visit https://www.parkindustries.com/events/news/tise-2018-recap/.