RockTops: Kansas City Specialists in Ultracompact Fabrication
Joel Davis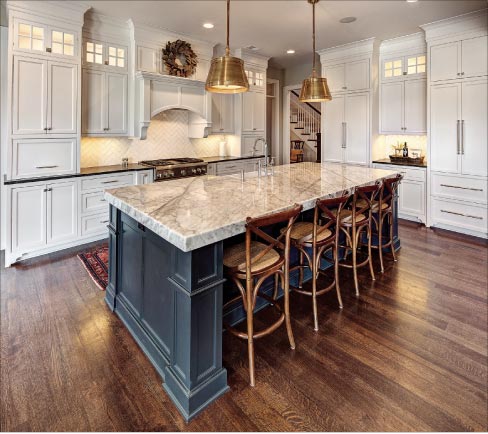 Above: This stunning kitchen features a Carrara marble island with 3-inch mitered edge, and Nero Orion on the perimeter countertops.
Photos Courtesy RockTops
The stone industry can be a hard one to thrive in, but Kansas City-based RockTops is using the latest waterjet and robotics technologies to carve out a niche in the fabrication of ultra-compact materials.
Co-owner Mike Hyer is a Kansas City native with a background in construction. He and co-owner Tim Richardson founded RockTops nearly five years ago to serve both the retail and new home construction markets. "Business has been great in Kansas City," he said. "We focused on brand recognition and marketing, and it worked well for us. We grew rapidly. Today we have about 60 employees. It took a lot of strategic planning along the way for that kind of growth."
Fixing a Bottleneck
Part of that strategic planning has involved giving customers even more material choices by branching out into the fabrication of new ultracompact surfaces. Between the technical challenges posed by working with ultra-compact materials and the need to meet changing consumer tastes, RockTops had to significantly redesign the workflow in its fabrication shop.
"For us, it was really about fixing a bottleneck within our shop," Hyer said. "Miter edging has become more popular these days, but we did not want to jam up our normal production. It's a challenge for many shops, because they try to cut miter edges on their normal production equipment, tying it up and slowing everything down. It becomes an issue that most people give up on rather than trying to find a solution."
Above: Detail and overview of Dekton/Silestone front desk created for Kansas City Sporting Club.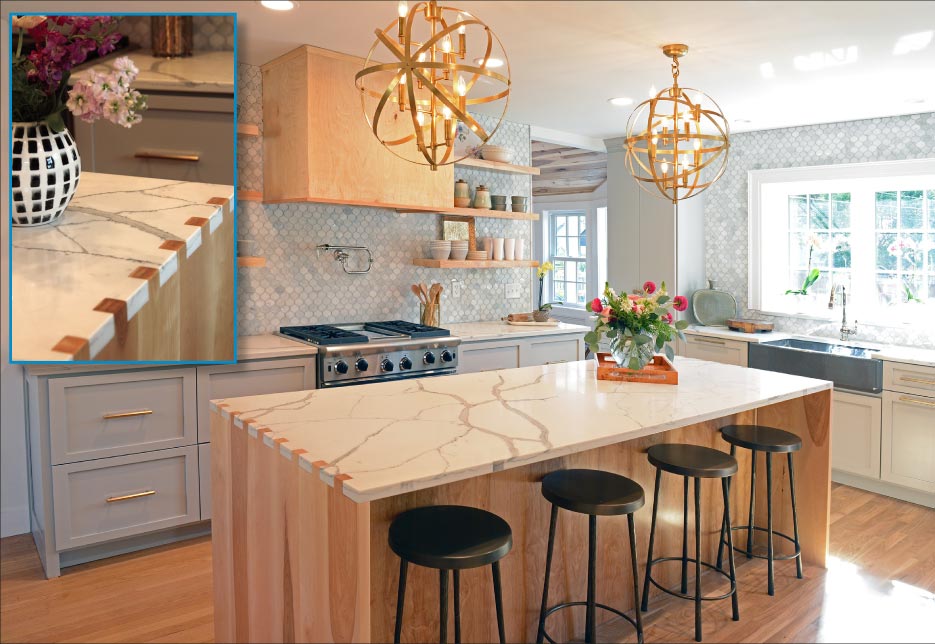 Above: This kitchen has a smooth box joint countertop with wood & Daltile Calacatta quartz.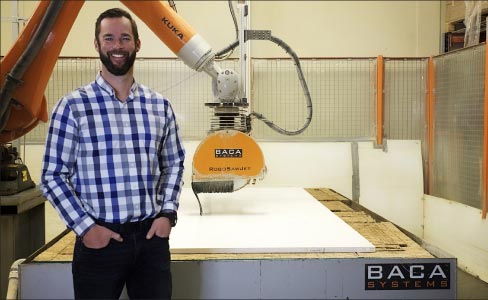 Mike Hyer loves his BACA Robo SawJet. The workhorse of the RockTops shop, it has revolutionized his capabilities to fabricate ultra-compact materials like Dekton and Silestone.
RockTops turned to BACA Systems, the leading manufacturer of robotic and automated fabrication solutions for the stone industry, for a solution. In May 2015, they bought a Robo SawJet, which couples the functions of a high-pressure abrasive waterjet and a 25HP direct-drive saw with a precision KUKA Robotics industrial robot, and a BACA FlexJet, which is a 5-axis waterjet.
"Out of all the machines we researched, the Robo SawJet had the smallest footprint, the fastest travel speed from position to position, and, technically speaking, it was the most accurate, fastest-cutting machine available," Hyer said. "We also wanted to be on the front end of technology, and the robot is the future of how all sawjets will be manufactured. There was very little downside to having a robot. The maintenance of the traditional gantry machines is overwhelming. With the robot you literally have no maintenance for five years or 10,000 hours."
While the Robo SawJet is the workhorse of the shop, the FlexJet provide unparalleled flexibility and precision for jobs where the smallest error could ruin a slab. "The decision to purchase the FlexJet came down to it being the most precise 5-axis waterjet that was in the stone market," Hyer said. "The precision is phenomenal. It gives us the ability to cut metal, scrap, stone, wood. We recognize how well it miters material, ultra-compact especially. That was our driving decision behind that purchase."
It is equipped with a PAC 60™ precision angle control 5-axis cutting head with 60-degree beveling capability. It can produce a true angle with continuous rotation, which means no repositioning of the cutting head is required during the cut. Sophisticated software predicts the optimum "lean forward" angle for the cut to increase speed and reduce undercutting and corner blowout.
FlexJet machines include the patented Flex-Sense Monitoring System enabling true unattended operations. They are optimized to operate with less mess and noise than traditional waterjets.
RockTops uses the Robo SawJet to meet its daily production demands, depending on the sawjet's fast cutting times for high output, and then using the FlexJet to process materials that are slow to cut with a saw. The FlexJet also gives them the flexibility to perform intricate cuts for special projects. "We focus on the more detail-oriented ultra-compact and miter jobs with the FlexJet," Hyer said.
The shop currently processes about 800 to 1,000 square feet of material per day in one shift. That is a mix of natural stone, quartz, and ultra-compact materials. The main brands of ultra-compact materials it offers are Silestone and Dekton.
Ultracompact Materials
RockTops began fabricating ultracompact materials about three years ago, focusing on Dekton, a popular Consentino product. "It is one of the up and coming products in the marketplace," Hyer said. "It's also a difficult product to work with. Typical fabrication methods don't work well. We feel the FlexJet is the solution."
Using the FlexJet, RockTops technicians can cut perfect vein-matched mitered edges with little to no material waste. "Most waterjets are typically 3-axis machines," he said. "With a 5-axis machine, we have the flexibility of having a 60-degree angle we can cut. It gives us a lot of versatility. Essentially, I could put a 45-degree miter on a circle. That shows what the capability is."
It's no secret that most fabricators dislike working with ultra-compact materials, which can be surprisingly fragile during processing. It requires slow, expert handling to produce a quality result. Despite these challenges, RockTops is banking on its ability to process ultra-compact materials as a key marketable difference between it and the competition.
RockTops has gained such a reputation for its skill at fabricating ultracompact materials that other shops in the Kansas City area have begun outsourcing jobs to them. "We are the Number One shop for fabricating ultracompact materials," Hyer said. "We do it really well."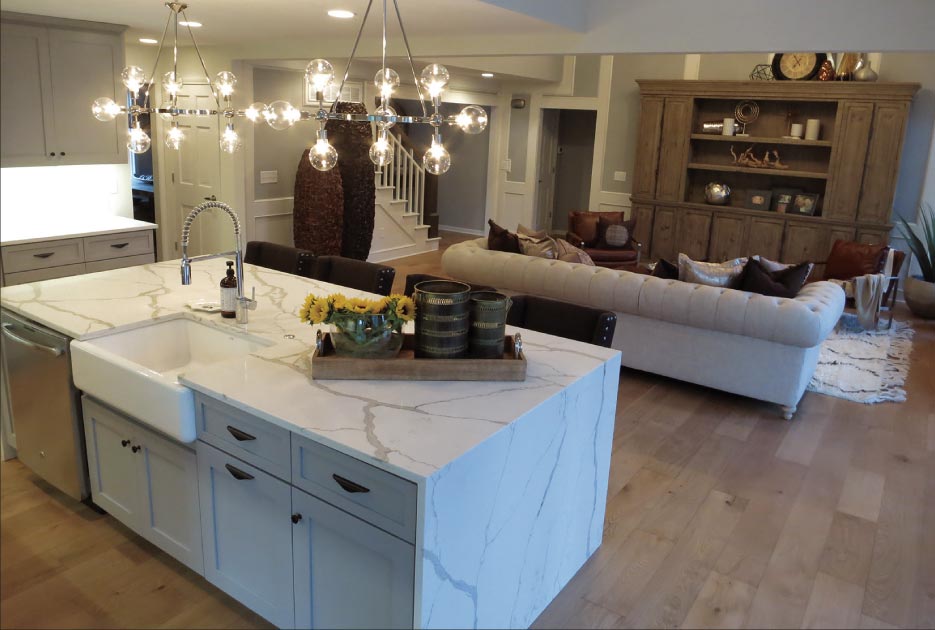 A beautiful calacatta quartz waterfall mitered edge island with a farmhouse sink make this kitchen.
Speed and Dependability
The RockTops shop depends on the Robo SawJet on a daily basis. "We call it our best $25 an hour employee in the shop," Hyer said. "It's dependable. It's reliable. We're thankful we have it. We would not be able to be where we are at today without it."
It takes the Robo SawJet half the time of other machines to cut a standard 40-square-foot kitchen countertop with sink hole from a slab, finishing the job within 15-18 minutes. Since the Robo SawJet is a dual-table system, a slab can be loaded while another is being cut, meaning no downtime.
The investment in the Robo SawJet has paid dividends in increased productivity and profits for RockTops, Hyer said. "In our industry, the quicker you can produce the materials, the more profitable you are. The Robo SawJet is the most efficient, fastest-producing machine in the industry."
In addition to its speed and reliability, the Robo SawJet is significantly easier to program than other machines in the industry. BACA Systems provides comprehensive training and support in the use of its products. "The training they offered was smooth and easy," Hyer said. "They outshined the competition. The software on their systems is very user-friendly. It's been very easy for someone to step in and learn how to use those machines efficiently."
Above, Left: Vanity for a commercial job features a custom apron and built-in sink.
Above, Right: Miter edge detail showcases capability of the BACA Robo SawJet.
Material Savings
The BACA Robo SawJet utilizes an IDE Diamond Cutting Head, which ensures easy and consistent alignment as well as pinpoint accuracy. The system's software optimizes cut patterns to maximize yield from each slab, saving customers an average of 20 percent on material cost annually.
"Obviously this precision has been a big part of our yield and savings on materials," Hyer said. "Before we had the jet as an option, we had a lot of wasted material. The Robo SawJet has increased our yield from a slab of useable material by upwards of 30 percent."
The Robo SawJet uses a durable H2O jet pump, designed to hold up in the 24-hour workday automotive manufacturing environment. The cost to operate the H2O jet pump is less than half of the KMT pumps used in some other types of sawjets, while outlasting the Hypertherm pumps between rebuilds by almost triple the time. It is also quicker and cheaper to rebuild the pumps.
"We'll buy waterjet components from BACA Systems to use in other machines in the shop," Hyer said. "We have ordered BACA parts for a competitor's waterjet system because they were priced better and more readily available."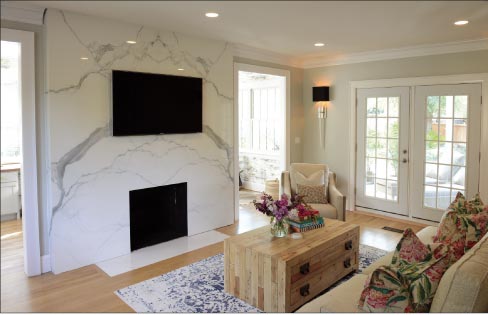 This house features a stunning fireplace wrapped in a bookmatched Daltile porcelain slab.
Customer Service
BACA Systems treats even minor maintenance issues with the waterjet pumps seriously, Hyer said. "The thing is, we've had very minor incidents where we've had a high-pressure water line or a fitting go bad. Nothing major. That's a great thing. Even on these minor issues they've stepped up to the plate to support us quickly, efficiently and cost-effectively."
The H20 waterjet technology provides consistent performance with little downtime. "Honestly, the two BACA machines have not really had any significant maintenance issues compared to some of the others in the industry," Hyer said. "We have had no issues compared to some of the older technologies that exist."
The BACA Difference
In the end, RockTops has benefitted from adopting the leading edge of robotic fabrication technology. Hyer is enthusiastic about partnering with BACA Systems, which he said easily sets itself apart from other manufacturers. "They are so passionate about their equipment. They are innovative and have so much experience in robotics and the waterjet business that we felt comfortable working with them. When somebody believes in their products that much, you can see it. We decided that was the direction we were going to go. We believe in their products, too."
RockTops is already planning to add another sawjet to its shop. "It will be another BACA," Hyer said. "I don't think I would ever move away from BACA for any of my future equipment needs. They are doing a great job addressing the challenges that fabricators have."
For more information on RockTops, visit their website www.rocktopskc.com.