Mark 1's Legendary Craftsmanship Helps Return Kansas Statehouse to Its Former Glory
Peter Marcucci
Mark 1 provided custom-made, heavy-duty scaffolding for the Kansas Statehouse project to provide load bearing capacity for workers, tools, and stone to be placed.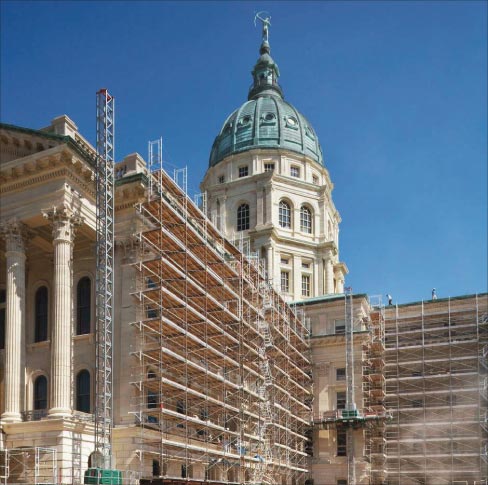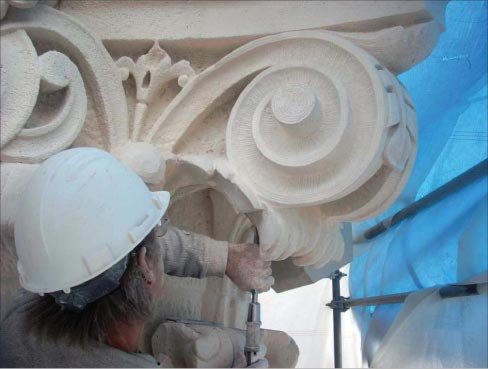 Above: New dutchman capitol section, carved to fit onsite.

There are 28 column capitals and 92 pilaster capitals on the Statehouse, for a total of 120. Ninety-four of those capitals required some dutchman repair. The typical capital is about six feet tall and over five feet wide at the top. For all pieces, hand carving in place was required to blend the repairs into the original construction.

Each piece was shaped by hand originally –  no two started life identical, and through weathering and deterioration, each has changed uniquely. The only way to properly fit the replacement stone to the original was to use hand work to blend the repairs seamlessly.
Photos Courtesy Mark 1 Restoration
Located in the capitol city of Topeka, the Kansas Statehouse has stood the test of time since its completion in 1903.
Costing more than $3 million over a 37-year construction period, the Kansas Statehouse was built in three stages using local limestone.
The classic central structure was designed by architect Edward Townsend Mix, while the east and west wings were designed by architect John Gideon Haskell.
Now fast-forward to 2008. A century's worth of weather and pollution had eaten into every pore of its limestone facade.
The structure was showing its age with fading details, crumbling elements and leaking appendages. The solution – bring in Mark 1 Restoration.
Specializing in the cleaning and repair of brick, stone, terracotta, marble, limestone and granite, the company's services extend into the fabrication, reshaping and carving of elements such as structural angles, beams and dutchman repairs.
A dutchman is a restoration technique in which only a portion of the existing stone is replaced.
With a good color match and a tight joint, these types of repairs are virtually unnoticeable. More importantly, once again, with patience and careful finishing to the highest standards, Mark 1 has breathed fresh life into this magnificent structure, allowing it to continue as a proud symbol of the Kansas people and their statehood for another century.
The Prep Work for a Four-Year Project
The plans for the restoration had been in the making for many years. There was a firm schedule, but many of the repairs were actually major changes in the structure itself.
More space was needed for offices, but a separate building or addition would take away the quaintness and charm.
What they wound up doing was to build below-grade offices around the perimeter that would blend in, explains Mark 1 Restoration vice president, Scott Evett. "Construction of the below-ground offices had taken place ahead of us. We then worked in conjunction with the contractor that was doing all the other work. We coordinated our work so we did not interfere with each other's scope of work."
Careful planning and execution of all the prep work is key to any job and was thought through at the time of bidding the job, said Evett. "You have to understand what your costs are and how much time you have before you start. For this particular project, we didn't have a whole lot of time.
"So once we were awarded the project, we were given three months before we were actually on the jobsite. We used some of the time, before we got the big equipment out there, to do a lot of pre-measuring and develop shop drawings by working off man-lifts. Then, as we built more and more of our scaffolding, we transitioned into using it, because it's not productive to work standing on a man-lift. The infrastructure (the cranes, the 12 semi truckloads of scaffolding, etc.) took about four months to get on the jobsite.
"What many people don't understand is the logistics in mobilizing to some of these building sites. It can be very complex and very time-consuming to get the infrastructure built whether it's the scaffolding, the cranes or shoring up below-grade structures that you can't see, but have to place a large piece of equipment on top of.
"I recently gave a presentation to an owner who I thought was doing a project incorrectly. He was having us do a limited amount of work, but the mobilization and infrastructure was so expensive that I explained to him that he needed to get as much work done right now to amortize these costs. Because no matter if you do a dollar's worth of work or $10 million worth of work, this mobilization cost is going to be the same! So, for him to get the most bang for his buck, he needed to get the most repairs done now. He then re-thought the whole process and changed the whole format of the project from a repair to a major restoration."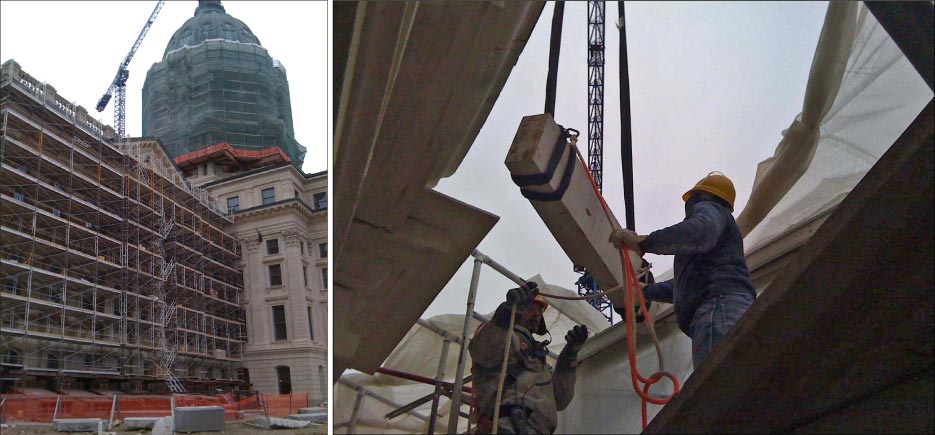 Hoisting a large limestone dutchman into place. "There were over 5,700 dutchman, some as big as a car," said Scott Evett, vice president of Mark 1 Restoration.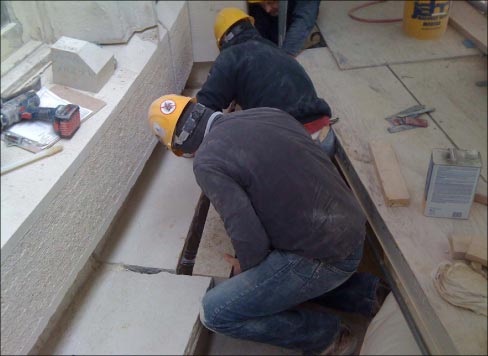 Large dutchman hoisted up to its resting place. Repair sections were sized or trimmed to match the cutout as tightly as possible, the repair secured with a special epoxy. A small dutchman can be seen on the window ledge, by the Mark 1 Restoration crew.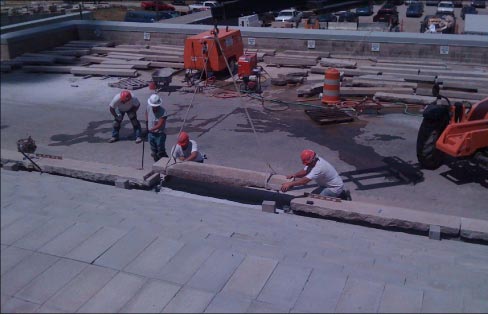 Resetting treads on the Kansas Statehouse front entrance stairs. A stack of replacement treads can be seen in the background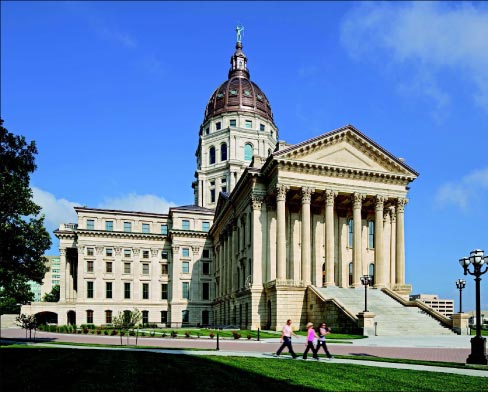 The original Kansas Statehouse was constructed over a 37-year period in three distinct phases, each reflecting subtle variations in tooling and ornamentation that was indicative of the changing immigrant mason workforce of the 19th century Midwest. The restoration effort benefited from a 21st century influx of Polish immigrant masons. Planning for the exterior masonry restoration started in 1999 as one part of 29 coordinated bid packages that comprised the restoration of the entire capitol, which was completed in 2014. A non-destructive, close-range assessment documented every stone on the 210,000-square-foot façade, more than 26,500 elements. Each stone was given a unique identification number, labeled on large-scale elevations and listed in corresponding repair schedules.

Design included examining past repair documentation to evaluate the performance of the materials and techniques used. Traditional dutchman repairs or replacement were determined to be the best long-term repair for the most heavily damaged stones. Overall, the masons performed an estimated 6.000 dutchman repairs, plus patching, redressing, cleaning and crack repair on the stones.

Care was taken to replicate the historic size, proportion and hand tooling patterns with all dutchman, redressing and replacement. A blend of traditional and new technologies produced replacement pieces. Laser scanning coupled with traditional template making and a multi-axis robotic carver roughed out pieces that were hand carved to fit on site. Two types of limestone, Cottonwood and Junction City were needed. Mark 1 had to reopen a quarry in Junction City, Kansas, that was shuttered in the 1950s to get matching stone.
Getting Physical in Phases
The Mark 1 Restoration crew began work on the east elevation on the south wing of the building, and worked counter clockwise in phases. Many daily activities were going on, and doing it this way allowed them to coordinate their work better, said Evett, adding, "We were always working ahead at getting our field measurements done, but only after cleaning, so that we could see any little cracks and imperfections that may have been covered by atmospheric soiling. We then began doing field measurements as well as a facade review with the architect to make sure that the planned repairs and what we'd uncovered were the same. In other words, the inspection by the architect was actually done four years previous, and there could be additional repairs that might come up. So after the cleaning, they wanted to get out and review the facade one more time. We then did our field measurements and began fabricating."
Sourcing Materials
There were two types of local limestone used for the original construction –Cottonwood and Junction City limestone.
One of the quarries sourced for the original limestone was still in operation, while the other limestone was from a quarry that had been closed for many years, said Evett. "Before the quarry went defunct, they had mined a lot of stone and just left it sitting there, and we ended up opening up the quarry to get to it. It was overgrown with trees and weeds, and we had to cut away everything to get in and load the stone on our trucks. Bush-busting to get into a quarry is not something that we normally have to do. Once loaded, we sent the blocks to Quarra Stone Company, a fabricator located in Madison, Wisconsin. Both colors were a very good match and a pleasant surprise."
To Dutchman or Not to Dutchman
According to Evett, the architect wanted to keep as many of the historical façade stones as possible. Due to their large size they only wanted to remove the damaged portion.
This is why the correct use of the dutchman process is so important, he explained. "You can take a stone that's three feet long and a foot and a half deep that maybe has just a corner broken out of it, and they didn't want to replace that stone. So you wind up cutting out a 16 by 8 inch piece of the corner and replacing it with a dutchman."
However, there are two considerations: one is performance and the other is aesthetics, continued Evett.
"In order for it to perform over a long period of time, the stone that remained had to be carved smooth so there would be maximum contact of the existing stone and the new stone. This way, when we used the epoxy adhesive we could achieve the strongest bond possible between the old and new stone. If this happens, you are going to have a very long-lasting, good-looking repair, but the only way you can do this is if you cut and carve these stones accurately.
"The other challenge was that many of these stones were ordered before the opening was made. We knew the size of the stone that we ordered, and these openings had to be perfectly made so that they didn't have any play in them. Our men have the skill level of carvers and the speed of skilled tradesmen, and this job needed both, allowing us to accomplish high quality on time and on budget."
Typically, the Mark 1 Restoration crew worked from 7 a.m. to 4 p.m. while the building was in operation.
Due to safety concerns, they did not work evenings. According to Evett, once you make a close examination, the previous restoration work is visible on these types of jobs.
"Some previous work was done incorrectly, yet some of the earliest work was done rather well, such as the small dutchman that were put in. Before we got on the jobsite the architects had also reviewed these repairs and noticed that some had lasted a very long time, and they wanted to emulate those types of repairs."
In case you're wondering how much the Kansas Statehouse project cost, Evett said, "Renovation costs vary on what their budget is, but typically our projects range from $15 million to $50 million. The Kansas Statehouse renovation cost $25 million."
Sound expensive? Not really when you look at the duration, the labor, the materials and the complexity (see below and page 31 sidebar for more on Mark 1's current and past projects).
Getting a Reputation as the Go-To Company
"We get a lot of inquires from people who want to pick our brain for the projects that they're doing," continued Evett. "A lot of them come from the architectural community wanting to understand how we've done past work, because they are looking at doing a similar project. So, yes, we are getting the reputation as the go-to company."
Recently, Mark 1 Restoration also participated in the presentation ceremony of the Tucker Award, an annual stone industry honor that's given to a design team for projects that exhibit exemplary work in the field of masonry. It happened that the designer of this particular project, Treanor Architects, located in Topeka, Kansas, won this award. It's also customary that the recipient invites all contractors associated with the project to attend and accept the award with them.
A Moment to Consider the Past
Reflecting back to when the work was completed on the Kansas Statehouse, Evett recounts his feelings at the time. "You know, when you have the privilege of doing a project like this, it takes lots of people, and if you all work together and have the desire to put out something special, I think that you can achieve an end result that everyone can be proud of. Past projects as well as current projects, I'm always awed by the quality of the finished work completed by our men. They take great pride in what they do. When we were finally finished and I stood back, my thoughts were simply, 'Wow!' There were over 5,700 dutchman installed, some the size of a car, and even if you looked really hard, you would find it almost impossible to pick them out.
"I have always felt it is a privilege to work on projects like the Kansas Statehouse. The architect did a good job specifying the repairs and providing details that would perform once completed, and the owner provided a budget that would ensure a quality project. I've been very blessed to work with such great people, and I continue to enjoy the outcome of these projects."
For more information about the work of Mark 1 Restoration visit www.mark1masonry.com .
Wyoming State Capitol
Repair and restoration was begun in 2016 and is ongoing.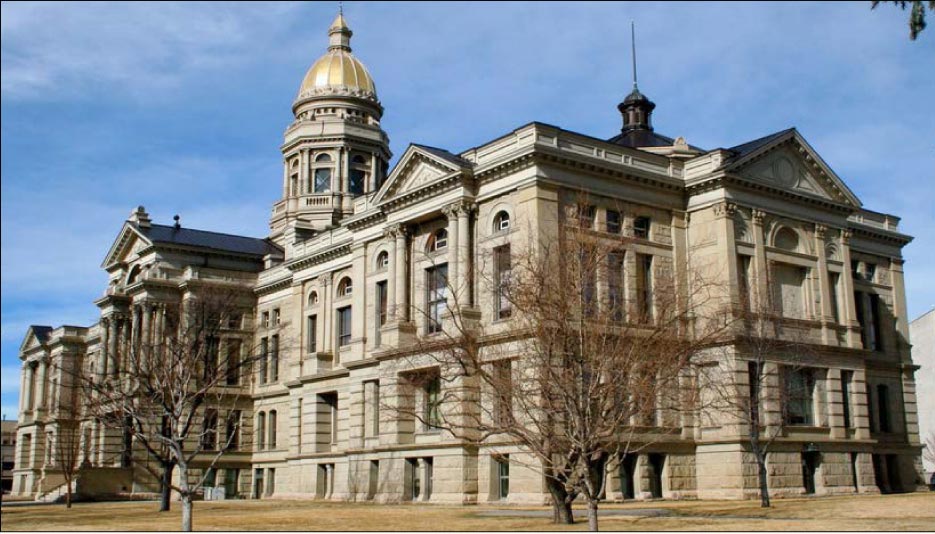 The Wyoming State Capitol Building, on the Nation Register of Historic Places, is just one of Mark 1's current major restoration projects.
The Wyoming State Capitol was built using local sandstone. Repairs to this historic structure included 100 percent tuck-pointing of all joints, including a large quantity of deep voids in the mortar joints, the removal and replacement of over a 1,000 dutchman, hand carving of ornate capital dutchman, re-tooling of existing worn stone profiles, localized stone cleaning and all new sealants. Mark 1 was also contracted to provide the engineering and scaffolding for the entire project including the Drum and Dome.
Mark 1 is also removing and resetting the steps and retaining walls for two of the capitol's main entrances.
Work continued throughout the year through the innovative use of scaffold enclosures and heating and cooling equipment.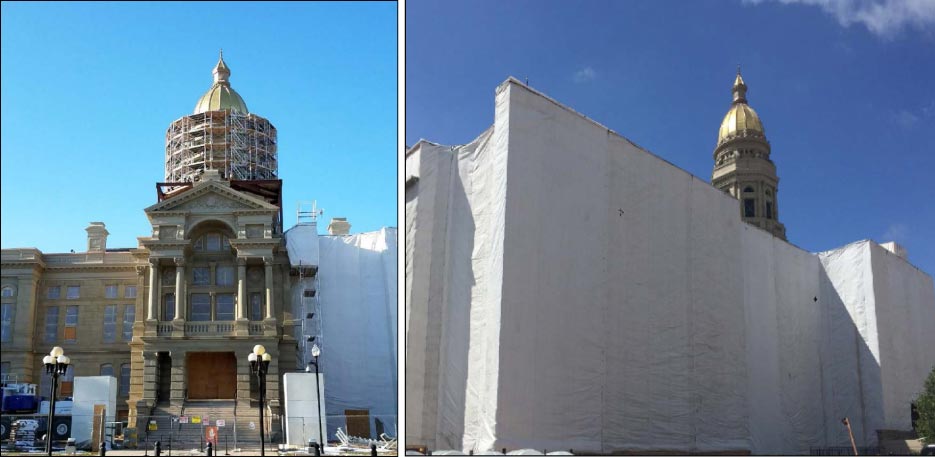 Above Left: Custom drum scaffold, and Above Right: the immense scaffolding enclosure.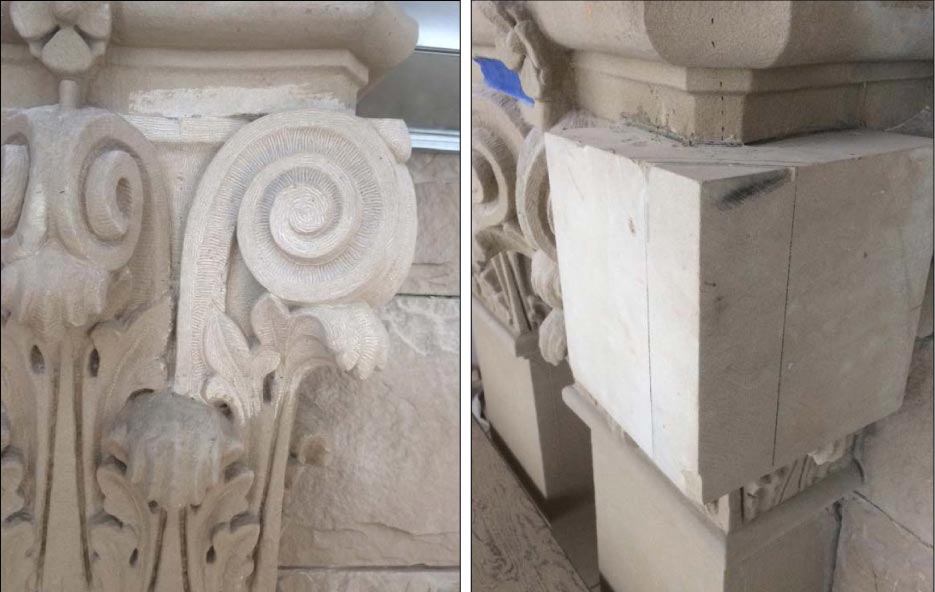 Above Left: A dutchman block in place; Above Right: And a restored, hand-carved capital.
Nebraska State Capitol
Repair and restoration 1999-2010
Historical restoration of this prestigious limestone structure involved repairs on the Capitol tower, the surrounding base, each of the four entrances, each of the four courtyards, and replacement of the copper roof. The work included removal and replacement of large limestone pieces, shelf angle repairs, tuck-pointing, dutchman repairs, caulking, and cleaning the facade.
The scaffolding system was custom designed to meet the specific requirements for the structure and was engineered to handle the heavy loads of the limestone that was replaced. Mark 1 performed as a general contractor managing several subcontractors in addition to completing the masonry restoration scope of work.
Subcontractors Included roofing, windows, plumbing, electrical, sheet metal and landscaping.

This restoration job included repairs on the tower, cleaning the façade, removal and repair of sections of the large Art Deco figures adorning the structure, and more.