Zares II: A CNC's Best Friend?
Peter Marcucci
Photos Courtesy

Terminator Diamond Products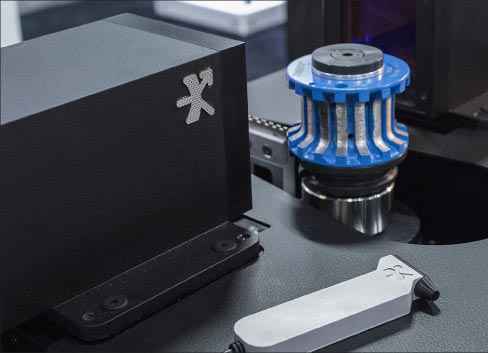 Above: Zares II and Smart Tool Chip Technology reader ready to detect and scan a tool. The chip in the tool is robust enough to withstand the harsh environment of the stone CNC production environment.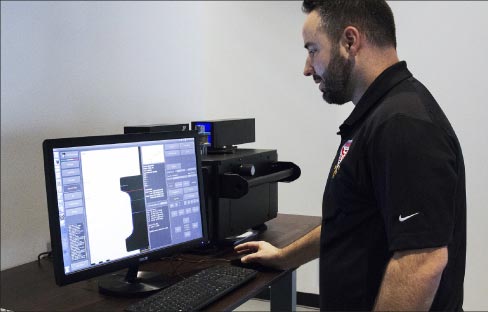 Above: Terminator CNC Technical Director Eric Pate reviews scan data from the Zares II 3D Optical CNC Measuring System. The Zares II offers an easier way to keep CNC tools calibrated and optimized, reducing human error and drastically reducing the time required to calibrate a set of tools.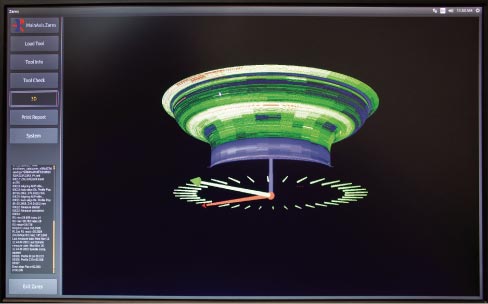 Above: A 360 degree optical scan of a tool reveals the wear pattern and dressing corrections needed to return it to a true circular shape. An experienced operator can scan a full set of tools in under ten minutes, compared to an average of 2 to 4-1/2 hours to calibrate by hand.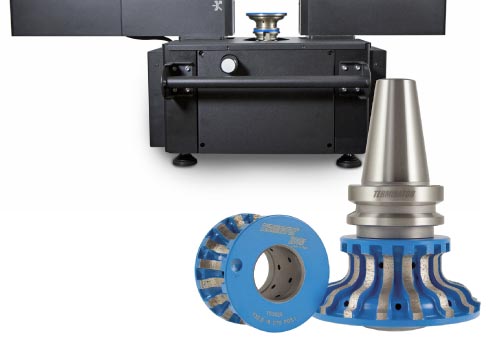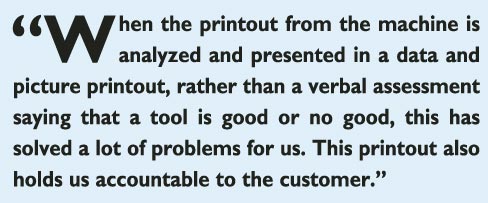 Let's face it, good calibration decreases premature CNC tool wear and produces a better edge throughout the machining stages. Fortunately, gone are the days of human error and the time-consuming task of hand calibrating your expensive array of CNC tools. The Zares II, a no excuses solution, is a quantum leap forward in tool calibration.
Zares II first hit the market in 2016 at Stone Expo. Originally developed by Italian manufacturer Main Axis for use in a variety of production environments, the use of Zares II as a tool pre-setter and management tool for stone shops using CNCs is cutting edge tech, explains Terminator's CNC technical director Eric Pate. "The Zares II is our newest offering for the stone industry. We've been using it in our manufacturing facility since 2014 to analyze and maintain the shape quality of our tools. We then introduced it to the stone industry."

Build It and They Will Come
This year, Terminator is celebrating its 25th Anniversary. (See our interview with Vincent Salemi beginning on page one.) As of late, the company has been growing from 15 to 20 percent per year, every year. Sales, to say the least, have been good, and transitioning into a machine support and service-oriented company has been interesting, said Pate.
"We started to see a need for the Zares II in the field due to our steady growth and finding technicians to service our clients' tools were not readily available for hire. So, we decided to bring automation into the calibration procedure instead of more technicians. At the time, customers were also asking us for a better and easier way to calibrate their tools. Moreover, CNC manufacturers were already calibrating their customer's tools using the onboard laser tool pre-setters. It was definitely a better way to do things, but it was still taking up valuable production time. That's when I spoke to the owner of our company, Vincent Salemi, about my thoughts and what needed to be done. To my surprise, Vincent was already working on the Zares II through Main Axis, the designer of the machine.
"We then worked with Main Axis here in Charlotte, North Carolina, and started developing it further as well as the interfacing needs for all the major CNC brands and all of our customers tooling needs. Ever since then, it's been a homerun for us. The days of visiting customers where communication breakdowns yielded up to a day of wasted time, due to customers not being prepared for our arrival, are gone. Back then you were only allotted a certain amount of time to get it done and based on a schedule. If they were not prepared for you due to old tools still on cones that are impossible to remove, the day is over. However, we never left the customer high and dry, as we always finished the task at hand. It was decided due to increased cost of the extra time, it wasn't the smartest way to do business.

Why It Works
"Let's start with why fabrication shops need this tool," continued Pate. "When the majority of CNC users start off with a new set of tools, the edge quality is up to par and they love them. But over time, the edge quality degrades, because they do not dress nor calibrate their tools as they are supposed to. The explanations that we hear are, 'We don't have the time; the owner doesn't buy new tools; we've got to run, run, run and don't have the time to dress and maintain the tools; or, nobody here knows how to do it.' The industry average for someone to hand calibrate tools is anywhere from two to four and a half hours, whereas Zares II can do a full set in under 10 minutes. So, the benefit of this machine is that it can scan each tool in a 360 degree scan in less than ten seconds offline. It gives the user the time they would have used calibrating tools by hand back, to running parts on their machines. It will also give you a report per tool that describes if it's a circle or an egg. This is called the 'Ovality Report.'
"The second report is a concentricity report that shows whether the tool is concentric or eccentric. This aids in the assembly of the tools and the trending data on how your machine is performing and how it is maintaining the tools as they run.
"Zares II is also the only machine that will give you a 3-D image rolled out into a flat plane, so you can fully see the issues of the tool and what corrections you might need to make as you're calibrating.
"These are the standout features of the Zares II, but the largest feature is the full integration into (most) brands of CNC including Intermac, Brembana, Northwood, Park and Breton. This standout feature is why we treat the system as a tool management system. For certain CNC brands we do things differently. Take for instance a Park machine. They have a tool swap feature built into their machine's control software. We are the only system so far to manage these changes when a customer is swapping tools out at the CNC machine. We are in perfect synchrony with how the machines were designed by their respective manufacturers."
According to Pate, the approval from customers is overwhelming! "We have gotten a great response from our customers now that they have seen a need for Zares II. Customers are now sending their tools to one of our facilities at either the Charlotte or California locations to be analyzed and measured. In the past when something went wrong or unexpected, it was your word against theirs as these companies just want their tools done now! And now, if the Zares II says that your cones are no good after it scans them, they just say, 'Okay, give me new cones'. That's another benefit that the Zares II brings to the table. When the printout from the machine is analyzed and presented in a data and picture printout, rather than a verbal assessment saying that a tool is good or no good, this has solved a lot of problems for us. This printout also holds us accountable to the customer."
Zares II is a stand-alone bench- top machine that requires being placed in a clean environment, but not a scientific clean environment. The reason? Zares II can measure tolerances to such a finite degree (5 microns), that it needs a clean environment, explained Pate. "For your most commonly used tools in a production environment, there are normally two sets of tools needed of the same profile, for no downtime while calibrating. These tools need to be clean and dry, because Zares II is able to detect up to 5 microns. It can detect dust, debris, water. Anything that could skew the measurement must be cleaned and dried off."
The Stone industry quickly realized the potential of the Zares II. It received top awards in both the "Best of Product" and "Best of Technology" awards at TISE 2016.
Warranty and Zero Maintenance
Zares II comes with a one-year warranty top to bottom, and the computer components come with a three-year warranty top to bottom, said Pate, adding, "Every Zares II that is installed is also setup with the TeamViewer Remote support so anyone of our technicians can look up that account at any time a problem arises, and support has been requested. Normally, due to the nature of PCs and hardware, if a problem arises that cannot be fixed via remote support, then the defective computer component is sent in to us and we will typically repair or replace it, and have it sent back that same day. Certain components that are just attachments to the system are shipped same day per request. All systems are completely backed up upon installation and the backup images are stored on our server. Additionally, the machines come with direct access to the help desk via email or phone support.
"In our factory, we have done over 100,000 scans with zero maintenance. It has been online 24/7 for three years and we have had zero failure issues."

Smart Tools for Smart Shops
One particular option makes the Zares II even more useful in managing a shop's CNC production system. Terminator has developed a system that tracks a CNC tool through its lifecycle through a smart chip embedded in CNC tool sets. Pate continued, "We have developed an exciting use for chip technology and software to evaluate and track tool use. The smart chip allows the user to properly track the footage of the tool throughout the complete lifecycle including re-truing the tools through our EDM program. The chips allow the Zares II data to always follow the individual tool. This is especially useful when our customers with large production goals have more than one set of the same profile. After being re-trued, it can be difficult to know which set this tool belonged to, and thus also not being able to know the footage ran when they stopped being used into production. Since the chip follows the tool, all the previous data stays with it and can now be properly identified with its proper tool set.
"The smart chip technology also gives the user the ability to monitor the shape quality based on a percentage, with a green, yellow, or red indicator that is built into the tool set menu of each individual tool. This means the software will warn you when it is time to send your tools in and when the tool it is no longer capable of producing a quality edge."

A No-Brainer ROI?
A typical return on investment of the Zares II breaks down as follows: If it is one CNC machine, it is one year, said Pate, and most of their customers who have two machines have paid it off in six months. "A customer of ours in Illinois, with one CNC, just stated recently to us, that with their current production they've paid off their Zares II in eight months.

Complete Customer Education and Training
"Before we close a deal with any perspective customer, we first let them watch a fully engaging webinar featuring the complete system," continued Pate. "The viewer can see us putting the tools in and out, and going through full scans. The demo goes through the entire procedure of calibrating a full set of tools while giving them time to ask questions. Then, once the decision has been made to purchase the system they will receive two days of hands-on training at our Charlotte, North Carolina training facility. The installation of Zares II on-site typically requires no more than two days, and up to a week for shops with many machines to incorporate. I should also mention that the Zares II is available through our new distributor, Braxton-Bragg.
"As far as a learning curve, most people pick it up in two to four weeks of use. The last example was of our customer in Utah. Their employees picked it up in two weeks, and we haven't had a single support call since. For someone with experience doing a full set, calibration can be done in less than 8 minutes.
"It's intriguing, originally, the pushback from our competition was that it's a stupid idea – 'Why do you want to do this, you don't need this expensive machine to calibrate tools.' Now, they are all chasing Terminator, trying to get their own machines. So far, we've sold over 35 machines and the momentum keeps growing and growing, because fabricators have seen how well it helps their production."
After 25 years in business, Terminator is just getting started. The next few years look to be very exciting. According to Pate we can expect to see more cutting-edge products from Terminator.
Zares II is manufactured in Italy exclusively for Terminator Diamond Products, Inc. For more information on Zares II and other great Terminator products go to zarescnc.com or their distributor Braxton-Bragg.com.