Stone Restoration and Maintenance Corner: Trickle Down
Bob Murrell
M3 Technologies
Photos by Bob Murrell
Custom coffered ceiling and murals, installed. Tradespeople from every construction discipline came together for this project.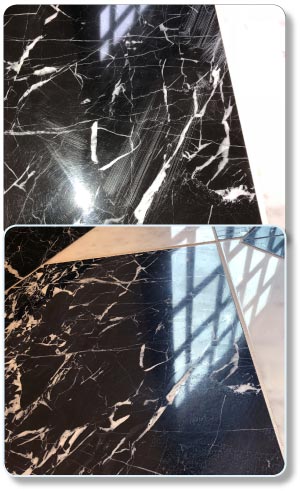 Above: These install scratches were painful to see, but luckily were fixable.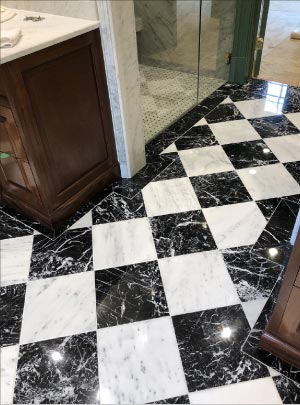 Above: Notice the solid marble casing on this trim. This was truly a project where only the best would do.
Above: A hardware specialist installs custom fittings on these oversized doors. Note the protective drop cloth laid down to protect the new hardwood floors. Sharing construction space and cooperating with other contractors is a challenge when your area of concern is the floors, and either restoring them or preventing construction damage like stains and scratches.
I am no economist but I can tell you that supply-side economics (incorrectly labeled trickle-down by critics) does help middle America. I believe this because I have seen it first-hand.
Taking a real-world example, I was on a local project worksite recently, which was a million dollar addition to an already exquisite home. There must have been 30 workers on that jobsite at any given time. If you weren't going somewhere with a purpose, you were likely to get run over. Everyone was busy as bees.*
When wealthy residential clients or expanding or renovating businesses have money to spend, they will invariably invest in upgrading or renovating their properties. This translates to work for all of the associated tradespeople. Heat and air technicians, painters, plumbers, trim carpenters, brick masons, stone and tile installers, and yes in many cases, restoration professionals too, will all have more work because of the additional money available to spend.
So, the theory is that lowering taxes and decreasing regulations increases economic growth. The recent tax cuts and repealing of certain regulations has in fact improved the economy, lowered unemployment rates and generally helped the average citizen. We can quantify these results easily enough, but I have experienced them first-hand, as I'm sure many of you have as well. I will have extra cash available this year because the lower tax rates and will therefore spend more. The same holds true for the wealthier among us as well as businesses, too.
So, on this project worksite I've been telling you about, there were trim carpenters cutting and installing intricate trim work. I'm not talking about pressed wood trim here, this was the real deal solid wood trim. Dental crown moldings and one-of-a-kind custom coffered ceiling work, with hand-painted murals, signed by the artist.
Even the hardware on these custom built homes is unique. Door and cabinet hinges, pocket door tracks, and handles are all heavy-duty commercial grade and solid brass. These are being installed by true craftsmen too. Painters all painting with custom paint, and there is a lot to paint.
One of my closest friends is a custom rug professional. I don't even know how many rugs and carpet he has installed on this job, all of which were custom made and hand bound. He is a true artist, as are many of the contracted professionals on this project.
I could go on and on about all of the different trades that were present on this addition, starting with the GC who hires all of the electrical workers, marble and tile installers, plumbers, concrete and brick masons, landscaping, and even the general laborers. Suffice to say there is a lot of business being generated at this location. Oh, and what about all of the manufacturing for this too, like the electrical and plumbing hardware, tools, and consumables? Trickle-down economics are certainly at work here, helping to feed these guys and their families.
So now, on to the marble restoration part of this project. As you can imagine, with all of these guys traipsing around and through the jobsite, and even with almost every square foot of sensitive floors covered with commercial-grade protective surfaces, there was etching and scratching on the beautiful black and white checkerboard marble. How it all got there was beyond me but none the less, it was there.
Major scratches were present in several areas. Some looked as though something was dragged across six or seven tiles. Other scratches looked like something got caught under the trowel when grouting. Some sort of acidic or strong alkaline cleaner must have been dribbled in some areas as several tiles were either etched or burned.
So the floor was vacuumed and mopped first to remove any loose debris or particles from the surface and grout. Once the floor was cleaned, a 220 grit diamond was used to start the restoration process in the affected areas only. Diamond hand pads were used for small localized areas and TX Triple Thick diamond discs were used on a M3 Heavy-Duty 13" floor machine. The 220 grit was followed by a 400 grit, then by an 800 grit, and finally with an 1800 grit diamond. Each step was feathered out past the previous step.
The floor was polished using the Majestic XXX Polishing Powder, which produced a brilliant polish that actually even surpassed the factory finish. A test area, in the worst case scenario spot, was used to confirm the results and procedure before the general restoration process was implemented. The GC was very pleased with the results.
By the way, I really like the 13 inch floor machine and in my opinion, every restoration contractor should have at least one. The M3 machine comes with the same motor that is on the larger 17 inch and 20 inch models, so it is very robust. They can get in beside most toilets and bathroom stalls and they are generally easier to maneuver in smaller areas for sure. You can run a 17" or 20" drive plate on them to get under cabinet overhangs, and they are great for stairs and even islands as the telescoping handle option allows for the machine to become very low and squat for these procedures.
To sum up, one family's spending resulted in the hiring of a large general contracting company who in turn ended up hiring many professionals (architects and designers), multiple sub-contractors, and general laborers to work on this approximately 14-month project. Each of these workers will be ultimately spending and investing more themselves too. So you see, "trickle-down" economics really does help to provide employment and stimulate the economy.
As always, I recommend submitting a test area to confirm the results and the procedure prior to starting a stone or hard surface restoration or maintenance project. Also the best way to help ensure success is by partnering with a good distributor that knows the business. They can help with technical support, product purchase decisions, logistics, and other pertinent project information.
*Speaking of bees, I lost my last two hives this past winter. Based on the reports from my local beekeepers club, the honeybee colony losses in East Tennessee, were up as high as 70 percent. I have two replacement colonies on the way. Hopefully 2018 will be a better year!
Bob Murrell has worked in the natural stone industry for over 40 years and is well known for his expertise in natural stone, tile and decorative concrete restoration and maintenance. He helped develop some of the main products and processes which revolutionized the industry, and is currently the Director of Operations for M3 Technologies.