Traditional Versus Outdated
Let's Banish Some Stone Industry Myths
Mark McMunn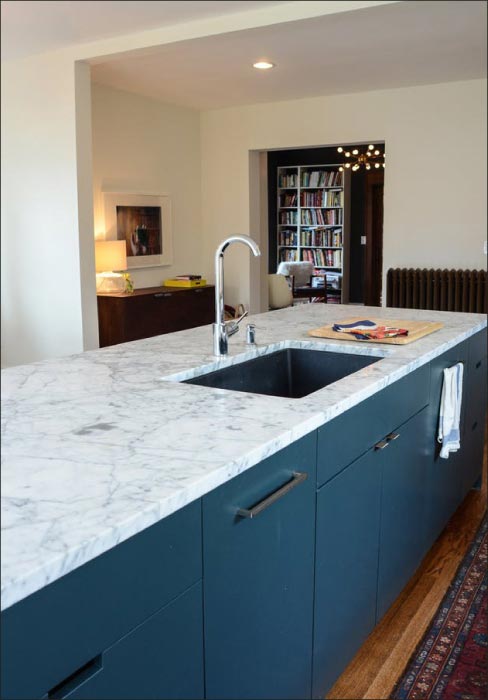 Above: A hardware specialist installs custom fittings on these oversized doors. Note the protective drop cloth laid down to protect the new hardwood floors. Sharing construction space and cooperating with other contractors is a challenge when your area of concern is the floors, and either restoring them or preventing construction damage like stains and scratches.
Photo: Faith Durand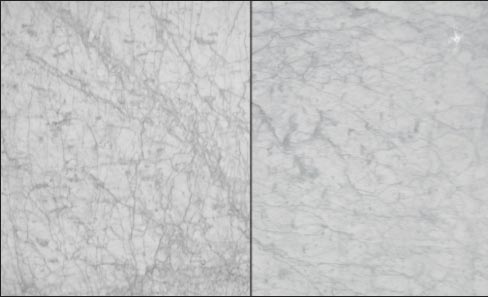 Above, Left: Honed Carrara; Above, Right: Polished Carrara marble.
Above: A 3cm slab (left) compared to 2cm: depending on the material, compared to 3cm, 2cm material can be 1/3 the weight, making 2cm safer and easier to handle
and install. And, it's generally less expensive, too.
This month's article will cover some important stone topics that do not require a whole page, but are nonetheless address important issues. Everyone in the industry should become familiar with these concepts, or maybe you just need a refresher as to "why certain things are so."

Why Offer a Honed Finish on Marble?
Honed is a perfectly fine option for marble countertops. Yes, red wine, tomato sauce, and oils can and will stain marble or any stone. All these facts are known, but so are the remedies for these problems. The good thing about a honed finish is that it can easily be restored. Stains and etch marks are for the most part easily removed by simply sanding them out with regular silicon carbide sandpaper, and a little bit of water. Deep stains can be removed with a poultice, mild solvent or even peroxide in the case of white marble.
Using a polished finish on marble looks very nice as well, but marble will not hold a polish very well in a kitchen environment, and depending on the amount of use the countertops get, they will have to be repolished every so often as required. Marble reacts with acids because it is mostly calcium carbonate (baking soda), and thus acids actually eat away a little bit of the marble. Marble is also more easily scratched than granite, but again, just as with the etch marks, scratches are easily remedied by simply sanding them out. Scratches and stains on granite are NOT easily remedied.
Most people do not know that before the designer world went nuts for granite countertops that marble was often used for kitchen countertops. The "Baby Boomers" discovered just a few years ago what previous generations already knew: marble makes for a beautiful utilitarian countertop surface. So many people have remarked over the years how they have seen these beautiful marble countertops either in southern France or the Tuscany region of Italy, and how they would like to have the same type of look. Well to have that look you have to actually use the marble and let it etch, scratch, stain and then sand it in a cycle for a few generations. The difference, though, is that those countertops were installed with a very rough sawn surface straight from the mill, and only became honed (more smooth) after many decades and in some cases centuries of use. Those countertops were never polished. Here in the U.S. we are doing things the other way around. We are taking polished slabs and stepping back to honed.
Folks can install these countertops anyway they care to have them. It just depends if they are trying to achieve something that looks natural or affected.

Who is Still Using 3cm to Clad Marble Showers?
Cladding showers with 3cm stone slabs is just insane! Every time you see a crew of several men struggling to install a 3cm slab that is three to five feet long and eight feet high to clad a shower wall so as to have no seams, pray that they do not injure themselves. The public is now several generations deep with those who lived with slab showers made from 1/2-inch thick cultured marble slabs. They are less than half the weight of 3cm stone, do not easily break and are very forgiving at the joints because the joints are ¼ inch and caulked with silicon. The public thinks that this should be the same for stone showers because in their minds, "Isn't it just the same?" Also, the public thinks that natural stone should have no seams just like cultured marble. For safety's sake, stop this practice of using 3cm slabs to clad shower walls and use 2cm slabs instead. Also, as a general rule, do not set any piece in a shower any larger than 78 inches by 36 inches (78 inches by 30 inches is even better) and then finish to the ceiling with a second course on top of the 78-inch piece. At 78 inches high your first horizontal joint should be above the showerhead so that no water will be running over that joint, which will help you avoid leaks. A piece that measures 78 inches by 36 inches by 2cm will weigh just under 250 pounds, which is about the limit that two men can handle within a confined space such as a shower. That same piece in 3cm will weigh about 440 pounds. It is admirable to try and make a shower wall with no seams floor to ceiling and more power to you if you can pull it off, but it's not worth it.
Let's say you are trying to be a stone setting superman and want to put in a 96 inch x 60 inch x 3cm slab wall: that piece is going to weigh approximately 880 pounds! And if you are also trying to line up holes with extruded pipes, chances are you could get into a bind and you will find yourself in a very bad place— either you force the piece into place and risk breaking both the piece and plumbing, or worse, you lose control of the piece and it falls and injures someone.
Do not let yourself get into this situation. If a client expects slab walls to be seamless floor to ceiling, then explain to them that you will simply not do it. Please take it from experience that it's best to have two courses of stone in a shower versus trying to install a seamless slab floor to ceiling, and please use 2cm slabs instead of 3cm.

There are a lot of misconceptions in the stone business as to how and why things are done and those methods and practices have not changed but have become obscured over the last few decades as the majority of the people working in the industry today do not have the benefit of having a co-worker or shop owner who was around during the pre-countertop era. Please take what has been said here and use it to make your work safer and more profitable.