Crossville Announces 2018 Recycling Program Milestones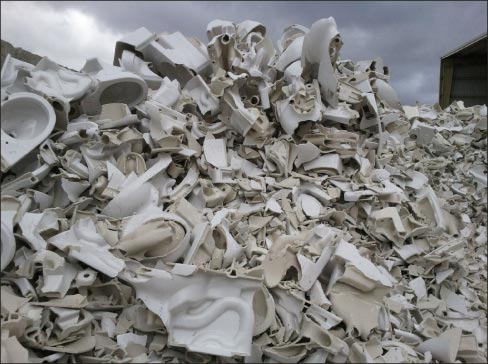 Above: A small mountain of fired porcelain refuse ready for crushing and recycling at the Crossville, Tennessee manufacturing facility.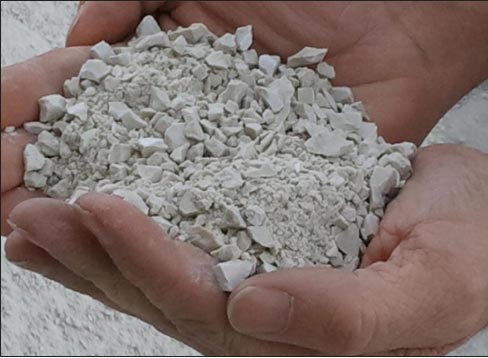 Above: Pulverized porcelain refuse ready for recycling into new ceramic tile products.
Officials with domestic tile manufacturer Crossville Inc. have announced the company recycled 23,447,883 pounds of fired porcelain in 2017, bringing the company's cumulative recycling total to more than 114 million pounds since the 2009 launch of the Tile Take-Back® program and subsequent TOTO USA recycling partnership.
These recycling initiatives are based on the company's proprietary process for recycling fired porcelain products, including post-consumer materials. Through Tile Take-Back®, Crossville is able to recycle previously installed tile collected from its distribution network, as well as scraps that result from tile cutting during installation, sizing or sample creation. Through its TOTO partnership, Crossville receives pre-consumer fired porcelain toilets that do not meet quality standards; prior to the partnership, these cast-offs were being sent to landfills for disposal, but now they are recycled for use in manufacturing new tile.
All 114 million-plus cumulative pounds of the recycled material Crossville has diverted from landfills have been or will be introduced into the tile production process. This use of recycled material during manufacturing results in Crossville maintaining its status as a net consumer of waste for a seventh consecutive year. Net waste consumption is achieved by using more waste than is created during production.
Here's the break-out of Crossville's total of 23,447,883 pounds of fired porcelain recycled in 2017:
12,225,850 pounds fired

scrap product at the com

pany's plant

7,825,860 pounds of

TOTO's scrap porcelain

105,684 pounds of

post-consumer waste

from the Tile Take-

Back® program.

TOTO USA Partnership
In 2011, Crossville launched a partnership with sanitaryware manufacturer TOTO USA to receive and recycle that company's fired porcelain refuse. Today, there is recycled content in every square foot of porcelain tile produced by Crossville because of the harvested material from TOTO, reducing the need for raw materials for tile production.
Additionally in 2017, Crossville removed 3,290,489 pounds of filtrate solids from dirty water and recycled back into tile production.
Tile Take-Back® and the TOTO USA partnership are just two of many sustainable practices Crossville maintains company-wide. For more information about Crossville's sustainability practices, visit www.crossvilleinc.com/sustainability/.

Crossville's Tile Take-Back® program is Crossville's answer to the major environmental problem facing the tile industry today: the recycling of fired tile. Because this program is so beneficial throughout the industry, Crossville openly accepts post-consumer tile from other brands as well as projects not originating from Crossville.

Founded in 1986, Crossville Inc. is a U.S.-owned and operated manufacturer of award-winning tile collections for residential and contract applications. Its headquarters and manufacturing facilities are located in Crossville, Tennessee. Crossville, Inc. is a wholly owned subsidiary of Curran Group, a privately held holding company renowned for its core values of family, respect, partnership, integrity, and improvement.
An industry innovator, Crossville is the first U.S. tile manufacturer to achieve the following:
– production of large format tile on site,
– manufacturing tile with certified recycled content,
– developing the Tile Take-Back® Program for recycling fired porcelain tile,
– attaining certification for waste recycling programs,
– earning TCNA's Green Squared certification for all of its U.S.-produced tile lines,
– distribution of a complete line of porcelain tile panels (Laminam by Crossville), and
– designation as a net consumer of waste in the domestic tile industry.

For more information on Crossville, visit crossvilleinc.com.