Coverings Recap from Park Industries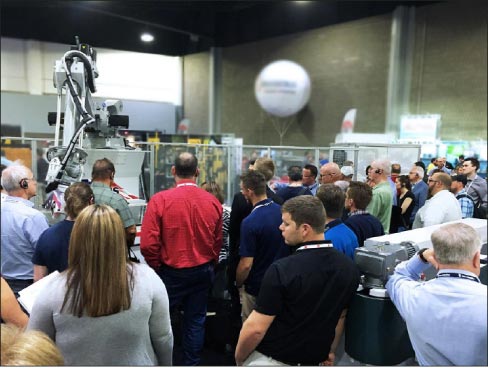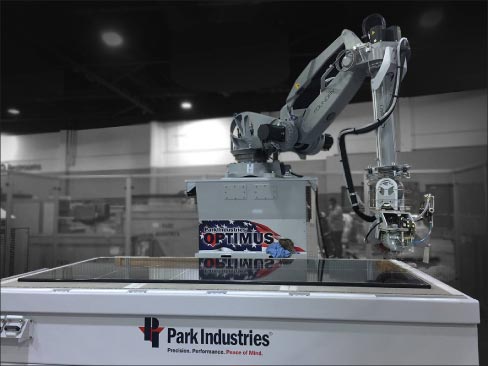 Above: Park Industries OPTIMUS Robotic Sawjet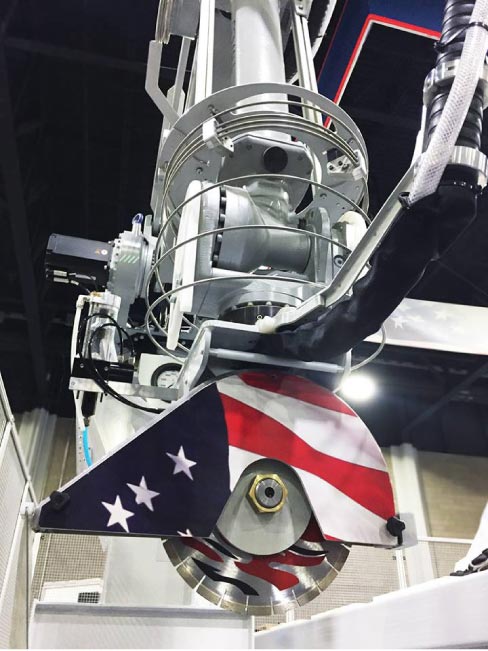 Above: Park Industries OPTIMUS Robotic Sawjet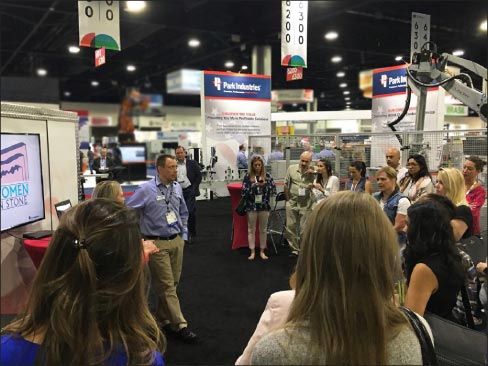 Above: Park Industries was one of the booths showcased in the Women in Stone Tour of Coverings.
The midnight blue carpeted walkways of the Georgia World Congress Center in Atlanta, Georgia, were packed with fabricators, builders, and designers for the Coverings 2018 Event. Booth #6021 was filled with intrigued machine spectators.
Park Industries' booth welcomed many visitors in to view and discuss the machine lineup, which consisted of the OPTIMUS Robotic SawJet, TITAN® CNC Router, FASTBACK® II, and the ATLAS Tool Measurement System.
The OPTIMUS Robotic SawJet attracted a large number of observers. The OPTIMUS was operating above a slab with marked cut-out areas. The crowd formed around it to learn more and they took a special interest in the slab that indicated the cutting capabilities of the OPTIMUS.
Booth visitors walked straight into the sleek FASTBACK II as they entered the booth.
The FASTBACK II shone brightly under the Congress Center lights, spurring conversation on flat edge polishing, and the mighty presence of the TITAN® 2700 stood strong in the booth. The routing and shaping capabilities of the TITAN® were on complete display.
The ATLAS Tool Measure-ment System had visitors asking about tool longevity and maintenance. An ATLAS expert from OMEGA shared his knowledge on the advantages of using an efficient tool measuring process.
Women in Stone Tour
Park Industries was showcased in the Coverings 2018 Women in Stone tour. The group was invited into Park's booth to learn more about the countertop fabrication process and the role Park equipment plays in the process.
Strong Partnerships
Park Industries partnered with Hypertherm® and OMEGA at Coverings. Hypertherm® representatives were available to discuss the newest innovations in waterjet. Many questions on tool maintenance and tool quality were discussed with the ATLAS representative in the booth.
For more information on the machinery mentioned in this article, visit www.parkindustries.com .