Rockheads Group Hosts Member gathering at Coverings 2018 in Atlanta
The Rockheads Group, a network of surfacing industry entrepreneurs dedicated to leadership, best practices, and financial health, concluded their Spring 2018 member summit in Atlanta, Georgia. during Coverings. With over 85 people in attendance, the group held a successful full day and a half event with participation from some of the leading stone and surfacing fabricators in North America, as well as key strategic partners.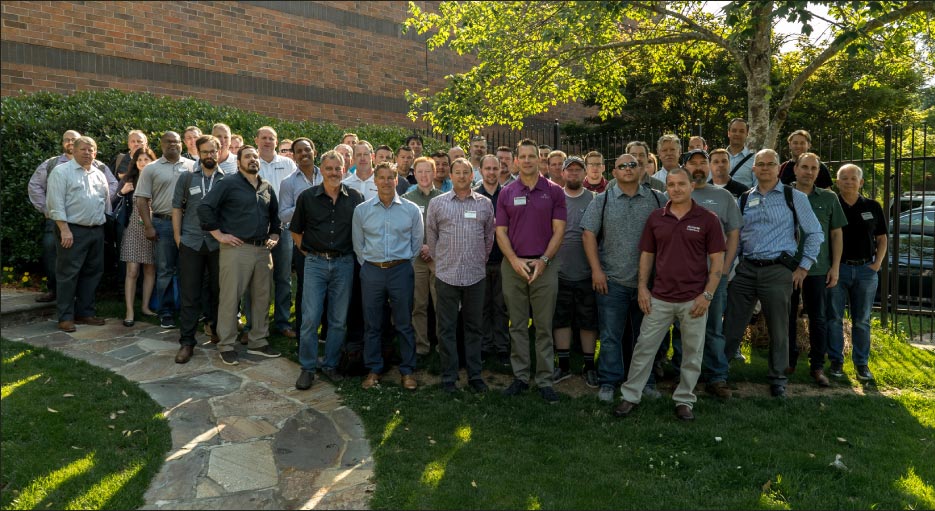 The Rockheads Group hosted its largest member gathering to date in Atlanta, during Coverings 2018. The growing member base reviewed actionable bottom line improvements for surfacing entrepreneurs.
Produced by Marqet Group, a marketing firm behind the Rockheads Group rebranding and the marketing efforts of several of the organization's members, the event was hosted outside the convention center at Terminus 330. As part of the agenda, members were able to engage in in-depth conversations around financial benchmarks and bettering their company's bottom line. During the interactive roundtable discussions, members were able to share their individual experience on how sales prices, cost of materials, cost of labor, rework and material optimization can have a significant impact to their financial performance.
The event calendar also included visits to stone and quartz distributors Cosentino and MSI, where members had the opportunity to review new products and materials as well as engage in deeper conversations around the future of the quartz industry.
"Bringing our growing member base together to participate and share their business opportunities and challenges is one of the most rewarding things about being a Rockhead," said Jon Kaplan, Managing Partner of the Rockheads Group. "Complementing that with quality time spent with our key suppliers makes our events that much more beneficial," he added.
The event was hosted by some of the Rockheads' preferred vendors which include BACA Systems, Braxton-Bragg, ESGI Safety, GranQuartz and Laser Products. Also attending the event were Jim Hieb, CEO for the Natural Stone Institute, and Bill Darcy, CEO of the National Kitchen and Bath Association, who both spoke about the benefits of engaging with each respective association to broaden business networks and knowledge.
Elle H. Millard, former HGTV Design Star and now NKBA Insider, also presented on the latest surfacing trends observed in Milan as part of EuroCucina.
"Our members are looking for a unique experience," said Lorenzo Marquez, president of Marqet Group and executive member of the Rockheads Group. "With so many options to engage in industry meetings and trade groups, we channel all of our efforts into making sure members have exclusive access to insights and benefits, as well as have key action items to implement when they go back home. This has been our best event by far," Kaplan added.
Following the meeting, Rockheads Group members will be working on their yearly financial benchmark process, where they will confidentially rank their business performance around key performance indicators as well as measure their companies financial health. Findings of this process will be released during the next Rockheads Group meeting in August, which will be hosted by Inspiration Design Center in Minnesota.
The Rockheads Group is a private entrepreneur group of more than 85 industry leading stone and surfacing fabrication businesses. Member selection is based on business a culture of striving to be the industry Best In Class in size, stature or profitability. The professional trade group is dedicated to raising fabrication standards, promoting best practices across the industry with key focus areas in customer service, financials, technology and leadership, as well as group purchasing.
For more information on the Rockheads Group, please visit www.rockheadsusa.com .