Alpha® Ergonomic VDP-700 Variable Speed Polisher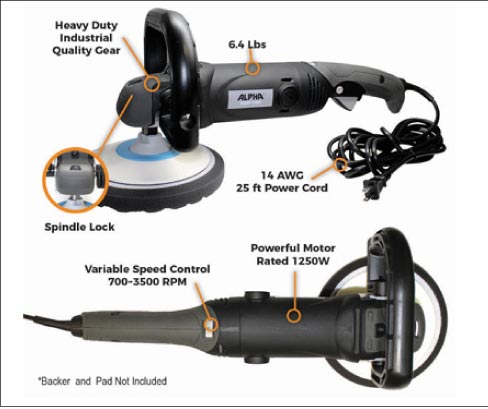 The ergonomic shape and C-handle of the 6.4 lbs. VDP-700 make it easy to control and comfortable to use. The 25-foot cord allows the user to move around a large work area without an extension cord.
Sanding and polishing applications are time-consuming, tough jobs.
In order to reduce the fatigue of the polishing professional, Alpha® ergonomically designed the VDP-700.
This lightweight polisher is comfortable to hold and easy to control during the entire operation.
This is done with one of two handle designs that come with the unit (C-Handle & Side Handle). The VDP-700 offers the variable speed range from 700 to 3,500 rpm.
The polisher was built with a 1250w (rated) and 1900w (maximum) motor along with heavy-duty precision gear system for the most demanding polishing tasks, to ensure reliability and high performance.
With a 25-foot, 14 AWG electrical power cord, you can cover large work areas without connecting to an extension cord. This feature assures maximum power from the electrical circuit and avoids overheating of the motor
Alpha® also offers a variety of accessories for this polisher such as a rotary back pads, diamond face foam pads, wool pads, microfiber pads, and other abrasive products.




For more information, visit the Alpha® website at www.alpha-tools.com or contact them at 800-648-7229, or their authorized distributor
Braxton-Bragg at 800-575-4401.