Alpha Professional Tools®
The Slippery Rock Gazette Presents a Behind-the-Scenes Look at an Industry-Leading Company

Peter Marcucci
Photos by Peter Marcucci And Courtesy Alpha Professional Tools®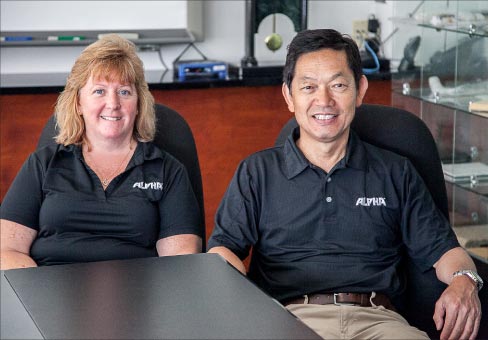 Alpha Professional Tools® has just celebrated its 32nd Anniversary in business, and is still a leading innovator in stone and tile tool manufacturing. From left: Mindy Wessel, General Manger, and Nao Takahashi, President of Alpha®.
If you're one of the old guard in the stone industry, you'll remember that Alpha Professional Tools® brought us out of antiquated edge polishing methods and into the future with the introduction of resin diamond pads.
Decades later, Alpha Professional Tools® is still a major player in tools and equipment for stone fabrication, with an exciting next generation of products focused on safety and efficiency.
Located in New Jersey for over 32 years, the company has not forgotten its roots.
Through the continuing leadership of its founder, Nao Takahashi, both large and small shops looking for efficient, OSHA-compliant throughput need look no further than Alpha® for some of the best-designed tools in the industry.
An added bit of breaking news: Alpha Professional Tools® is once again available through Braxton-Bragg, known for offering cutting-edge products for granite, marble, tile, polished concrete and stone restoration.
In this exclusive interview, the Slippery Rock Gazette is honored to present Nao Takahashi's story.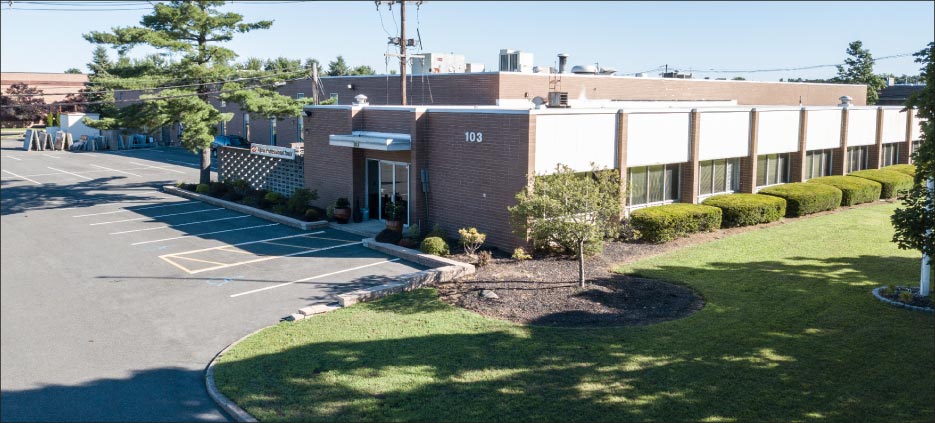 Alpha's corporate campus includes warehousing and also development, testing and training areas. Note the slab storage at far left of the building. Roll-up doors give easy access to materials for a safe, uncluttered work area.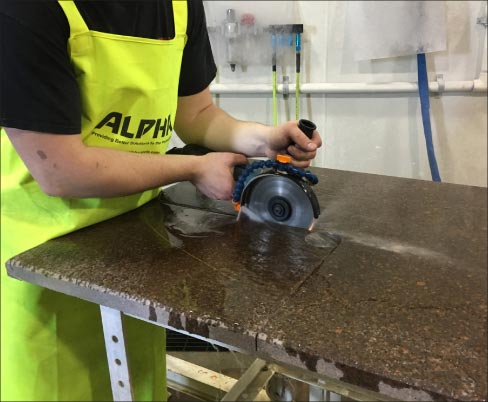 Above: Testing the new wet cutting kit for five-inch grinders.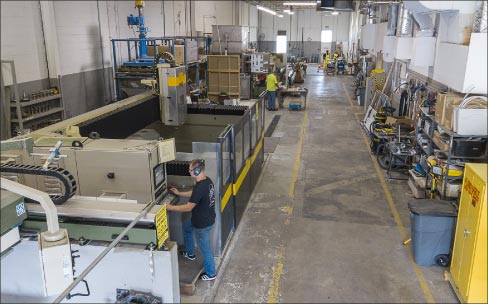 Above: Training and testing area at Alpha® headquarters includes a full complement of machines you might find in a stone shop, and is an important part of their development program.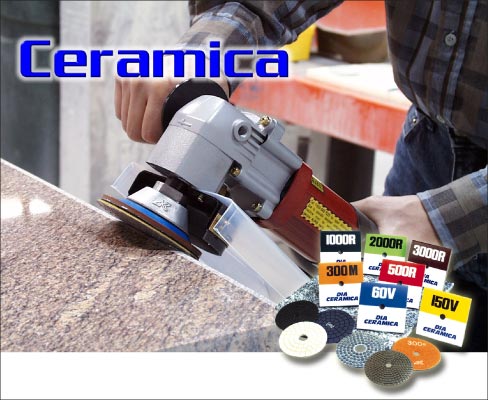 Alpha® Ceramica pads were revolutionary inventions for the time. Resin pads are now a staple tool in stone shops across the country.
"I moved to the Los Angeles area in 1979 after acquiring my bachelor's degree at Kanagawa University in Yokohama, Japan," recalled Nao. "I then attended UCLA for a semester and soon after had a chance to take a job at Pearl Abrasive Co. I was young and ambitious, and very happy to have this opportunity from Mr. Gordon Pearlman. I started out in the warehouse and then went into sales which eventually led me to New Jersey to open up a new Pearl Abrasive location."
In the early 1980s, the fabrication industry's need for more efficient blades and grinding wheels was growing, explained Nao. "When Pearl Abrasive introduced dry diamond blades, this opened up a lot of markets in the United States. At this point the fabrication industry was so small that nobody was really paying attention. Design and fabrication trends, however, were changing."
It was only a few short years later when Nao had a vision of offering state-of-the-art, private label abrasives for stone to major power tool companies.
"I had the opportunity to supply abrasive cut-off wheels, diamond blades and carbide cutting blades to companies like Black & Decker, AEG, and Homelite. Around this same time, Makita came to the U.S. market, hitting these and other manufacturers hard, mostly due to the higher-performance, thin kerf carbide blade that Makita supplied with their tools."
Black & Decker soon realized this, and Nao was chosen by them to fully revise a segment of the company's products, he explained. "I became involved with updating their entire project starting with marketing and quality control and eventually their manufacturing and packaging; basically the whole nine yards. Looking back, this was a great experience to learn the business of using overseas resources, and the basis of my knowledge to start Alpha Professional Tools®. I was very lucky at this point, because Japanese products had established a high quality image."
Nao wondered which way he should go. He was focused on cutting tools, but not sure which industry, he recalled. "I looked around at what I knew, which was cutting and grinding. I thought about getting into wood products. It was a very attractive and a big market, but I realized that if I went into the Big Arena to compete against a lot of big companies, the chances are that they are going to crush me. So I eventually went back to my customer base and saw diamond blades being used in construction along with tombstone producers and fabrication shops. At the time, the quarries in Vermont, Georgia and Minnesota (the big three) were very active with a lot of demand for diamond tools. It was a tough market, but I saw a big opportunity. I also visited Japan and saw that Japanese monument making was very active with diamond tool sales being $500 million dollars per year mostly in this industry. Their economy was booming and people were quality conscious. Families that could afford to pay a lot of money to go above and beyond for tombstones did so. I also saw the quality and designs of these businesses as unique elements for my future business."
According to Nao, he began attending the stone trade shows in Europe as well as looking at the fabrication shops scattered throughout America, all the while thinking, "I know the way the Europeans fabricate, and I know the way the Asians do it. The market in America is so small right now, but it is a unique segment and there is a growing demand."
By 1986, America would soon be flooded with natural stone. Marble floors in America were becoming vogue, and people began wanting stone countertops to match their trendy new floors. Nao judged the timing was now right and Alpha Professional Tools® was launched.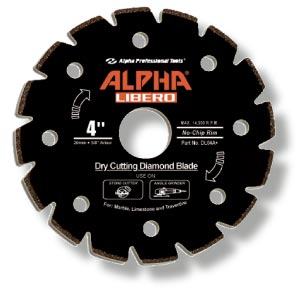 An old Libero blade design, from a 1989 product release.
Based in Hackensack, New Jersey, Nao's fledgling company began with selling a few styles of four-inch cup wheels and blades ranging from four-inch to 14- inch. Back then, many shops were still cutting marble with silicon carbide blades and using sintered wet cutting blades for harder stones. In those years, the market was about 80 percent marble and travertine and about 20 percent granite and serpentines. That ratio, however, would change almost exponentially over the next decade.
"It wasn't easy for American stone fabricators to accept Japanese technology," continued Nao, "but I had a better solution for them and started with cutting and grinding applications. I was able to combine the best technologies from Japan and Italy to make a system suitable for the American market. The result was a blade called the "Libero." It cut fast and clean and was created to eliminate the difficult task of cutting soft marble. The Libero blade was a huge hit, according to Nao, and has been copied by many.

Goodbye Bricks – Hello Resin Pads
There are two important points to emphasize in this next chapter. According to Nao, a company called Interface, located in the U.K. was the first to introduce resin pads for polishing glass edges. They were very thin, very soft and very crude pads, and were not marketed aggressively in America. The second point is that Alpha Professional Tools® first introduced their newly developed and tested brand of resin pads into the American market. Basically, if you were polishing with resin pads back then, most likely it was with Alpha's new formula.
"We were the first to offer diamond polishing pads with a different bonding system that used a vitrified bond," continued Nao, "but there were no multi-speed, center-fed, wet polishing machines available to spin them. Holding a hose on the side to supply water while wet polishing edges was simple, but if you did professional work all day long, water had to come from the spindle.
Going back to the drawing board, Nao could see that a resin pad could be used successfully and actually exceed the polish on a surface, which led to Alpha's electric and pneumatic right-angle wet polishers, which included the center water-fed system.
This specific development by Alpha® created the market for their resin pads.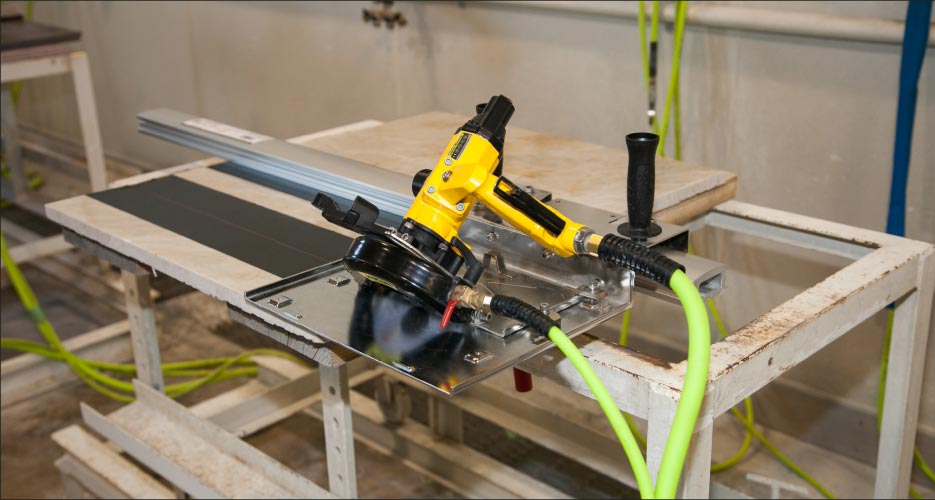 Alpha® conducts in-house product R&D to ensure tools and tooling meet their high standards. A focus on the stone industry's particular needs includes meeting new OSHA dust control standards.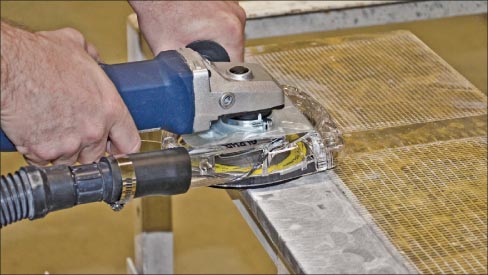 Surface grinding typically produces significant dust in shop. The Ecoguard shroud and vacuum dust collection system developed by Alpha® offers a solution to meet strict OSHA regulations.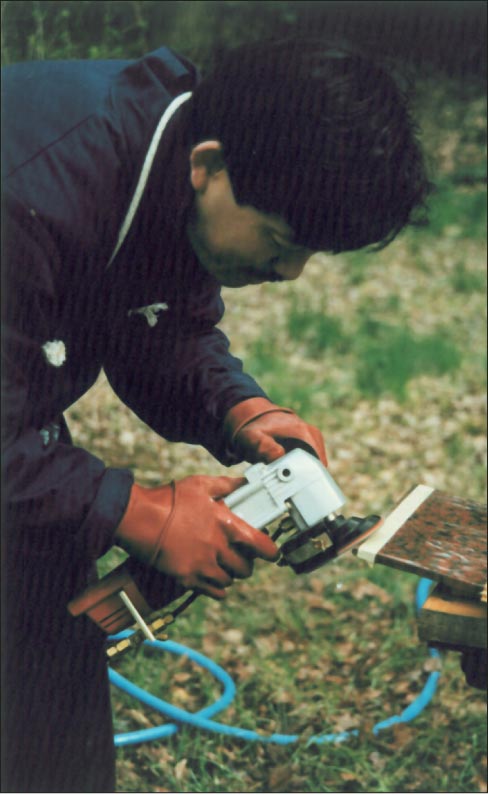 Tough Market, Tough Sell
Nao recalls that when he offered the first diamond pads to the market, nobody believed they would polish edges. "My daily activity was to visit stone fabricators who were established in the New Jersey and the New York City area. I would introduce myself and tell them that I have a fantastic product that would polish black granite edges as good as the surface. Most responded by saying, 'Oh, come on. You can't do that!' I experienced so much rejection that I decided not to confront them with my technology, but instead said, 'I want to show you what my product can do. Can I borrow a corner of your shop to actually show you how well my product works?' They would just laugh, but let me set up in a corner. So I would polish the edge of a piece of black granite, put my tools away and show the shop foreman my final product. At that point everybody basically said (Nao laughing while speaking with an Italian accent), 'Look man, I'm fourth generation Italian, my grandpa was a mason for 40 years and my father is president of this company! What do you know!' That was their attitude. Being Asian, in this market they thought I knew nothing. So I would simply reply, 'Please show this piece to your father,' and I would walk away. Two days later the phone would ring with someone asking, 'How much are your pads?'
"After scoring several sales, one of my dealers said to me, 'You've worked so hard developing this market and have given business to me, so I will open doors for you.' I would go out and do the demonstrations and my dealer would follow up and make the sale. This became the routine and the formula for success back then. Additionally, with stone prices coming down and new materials being introduced (such as engineered material), the momentum in the stone industry was changing polishing methods to diamond pads. We caught the wave at just the right time."

Staying on the Cutting Edge
"We classify granite into five different hardnesses," said Nao, "with class one being the softest and class five being the hardest. There is a wide variety in hardness, and when you try to cut a class five with a class one blade, immediately you have a problem. Other manufacturers generally make only one blade, usually for the class one to class three granites. Quartzites, on the other hand, are way beyond class five. This means that either the blade RPM needs to be slower or, if you're cutting with a single-speed saw, the blade needs to be smaller along with slower cutting head travel speed. The new porcelain (sintered) slabs coming to market also have different cutting parameters. So unless you understand peripheral and traverse speeds for different materials and thicknesses, you may be pushing the blade too hard. The outcome: you won't get a quality cut or may break an expensive slab. We are constantly educating our consumers as well as our sales people. When we see new market trends coming, we always have those networks and relationships with the suppliers of these new materials – like porcelain, for example.
"About eight years ago, an Italian company came up with small porcelain slabs. Initially it was designed for use on staircases, windowsills and small countertops. They also wanted to do something in particular with those materials, such as creating a market for countertops. At the time this material didn't take off. Later on, when they tried to bring this material into the American market, they contacted us saying that there is no tooling available for this material. They asked us to work on this so that when the material arrives, the fabricators have the option to use our tools. So we began making these kinds of relationships with many of the companies that produce new materials. After all, their goal is to sell their slabs, but for them to sell successfully, the tools to fabricate them must be available, and the fabricators need to know how to use them.
"For example, we trained the Cosentino technicians how to cut to size and polish engineered material, basically from start to finish. During this time we built a great relationship with them. They took this knowledge and used it to train fabricators. Eventually this evolved into approval of them as classified fabricators. So we train the trainers and have a very wide network of material suppliers constantly asking, 'We have this material going into this market. What do you recommend?'
"For the most part, cutting used to be simple. Having a general-purpose blade that cuts class one to class three materials worked fine (which covered most materials available back then). If it was a harder material, you cut slower; if it was softer, you cut it faster. That was the only adjustment you needed to make. But today, you have quartzites, crystallized glass and porcelain. With so many different requirements for so many different materials, you must follow the manufacturer's recommended working parameters. Professional people have their own way of doing things, and we're always trying to deliver something better, something easier that saves time and material."

Safety First
"We were one of the first in the stone industry to promote dust collection. Remember, we were the first to deliver wet polishing pads and center feed, right-angle power tools to the American market. This also helped to reduce exposure to silica dust. We are also the first to offer "ECOGUARD" dust collection shrouds for the most popular power tools. We started this campaign eight years ago with our own vision even though there was no pressure from OSHA like today. So we are always focused on safety, not only with the product, but also in the instructions and on the package. Everything we sell has multiple warnings, and shops that want to limit their silica dust should take a close look at our products.
"One of the important things that people need to know is when you purchase tools there is always a price attached to what you are receiving. That price sometimes comes without safety warnings. In our case we have multiple warnings that include do's and don'ts recommendations. Many overseas manufacturers do not carry any product liability insurance. Alpha® does, because safety is important to us.
"We stand behind our quality, and all of our products have serial numbers that are traceable if needed. This is an additional quality control measure which allows us to track the production run of every item. Many manufacturers do not put a serial number on their products, and it is very difficult if not impossible to trace where and when it was made.
"Additionally, if a user of any of our products has difficulty or needs a specific product for a particular use, we have technical service teams and research and development behind that. We also have a fully staffed tool department where we do all of our own repairs and maintenance."

New and Exciting Products from Alpha Professional Tools®
The first new product the company is introducing is a slick little solution for doing mitered work. Once you set up the guide, a water-fed hand saw cuts left to right, while a second hand saw cuts right to left leaving a perfect miter cut ready to laminate. Another new product is a tool that grinds a mitered edge. New materials coming into the market place, such as thin porcelain slabs, can benefit greatly from this type of mitering system. As a result, smaller shops can offer higher quality miter work, while larger shops can continue production on their saws. Alpha Professional Tools® is also preparing to roll out a new right-angle air polisher in autumn.

Thoughts on the Future
"We are constantly learning from fabricators and everyday strive to make things easier for them. We are here to help them either by phone, Facetime or online. Mindy Wessel and I, along with our 34 employees are constantly developing new ideas, and I am very proud of everyone. Many are long-term employees and all enjoy working with us like family. We are a team, and this team is very important for the integrity of the organization.
"I'm 61 years old, and I've been the head of Alpha Professional Tools® for 32 years. Nothing lasts forever, and I think I need to be in a more supportive roll in the future. In business, it's important to have new or unique ideas, and talk about executing these ideas with your people. Steve Jobs of Apple fame was a visionary, but he didn't do everything by himself. He had entire teams to support his visions. We have established our name, but if we continue just doing the same thing, I don't think that we can get through the next 20 years. So my job now is to develop the next leader of this company and the teams to support that leader.
"Young people have the attitude to try, try, try until they get it. When you get older you have the mindset of been there, done that and it may or may not have worked. If I tell our young people that I tried, it didn't work and stopped there nothing new will be invented. But if I tell them that they may have a different idea and they should go for it, the company will continue moving forward. This is my goal now.
"In this way, we can continue providing better solutions to professional."

For more information about how Alpha Professional Tools® can improve your fabrication, go to www.alpha-tools.com or call a Braxton-Bragg professional at 800-575-4401. Visit their website www.braxton-bragg.com .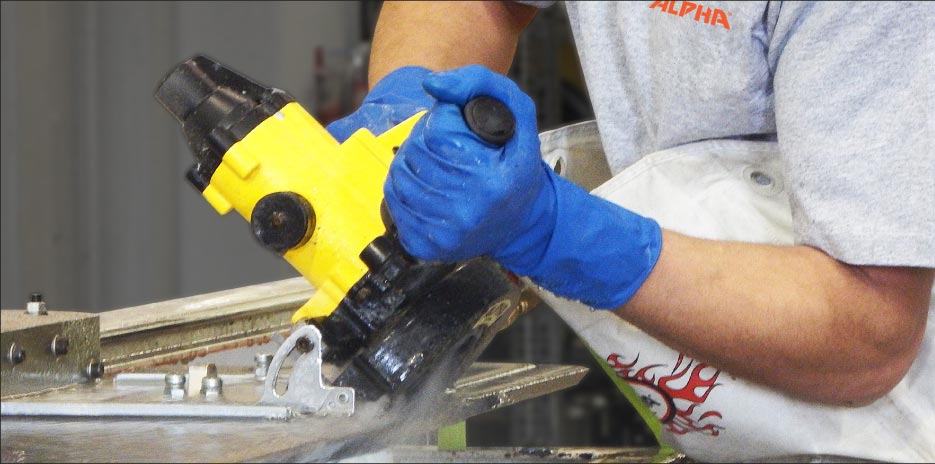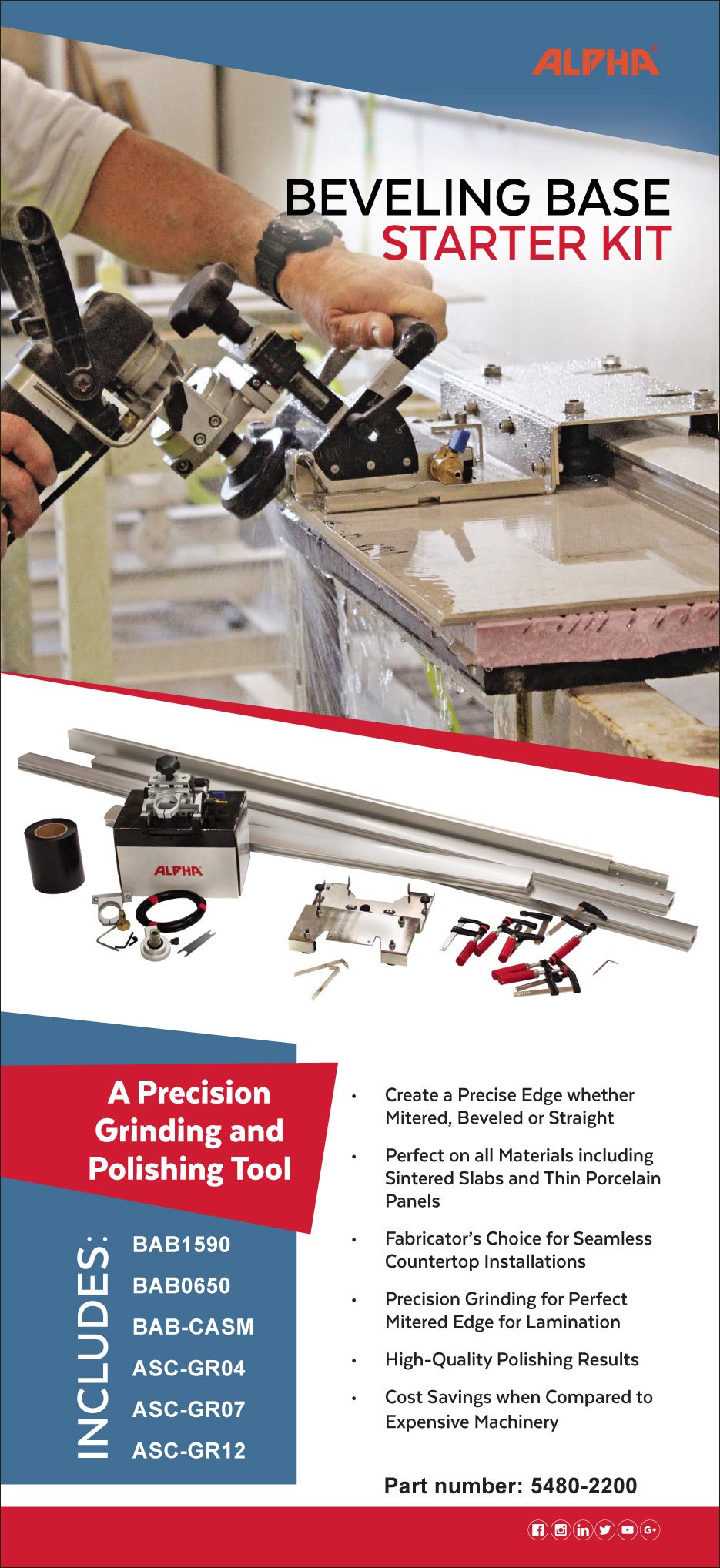 Alpha® & Innovation
Over the decades, Alpha Professional Tools® has introduced a number of ready-to-fabricate kits for particular segments of production.
One of the newest kits – the beveling base – allows fabricators to work with some of the newer materials now in demand: thin porcelain panels and ultra-dense sintered panels.
The Alpha® kit solution allows shops to offer their clients a professional, mitered or beveled product that normally takes larger, more expensive machinery to produce.
Other new Alpha® kits include a miter cutting kit (see photo above), a water kit for all popular angle grinders, and a series of dust collection kits and shrouds to make fabrication safer and OSHA compliant with the new silica exposure limits.
"Our customer base is a driving force for product development and improving our existing product line. We have a broad spectrum of experience to work from, starting with the manufacturer of materials, up to and including the fabricator. All play an important part in our success," says Mindy Wessel, Alpha® General Manager.
"Equally important is educating our employees, dealers and the people actually using the product. In this area, everyone's success is dependent on the correct use of the product."