Aaron Dahnke of NSI Talks About Training
NSI Online University Course Offerings Keep Growing
Shannon Carey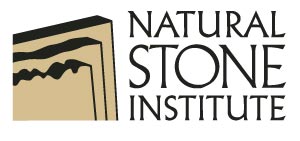 Natural Stone Institute is hard at work creating quality online courses, not just for their members, but for all stone professionals.
The NSI Online University launched in November 2016, and in the first year more than 1,000 classes had been taken. Today, total class downloads are almost 3,800 with 856 total users, and growing.
NSI education manager Aaron Dahnke said the online courses are meant to supplement NSI's on-site education and convention workshops.
"We wanted something that would allow people to build a baseline of education before coming to those events," he said. "We started with over 100 safety courses formed by a safety committee of over 30 companies. In the first iteration, we had nine safe slab handling classes, 42 toolbox talks and also all classes translated into Spanish."
And NSI has kept adding to that core list of classes, including sales training, technical courses, geology courses, and of course more safety classes. Notable class tracks include chemistry of adhesives, continuing education credits for architects and designers, and basics of water recycling.
Each class provides either a video or toolbox talk and a written section, plus an exam at the end. NSI works with members to develop each course, turning webinars and convention talks into course video.
"Our next goal is that we did a lot with safety and will continue to add to safety," said Dahnke. "Last week we added a 13-course quarry safety program. The safety classes were created through a 30-member safety committee, and we worked with them to come up with courses and modules and put them into perspective."
The safety, geology and technical classes are all free to anyone who wants to take them, regardless of NSI membership. However, members receive an added functionality: an employee and employer online tracking system that can help with OSHA compliance.
With the online tracking system, an employer can assign training modules to employees, monitor the employees' progress, and easily print out documentation of employee safety training for the day OSHA visits their facility. Right now, 17 companies are using the NSI Online University as their safety training platform.
"That was the goal, to build something that is turnkey for employers," Dahnke said.
To simplify the system even more, the Online University has pre-selected recommended syllabi for different areas of study, so employers don't have to search through courses to find the right ones. Included are a recommended five-week safety training for new employees and a five-week sales training. These syllabi are flexible and customizable, too.
"Some of the companies using it will go point by point with those syllabi, and some will take portions of it and add in portions or take portions out," he said. "Our goal is to provide the resources that a company can use to train an employee, to make sure they're safe at the worksite and they have the knowledge to prosper and grow."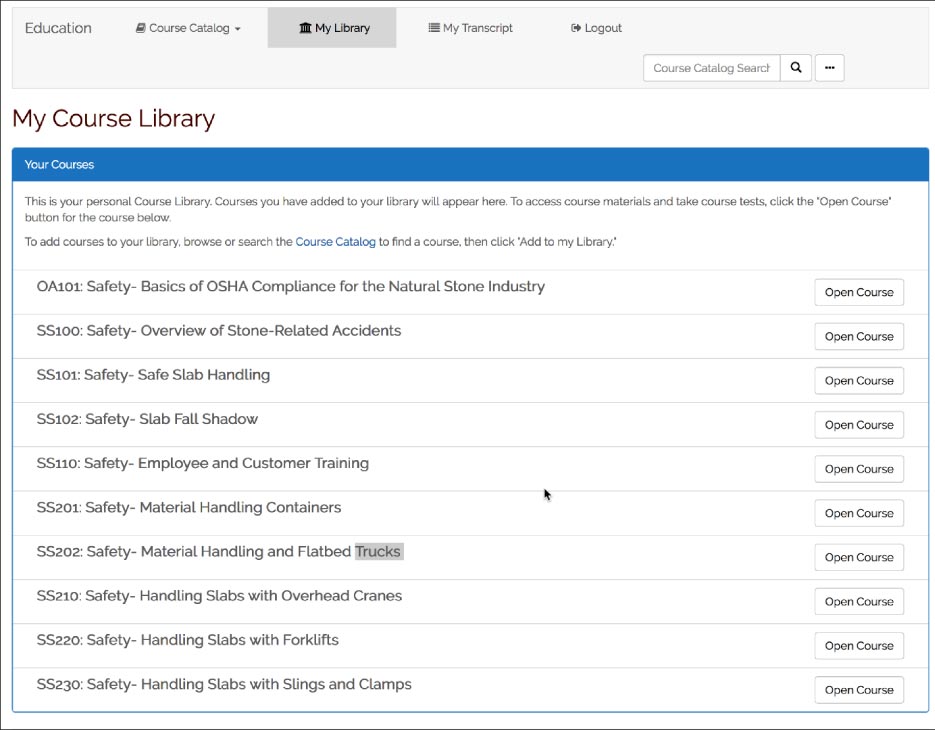 This sample Online University course library is focused on important fabrication and shop safety topics. Course choices can be customized to the individual – and new courses are being added all the time . The pre-selected syllabus for the five-week safety course will give a good overview of what any new employee should know about shop and fabrication safety.
Dahnke said NSI is constantly adding to the Online University and looking for ideas for classes people want to take.
"I'm also more than willing to speak with companies and give a webinar overview to see how they can implement this tool into their training," he said.

Find the NSI Online University at www.naturalstoneinstitute.org/university.
For information or to suggest a class offering, email Dahnke at aaron@naturalstoneinstitute.org.