Stone Restoration and Maintenance Corner: Repairing Avoidable Mistakes
Bob Murrell
M3 Technologies
Photos by Bob Murrell
How many calls do restoration professionals get regarding spills of the wrong product or scratches inadvertently caused by some other repair or attempted repair? It happens all of the time, right? Really, all you can do is to say "thank you" because they are providing you with the business.
How many maids have told their clients that they have been using vinegar to remove minerals from their black marble shower, only to have the polish dulled because of repeated exposure to mild etching over a period of time. I have seen this very issue so many times, over a 30-year time span, that I can't count them. Fabricators – you know that vinegar is not a universal cleaner, but when homeowners turn to Google for answers, it's not a pretty sight.
I have seen multiple times where a metal filing cabinet was dragged across a marble lobby floor, gouging the stone all the way. It is not uncommon at all, even though you would think that after the first foot or so of a deep scratch (along with that irritating noise), they would've figured it out, right?
So for this article, I will cover two specific problems. The first one is where a cleaning company came into an upscale home with the task of cleaning the marble and porcelain shower. The specific objective was to remove mildew from the grout lines on the stall's vertical surfaces.
Now, because this particular cleaning company really had no clue as to how to properly complete this task or what appropriate products to use, the following disaster ensued. It all started when they used a lime-away acid product, to remove the mold from the grout lines on the shower stall walls. They actually should've used a chlorinated-type product.
Luckily, I can say that the majority of the field surface was a polished porcelain tile, which was basically impervious to the acid. However, the tumbled marble basket weave, which was used as a horizontal accent tile, did not fair so well. As you can imagine, this fairly strong acid deeply etched these marble pieces?
Step one: the grout on the shower walls was first cleaned using an appropriate mildew stain remover and a gentle nylon scrub brush. Because the ceiling was 12 feet tall, a stepladder and a brush on a telescoping handle were used to assist the technician with reaching all the way to the top. This particular shower has a glass door so tight that if the exhaust fan was not always used, and the humidity had no place to escape, I'm sure that contributed to the excessive mold growth.
The etching was so deep that a 120 grit diamond pad was required in some areas to remove the blemish. The stones were then honed back up to a 220 grit. Finally, a 220 grit diamond impregnated pad was used to remove honing swirls and to help ensure consistency. Once the marble was cleaned and allowed to thoroughly dry, the marble could then be inspected for consistency. The etching was everywhere, so the entire accent had to be refinished. The newly honed finish almost exactly matched the original tumbled finish.
Once the etching had been totally removed and the marble was consistent, it was impregnated/sealed with a color-enhancing product, which brought out the natural colors of the stones. This product would also help prevent penetration from foreign contaminants while helping to facilitate a successful ongoing maintenance program. The client loved it, and the cleaning company gladly paid to be through with the situation they had created. Both hopefully learned a lesson regarding the use of inappropriate products to maintain their installation. Majestic No-Rinse pH Neutral Cleaner was left behind so there would be no confusion over what was appropriate to use, going forward.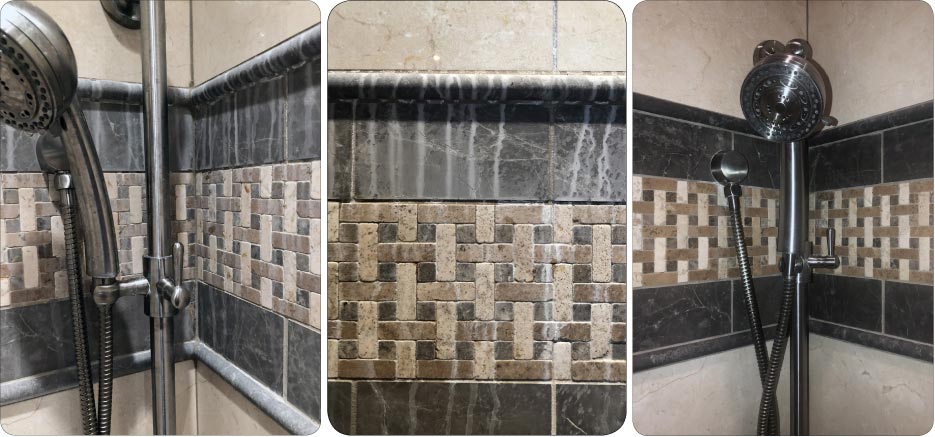 The clients were very happy with their shower, restored after honing, polishing and sealing with a color enhancer.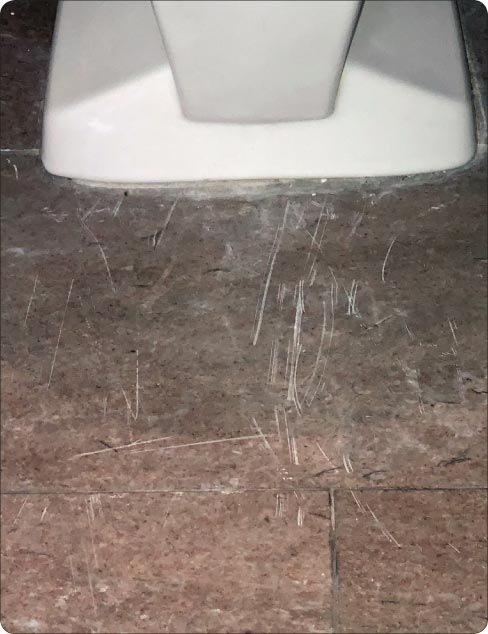 What was done to the beautiful Tennessee marble floor in this Federal courthouse bathroom should be a Federal crime. Right: After restoration.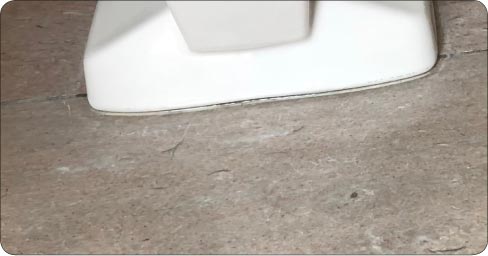 The next problem project resulted when a plumbing company removed and dragged a toilet across a marble floor in the very high-end restroom of a Federal Courthouse building. This issue was easily diagnosed, and the prescription was fairly straightforward: Remove the deep scratches and feather out with each step to blend into the rest of the floor, right?
Of course, things are hardly ever as easy as they seem. The scratches were very deep, so deep you could catch them easily with your fingernail. That meant starting low with at least a 120 grit flexible metal-bond diamond for quicker stock removal. A hand tool was used to speed up the process with the 120 grit and 220 grit metals, before switching to the 220 grit resins under a 13-inch floor machine to feather into the rest of the floor. Pro-Tip: using the smaller machine allowed better access to the stalls.)
Once the main areas were honed using the 220 grit resins, 400 grit resins were applied, feathering out further, but not to the wall.
Mild lippage became somewhat of an issue by leaving some picture framing behind after the 400 grit resin diamonds were used. It was hoped that after polishing, this issue would be minimized. On these particular marbles (different varieties of pink Tennessee), the 5X Gold was used to get a brilliant polish. The picture framing was indeed reduced to a minimum and the floor looked great. Many existing etches were also removed as a result of the process. Even though a full restoration of the floor was not the goal, and a deep clean and repair of the grout was not on the work order either, the clients were overjoyed with their newly restored floor.
Once the stone has been properly restored, please try to educate your clients to help them minimize future avoidable issues. Also, I highly advise impregnating/sealing all stone and grout (except epoxy grout) surfaces (especially honed or textured) to reduce foreign contaminant penetration. This is especially true in what I call critical areas like kitchens, baths, and areas subject to frequent spillage. Develop a maintenance plan that includes both products and procedures and then be sure to go over it with the client or their appropriate maintenance personnel. As I said before, I advise contractors to leave behind a quart or so of the No-Rinse Neutral Cleaner, along with a spray bottle. It looks professional and is the right thing to do.
Just remember Benjamin Franklin's saying, "An ounce of prevention is worth a pound of cure."
As always, maintain a good relationship with a distributor of quality products and the technical support to back them up. Doing this will help make your projects much easier.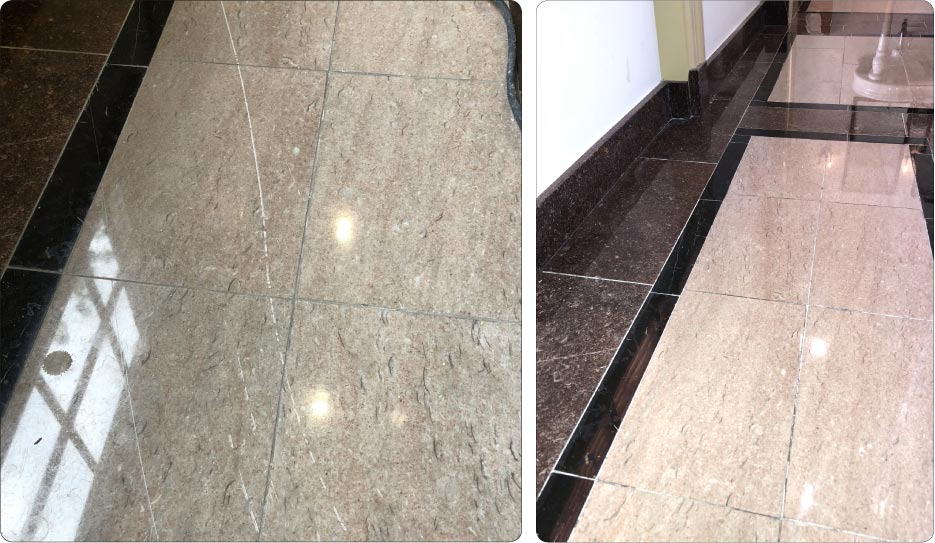 Occasionally, you will encounter some scratches so deep that honing can create lippage, as in this dark Tennessee marble picture frame flooring outlining a lighter Tennessee Pink marble. Careful polishing will help to minimize any unevenness. After a difficult restoration that could have been prevented by a little extra care, please try to educate your clients to help minimize future avoidable incidents. Ask to develop a maintenance plan for them, and you just may turn an averted disaster into a grateful, steady client.

Bob Murrell has worked in the natural stone industry for over 40 years and is well known for his expertise in natural stone, tile and decorative concrete restoration and maintenance. He helped develop some of the main products and processes which revolutionized the industry, and is currently the Director of Operations for M3 Technologies.