Natural Stone, Textured Tile Accent Santa Monica Remodel
Shannon Carey
Photos Courtesy Arch-Interiors
Arch-Interiors, under the guidance of interior designer Christopher Grubb, has completed a classic home remodel in Santa Monica, California. Using clean, crisp materials and accents, the McLaren Residence is a modern take on Cape Cod style. Close to the ocean, the residence is home to two young professionals who love to cook and entertain.
Grubb said natural stone, along with unique tile applications, give the home's surfaces a beauty and texture that is second to none.
One of the challenges in the home, according to Grubb, was "paying homage" in a modern way to Cape Cod Style through details and finishes. The design team studied inspiration photos provided by the couple before starting work.
"You knew immediately that it was the elegance of natural stone," he said.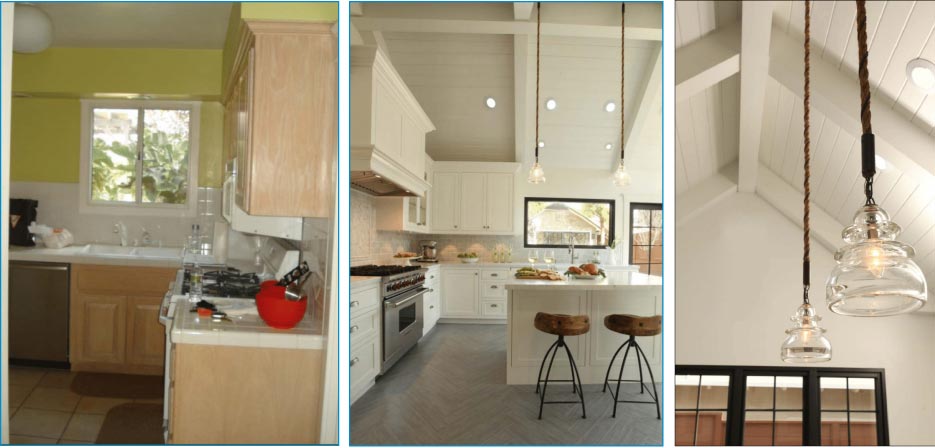 Before and After views of a modern Cape Cod-style remodel in Santa Monica, California.
Materials included in the fashionable revision are White Carrara marble counters, a Calcutta marble, pillowed brick and herringbone mosaic tile backsplash, and a custom wood range hood in a shaker style to match the glass- front cabinets.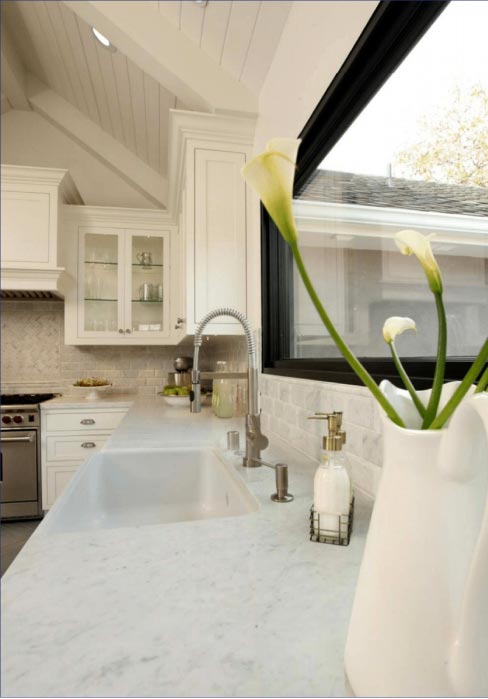 Additional materials and appliances in the kitchen include: Fortis Faucet–  9255700; Rohl Sink–RC3018; Porcelain Floor Tile – Arizona Tile MetalWood Piombo; Cabinetry–Funtime Cabinets by Kitchenaid; Subzero Refrigerator - B136; Wolf Range - R366 and Wolf Hood Liner - PL402212.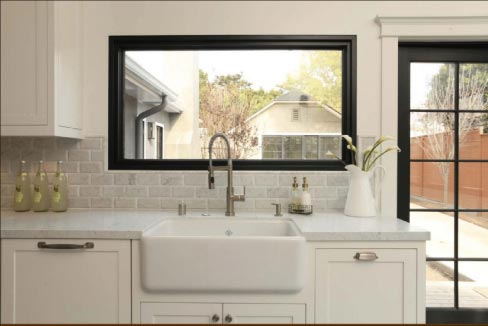 A New Take on the White Kitchen
The owners of the McLaren Residence wanted their kitchen to be the heart of the home, a place for entertaining and gathering, but also a functional space for everyday needs. Grubb said the kitchen reflects classic elements, but also trends. The kitchen reflects a farmhouse aesthetic with Shaker cabinetry finished with clean, white paint and classic bin pulls. The upper cabinets have glass panels to give the space an open, airy feel.
"This is an example of a classic, white kitchen, and it's definitely here to stay because it's so classic and timeless, but we're starting to see more natural woods coming in. Glass-front cabinets, for a while nobody wanted them, and now we're starting to do more of them," said Grubb. "The opportunity to use pendant lights is another way to add a dimension to the room, give the room some personality if you're going for a more classic look. Don't be afraid to use something that has personality. A fixture can become its own unique statement."
A built-in microwave and classic farmhouse sink keep the look going. The center island and counters are White Calcutta Marble from Tri Stone, and the stainless-steel Wolf is topped by a custom wood hood surround.
Wood look makes another appearance on the floors with MetalWood Piombo porcelain tile by Arizona Tile.
"The porcelain wood tile is extremely popular because the manufacturing has advanced to where it has texture and looks more like real wood," said Grubb. "It's very durable and such a fresh look compared to a regular floor tile. It is extremely popular especially with families with kids and pets."
But pieces of particular interest include a backsplash of matching pillowed-edge tiles and a decorative herringbone mosaic above the stove. The backsplash uses Calcutta marble from Ann Sacks.
"I think that when people see more of this kind of applications it encourages them to be a little more open to use a mix of materials that are classic but in a more interesting application," said Grubb. "The counters are slab and the main backsplash is pillowed. I wanted to break it up above the oven and stove, so I echoed this herringbone mosaic from the floor.
"I think the success of the project is the interesting way we used the materials so that it visually has this exciting feeling of texture but is literally a tactile texture. It's really unique because a lot of people would be hesitant to use a backsplash that is pillowed, but it was not a concern for this client. It really brought the whole room together."
'Interesting Journey' in Master Bath
The McLaren Residence's master bath features another mosaic with crisp, white Thassos marble field tiles partnered with green accents, with motifs repeated in the border of the main floor, the shower floor and the shower crown detail. The shower is frameless, allowing the mosaic work to be on display. Counters are also of Thassos.
"It was a really interesting journey on this project," said Grubb. "(The clients) were both very involved in the selection of materials, and they were both attracted to green, a gender-neutral color. It was fun as a designer. The Thassos gives a clean, crisp, timeless quality. The floor is 12-by-24 offset with a border in the room. What I loved about this application is the way we did the border around the room for the floor. I like the fact that it's not against the wall. It breaks it up so it's an emulation of an area rug, and you have a beautiful art statement in the bottom of the shower."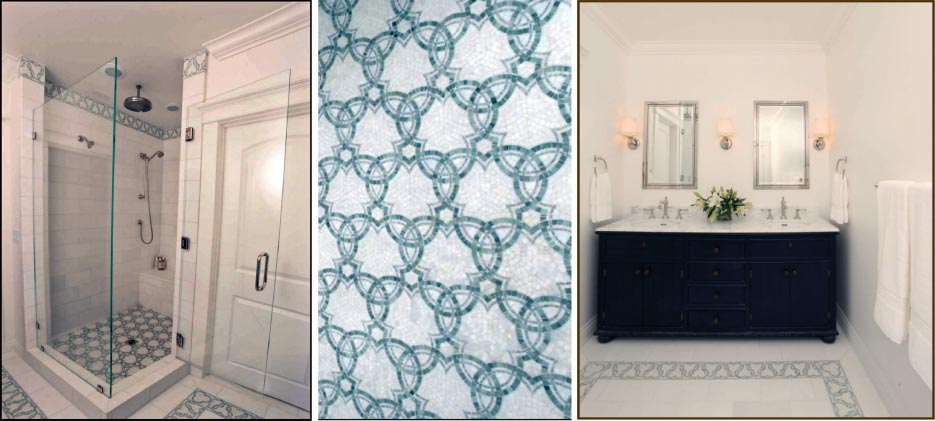 Crisp, white Thassos marble field tiles are accented with a beautiful custom geometric mosaic featuring subtle green tones. This detail is softly repeated through the space as seen in the main floor border inlay, shower floor and shower crown detail. A frameless glass shower enclosure allows the beauty of this tile work to be seen. The shower features a bench, a rainshower and handheld in addition to the standard shower head. A niche is installed in the most hidden wall for function without disrupting the visual impact of the walls.
Small Spaces, Big Impact
White tile on the vanity and walls in the guest bathroom gives the smaller space a more expansive feel, and black basketweave tile on the floor breaks up the white with an update to traditional subway tile.
Meanwhile, in the powder room, decorative tile in blue fills the space from top to bottom with a decorative liner, cornice piece and frameless shower. The vanity top is dramatic Carrara marble set on chrome legs for a classic yet modern look.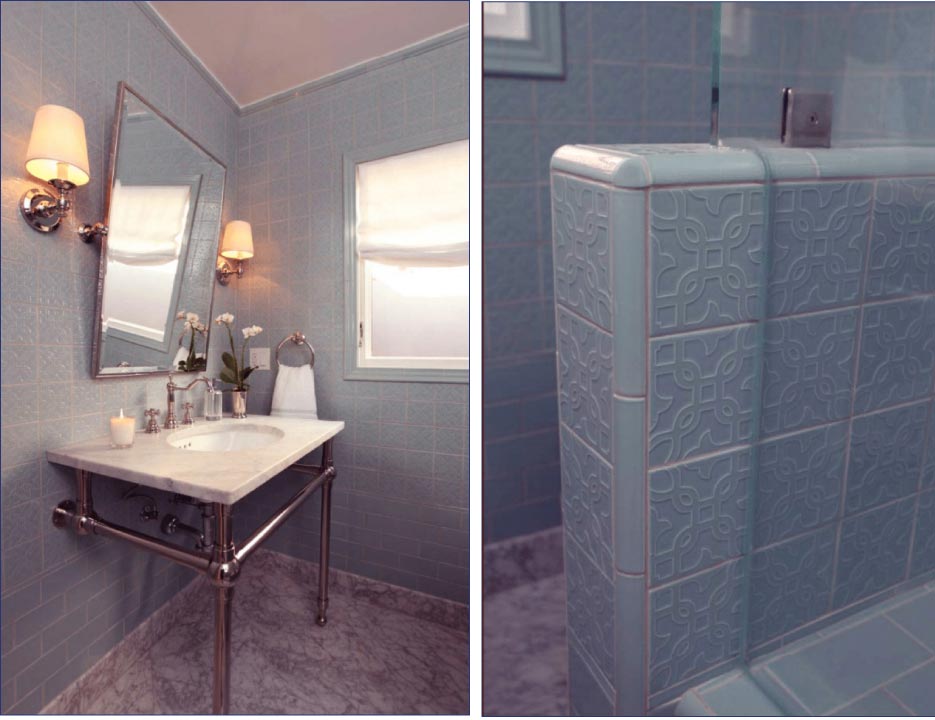 The drama of this gorgeous powder room is the floor-to-ceiling colored decorative tile. A simple subway tile begins at the bottom giving way to the embossed 4 x 4 inch tiles which are capped off at the ceiling by a decorative liner and cornice piece. Carrara vanity top and floor provide a nice compliment to blue tile.
Trends to Watch
While the white or grey kitchen is here to stay, Grubb said he is seeing some requests for kitchens in wood or warmer tones. For natural stone, Grubb said his clients aren't asking for granite at all.
"There's still an audience, but my clients don't want granite," he said. "I think with the technology and quartz and solid surface we're going to be seeing more and more of that.
"People don't realize that if they're doing natural stone they can work with the fabricator and look at the stone and figure out a place to put a seam that it will match. It's a lot of fun working with the installer.
"I have never had someone regret using natural stone, ever. A lot of our projects are natural stone, and I give an analogy that you can have a polyester shirt or you can have a silk shirt. The silk shirt will last and look beautiful, but it needs extra maintenance."